10 Cozy Cabin Rentals In Beautiful Flagstaff, Arizona
As fall approaches, our vacation-oriented minds start to wander away from summer and into autumn adventures. This year, why not take a trip to the middle of Arizona and enjoy a little time in some of the Flagstaff area's best cabins surrounded by the Ponderosa Pines? If that sounds appealing to you, read on! We've selected 10 cabins and cottages in — or very near — Flagstaff that are sure to impress. Some of these cater to couples, some to families, and some to larger groups — lots of choices for you to pick from.
To best plan your getaway to Flagstaff, consider if you want to stay a while or maybe just a weekend, and if so inclined, check out all the things to do in the area. Whether your focus is on great food, hiking spots, stargazing, or something else entirely at any time of the year, you're sure to find plenty to do in one of these amazing Flagstaff cabin vacation rentals.
The Ridgecrest Chalet
RentNow$297/avg nightly
Just minutes from downtown Flagstaff, but located in a quiet area, the pet friendly Ridgecrest Chalet is a luxury vacation spot located in the prestigious Continental Country Club neighborhood. Inside, the oak hardwood floors, rustic great room, open kitchen, and eight-seat dining room table are lit up by the vaulted expansive windows and incredible views of Mount Elden. Step outside onto the deck and soak in the hot tub, which also comes fully equipped with mountain views. This Vrbo has space for up to 14 — be sure to check it out!
Bedrooms: 3
Bathrooms: 2
Sleeps: 14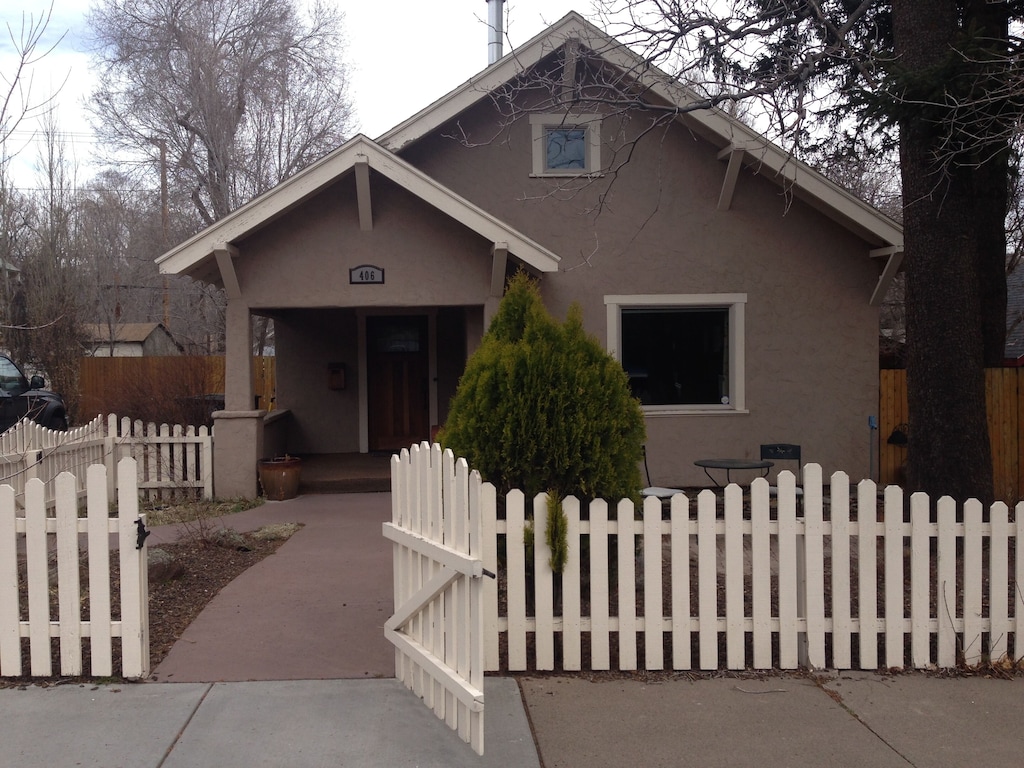 Downtown Bungalow
RentNow$204/avg nightly
Looking for a spot that's within walking distance to plenty of shopping, restaurants, and bars? This historic downtown bungalow comes with a fenced front yard — the fence looks like a flowing river — with a table and chairs for you to sit and take in the sights and sounds of the neighborhood. Out back, enjoy the private backyard that's enclosed by a 6-foot fence and hop into the hot tub for the ultimate relaxation. Built in 1915, this 1,150-square-foot home was part of the original town site.
Bedrooms: 2
Bathrooms: 1
Sleeps: 6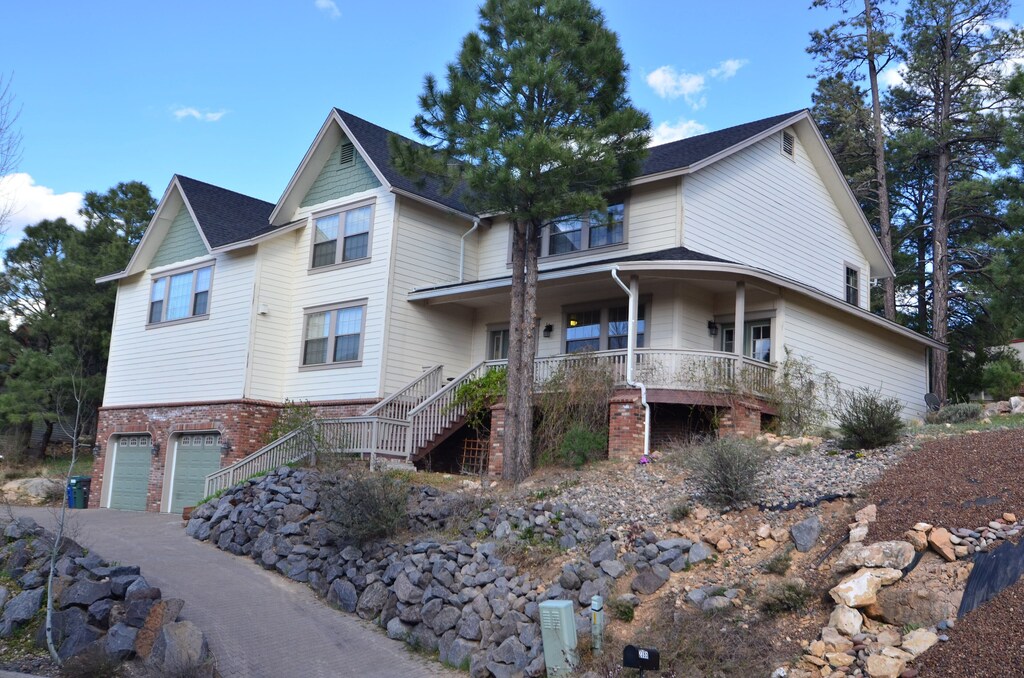 Mountaincrest Vacation Retreat
RentNow$366/avg nightly
Calling all large groups! the Mountaincrest Vacation Retreat is a six-bedroom, 3,754-square-foot vacation home located in the prestigious Continental Country Club neighborhood. The house can sleep up to 18 guests and features three separate living spaces. Offering breathtaking views of Mount Elden, the front porch is an ideal spot to sit and relax, or step out back and enjoy the large deck with a barbecue and lots of outdoor seating (the furniture is put away in the winter). The Mountaincrest fully equipped kitchen provides space for four around the island and 10 more at the dining room table. The master bedroom is on its own level and is a spacious 800 square feet. It includes — among lots of other amenities on site — a Jacuzzi tub. There are also four additional king guest bedrooms. Do not pass this one up if you are looking for a large space!
Bedrooms: 6
Bathrooms: 3
Sleeps: 18
Historic downtown house
RentNow$200/avg nightly
Situated just minutes from downtown shopping and restaurants, this historic downtown house has a nice sized, covered front porch and fenced backyard. Step inside to the living room with large windows and a gas fireplace, or head to the back of the house to check out the nicely equipped kitchen and laundry/sunroom. The front yard has great curb appeal with beautiful landscaping and a pair of gorgeous shade trees. Cozy and reasonably priced, you're going to love this one!
Bedrooms: 2
Bathrooms: 1
Sleeps: 6
The Cottage on Birch
RentNow$172/avg nightly
Modern, cozy, comfortable, and centrally located — welcome to the Cottage on Birch. This light and airy cottage has a beautiful yard with comfortable seating in the back, an outdoor dining table, barbecue, and lounge chairs in the lawn under a well-placed crabapple tree. Located in Flagstaff's Historic Townsite residential neighborhood, the Cottage on Birch is just eight blocks from the center of town and close to the Urban Trail System. This 750-square-foot option is the perfect base for activities all year-round!
Bedrooms: 2
Bathrooms: 1
Sleeps: 4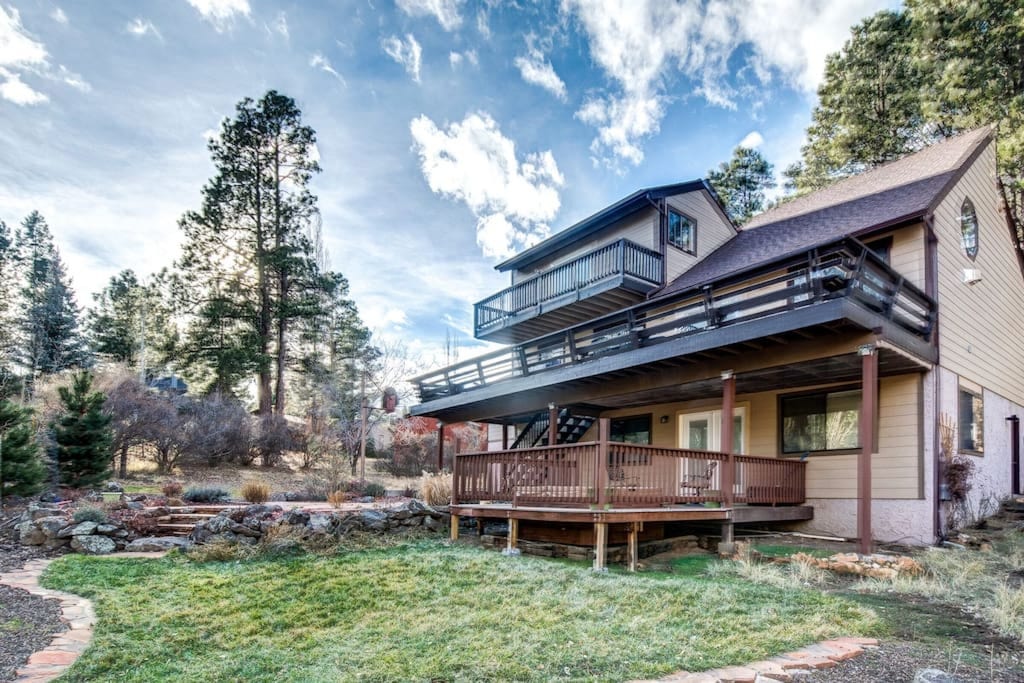 Aspen Ridge Lodge
RentNow$381/avg nightly
No matter the time of your visit to Flagstaff, the Aspen Ridge Lodge offers you the perfect location: right between the Grand Canyon, Sedona, and other Northern Arizona wonders. This romantic and spacious lodge can house up to 10 people — all of whom can relax on the large back deck with gorgeous mountain views. The deck comes equipped with lounge furniture, a barbecue grill, and a hot tub. Inside, break bread with friends at the six-seat dining room table or sit in front of the fireplace in the nicely furnished living room. You will definitely want to check this one out!
Bedrooms: 4
Bathrooms: 3
Sleeps: 10
BellaVue Estate Cottage Chalet
RentNow$159/avg nightly
For those traveling as a couple or a foursome, the BellaVue Estate Cottage Chalet #1 is a can't miss! This picturesque cottage sits on a beautiful lot with amazing mountain views, outdoor seating areas, a waterfall, and more. Adjacent to Foxglenn Park, there are multiple picnic areas, a playground, open fields, trails, and more nearby for you to enjoy. This one is gorgeous inside and out, perfect for a romantic getaway — reserve your nights soon!
Bedrooms: 1
Bathrooms: 1
Sleeps: 4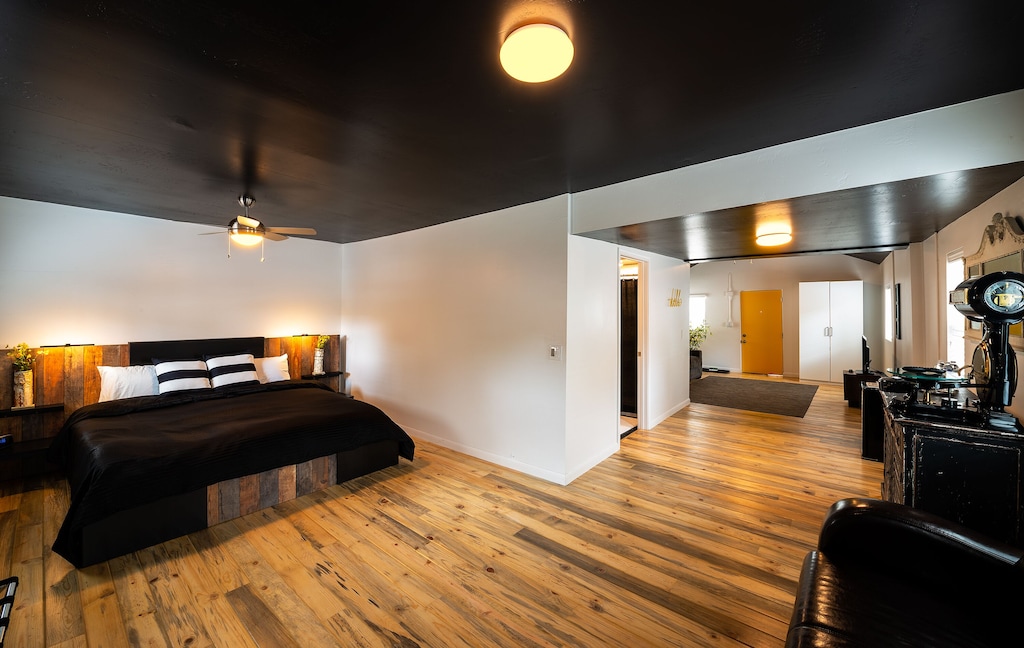 Contemporary vintage cottage
RentNow$189/avg nightly
With lots of natural light and windows, blue pine hardwood floors, and private parking, this contemporary, yet vintage, cottage is a must see! Featuring two bedrooms in 575 square feet of space, this open-floor plan cottage offers a modern look in downtown historic Southside Flagstaff. This one is immaculate and certainly worth a look!
Bedrooms: 2
Bathrooms: 1
Sleeps: 4
Log Cabin On 10 Acre Private Ranch
RentNow$393/avg nightly
This 10-acre private ranch is really cool! With three bedrooms and two baths, this luxury cabin has amazing forest and pasture views with no neighbors in sight. When searching for complete privacy, you'll definitely land here; there are no close neighbors. You'll immediately notice the large front porch, and after touring the inside and gaining an appreciation for the well-appointed and comfortable interior, step into the fenced backyard and enjoy the outdoor amenities. Check out the photos of that back patio! This entire ranch is a must-see.
Bedrooms: 3
Bathrooms: 2
Sleeps: 6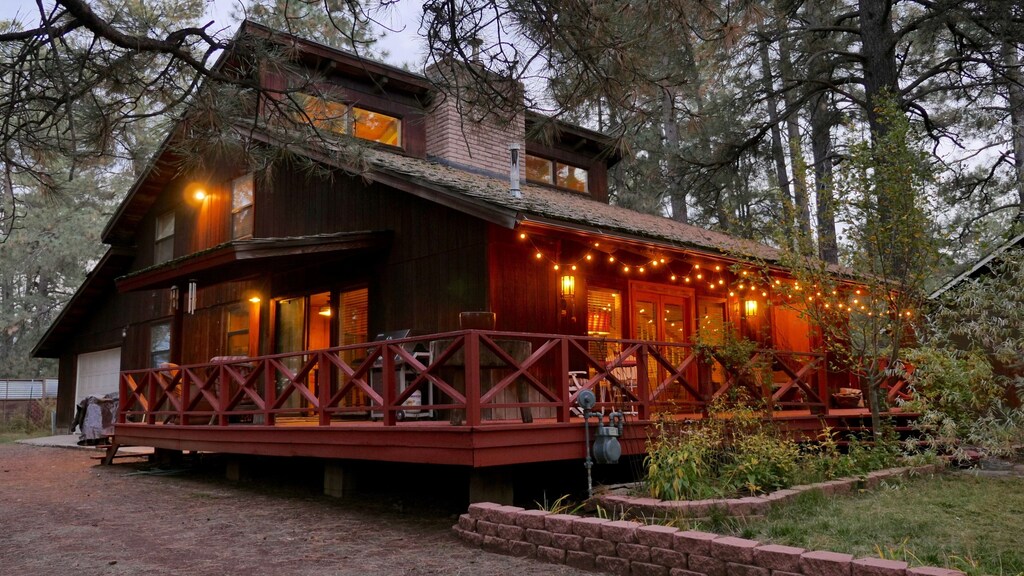 Enchanting and Rustic Artists Chalet
RentNow$235/avg nightly
This enchanting and rustic Artist's Chalet is stunning! With four bedrooms on the inside, this eclectic and rustic home offers the utmost in comfort with many of the owners' paintings, painted furniture, and antiques throughout. The large deck features a swinging chair, an outdoor fire pit, and lots of nature! This chalet is surrounded by hiking trails, cross-country skiing, mountain biking, and more. Just minutes from downtown Flagstaff, this home has a fenced backyard, is situated in the wilderness, and gets lots of critter visits. Be careful on your hikes and don't get lost!
Bedrooms: 4
Bathrooms: 2
Sleeps: 8th
To discover the best things to do while in Flagstaff, check out: