2022 Hyundai Tucson Highlander N Line review – How does the RAV4 rival cope with family life?
If the thought of a sporty SUV is somewhat contradictory to you, just remember the 'S' in that acronym stands for 'Sport'.
To that end, shouldn't all family haulers have some sort of aggressiveness to it?
Thanks to the N Line option pack available to the Hyundai Tucson, you can do just that!
It's a great point of difference from the best-selling Toyota RAV4 and Jeep Compass rivals, which are opting for more of a rugged look and feel with variants like the Edge and Trailhawk respectively.
Read the other long-term review installations
Pricing for the N Line differs across the Tucson line-up, adding $3500 to the 2.0-liter petrol variants, $2000 to the Elite grades and just $1000 to the top-spec Highlander we have on test here.
It adds a full bodykit, including a contrasting rear diffuser, twin exhaust outlets, body-coloured wheel-arch cladding (which looks really good with the red exterior colour), chunky side skirts and more prominent rear spoilers.
The N Line pack also adds 19-inch alloy wheels, and while being big in diameter, because of the 235/55 sizing of the tires, they offer plenty of sidewall to soak up bumps and uneven road surfaces.
The design of the 19-inch wheels is attention-grabbing, adding an extra dimension of sportiness to the Tucson.
N Line-equipped Tucsons are also fitted with LED headlights with black surrounds, which blend in well with the dark chrome front grille that gives the mid-size SUV a futuristic and sporty fascia.
All this combines with the already head-turning aesthetics of the new-generation Tucson and its sharp tail-light design, line-heavy profile, muscular shoulders and faux-sloping roofline to take the Hyundai mid-size SUV to a new level.
Don't get us wrong, the Tucson N Line's looks won't be for everyone – it's very love it or hate it – but after three months with the car, we definitely fall on the side of the former.
And we're not the only ones either, because on more than one occasion since we picked up our long-termer, we've had remarks about just how good the Tucson N Line looks.
Sure, most of these comments were from parents during the childcare pick-up/drop-off, as well as a few friends who have young families of their own, but even our younger, single and family-free mates (who gravitate towards hot hatches and sporty coupes) made mention of how attention-grabbing the Hyundai family hauler is.
That's certainly high praise coming from people who count a Ford Focus RS, Honda Civic Type R and Nissan 350Z in their previous car ownership list.
And the N Line additions don't stop at the exterior, as the cabin is also transformed with a few more sporty elements to liven things up for occupants.
The seats are a bit racier thanks to a suede and leather finish, as well as red contrast stitching to really make them pop.
That stitching also continued throughout the cabin and can be found on the dashboard, steering wheel and center console, living things up a bit from the usual black and gray plastics.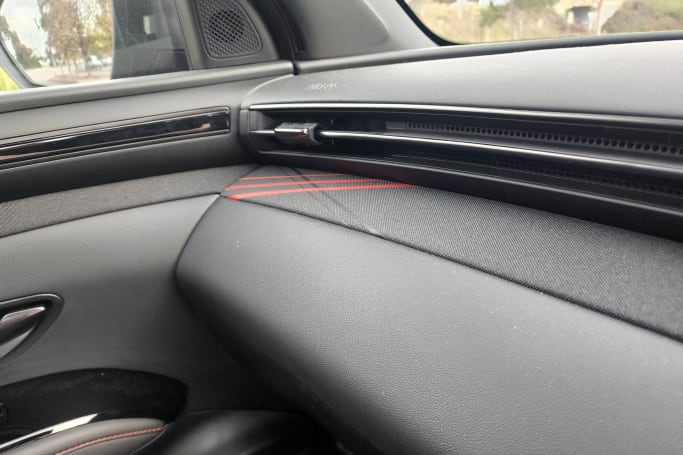 The stitching is continued throughout the cabin (Image: Tung Nguyen).
However, the highlight of the N Line interior is the 10.25-inch digital instrument cluster, which is clear, concise and customizable.
It's genuinely one of the best digital displays we've seen, and even in direct sunlight there is enough brightness in the display for a clear reading.
What you don't get with the N Line though, is any performance upgrades.
Arguably, tweaking suspension, exhaust, steering and engine settings in a family SUV (with a diesel powertrain, like in our car, no less), doesn't make a whole lot of sense, but in lieu of a full-fat Tucson N , the N Line is the closest we're going to get to a performance Hyundai family hauler.
All in all, we'd say the N Line upgrades are definitely worth it, especially when the step up from the Highlander grade is only an additional $1000.
It turns an already attention-grabbing SUV into something that is truly a stand out from the usual crowd – as long as that's your thing.
Acquired: March 2022
Distance traveled this month: 1088km
Odometer: 5173km
Average fuel consumption for June: 8.1L/100 (measured at the pump)