2022 Hyundai Tucson PHEV | Range Finder
Breadcrumb Trail links
road testing
hybrids
Electric Vehicles
Decent electric range from an unusual powertrain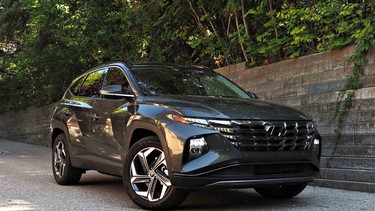 2022 Hyundai Tucson PHEV Photo by Chris Balcerak
Article content
Almost universally, when automakers choose to engineer a plug-in hybrid, they combine electric powertrain — battery and motor — with an Atkinson-cycle internal combustion engine. Without getting too technical, the Atkinson cycle is just a plain ole internal combustion engine that holds the intake valve open longer, with some of the incoming fuel/air mixture actually reversing course and heading back to the intake manifold. As you can imagine, that reduces power somewhat.
Advertisement 2
This advertisement has not been loaded yet, but your article continues below.
Article content
But it is significantly more efficient. The combination of electric motors and Atkinson cycle would seem obvious. Despite its paucity of power, the Atkinson is the most fuel efficient of internal combustion engines and, of course, an electric motor consumes no gasoline at all. And, since the whole point of a PHEV is maximum economy and minimal emissions, the twinning of the two is the best one can get and still have pistons whirring about. Like I said, a seemingly obvious combination. Not to Hyundai it would seem.
Advertisement 3
This advertisement has not been loaded yet, but your article continues below.
Article content
The odd couple
Its latest PHEV, the compact 2022 Hyundai Tucson PHEV, is powered by a turbocharged 1.6-liter inline four. It's a perky little beast and, perhaps more importantly, a more pleasant powertrain. Where an Atkinson cycle four — like the 2.5-liter jobbies in Toyota's RAV4 Prime and Ford's Escape plug-in hybrid — are loud, raucous teenage kegger-like affairs in their raucous engines, the Hyundai's little turbocharged four is a gentile dinner party in comparison . Indeed, I often struggled to perceive when the 1.6-litre was taking over propulsion duties from the electric motor so quiet is its valvetrain. Compared with the cacophony that is a big Atkinson-cycled four, Hyundai's 1.6L is positively, well, electric. Throw in a conventional six speed automatic rather than the standard for hybrids CVT and you have an SUV that feels completely 'normal' despite plugging it in every night.
Advertisement 4
This advertisement has not been loaded yet, but your article continues below.
Article content
The numbers, man, the numbers
Of its own accord, the 1.6T produces some 180 horsepower. Mated to a 66.9-kilowatt electric motor, the whole shoot-and-shebang is good for 261-hp and 258 pound-feet of torque, decent numbers both. However, they pale in comparison to the aforementioned RAV4 Prime. For the Toyota, the combination of 2.5L four and two electric motors is, at 302-hp, decidedly more powerful. The RAV4 Prime is also the quickest accelerating vehicle in its lineup — save the Supra which is built by BMW — accelerating to 100 kilometers an hour in about six seconds, a full second or more faster than the plug-in Tucson. More pleasant the Tucson may be, but the RAV4 is a powerhouse.
Advertisement 5
This advertisement has not been loaded yet, but your article continues below.
Article content
Advertisement 6
This advertisement has not been loaded yet, but your article continues below.
Article content
But we don't buy PHEVs for their performance!
True dat. Here, the Tucson does a fair job of offsetting the high cost of gasoline, though, again not quite as good a job as the RAV4 Primes. For the record, the Tucson's battery holds 13.8 kilowatt hours of go-juice which Hyundai says is good for 53 kilometers of electric driving. By way of comparison, the RAV4 Prime's 18.1 kilowatt-hours is rated for 68 kilometers.
In real-world driving, both actually exceed those numbers (at least in perfect conditions as we Ontarions have seen in this moderately-temperatured autumn). The Tucson, for instance, consistently eked out 55 clicks before the that 1.6L ICE had to take our propulsion duties while the RAV4 often exceeded 70 kilometers before running out of lithium-ions. And both managed these ratings-exceeding ranges with the most intemperate of driving; I'd often cruise both at 125 kilometers an hour — speed typically kills range more quickly than urban driving — and they'd still post excellent numbers. I don't know how they'll fare in the winter—cold temperatures being anathema to battery efficiency—but I'd expect those numbers to come down by at least 25 percent.
Advertisement 7
This advertisement has not been loaded yet, but your article continues below.
Article content
As for fuel efficiency when the batteries start off, well, as I said, the Atkinson cycle is the most efficient way to spark ignite gasoline. On the highway for instance, the Hyundai averaged about 8.0 L/100 kilometers while the RAV4 would often consume a little more than 6.0 L/100 km. I have to admit that I tended to drive the Tucson faster than the Toyota — see smooth engine operation above. But the fact remains that, when pushed, turbocharged engines will always consume more gasoline than naturally-aspirated versions and the harder you push them the greater an advantage the Atkinson-cycle engine will have.



Driving By Numbers: Canada's 10 best-selling plug-in hybrids in 2022's first half, kinda sorta




Range Finder: 2021 Toyota RAV4 Prime
Advertisement 8
This advertisement has not been loaded yet, but your article continues below.
Article content
Fast charging
Not only does the Tucson have a smaller battery but it has a more powerful 7.2-kilowatt charger (the RAV4 makes do with a 6.6 kW affair) on board, which means that, if you have a Level II charger available, the battery can fully recharge in about two hours; the bigger battery and the slower charging mean the RAV4 Prime takes three. So, while the RAV4 can indeed stretch its battery a little longer, the Hyundai can be recharged slightly more quickly.
An (calibration) oddity
Frequent readers of Range Finder will know that I often lament the often-deceitful digital readouts of many electric vehicles. Often, these involve wildly optimistic range estimations and downright deceitful energy efficiency readouts.
Advertisement 9
This advertisement has not been loaded yet, but your article continues below.
Article content
I have long suspected that at least a portion of this is deliberate. We are all, by now, familiar enough with ICE fuel economy that, should a Range Rover dashboard monitor claim 6.2 L/100 kilometers of fuel consumption, even the least knowledgeable of us would suspect tomfoolery. But few of us have broad experience with kilowatt-hours per 100 kilometers which, I suspect, leaves automakers free to prey on our naiveties. Suffice it to say, that I have never seen a litre/100 km readout that differs from real fuel efficiency as much as some of the phantasms that EV displays try to foist upon us.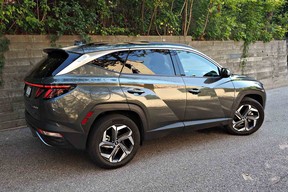 2022 Hyundai Tucson PHEV Photo by Chris Balcerak
That said, the Hyundai's (mis)calibration is a real oddball. For one, its range display always promises less range than I'd squeeze out of the battery. If 49 kilometers was promised, 53 or 55 clicks delivered was a typical denotation. Odder still was that the battery-versus-range-remaining display buried deep in the infotainment system's PHEV app would constantly read "0 kilometers remaining" while the battery display said that there was 12 to 14 per cent of battery charge left. Understand that a) that was after, say, those 53 kilometers of EV-only operation I mentioned earlier and b) it was also after the gas engine had kicked in, signaling that EV mode was no longer familiar. In other words, the range reading — 0 kilometers remaining — was correct; the battery readout was not.
advertisement 10
This advertisement has not been loaded yet, but your article continues below.
Article content
Were it not for the belief that one always assumes large corporations don't normally make such simple mistakes — they're perfectly capable of more complex idiocies, of course — I'd suspect crappy software. Even my always suspicious skepticism of automaker motivations doesn't think this was deliberate malfeasance since a) this particular display was, as I mentioned, buried pretty deep in the app screen and b) the range readout is both correct and right beside the battery display . Whatever the case, one part of the Tucson's brain is saying that its electric propulsion is no longer available while another says there's more than 10 per cent battery capacity remaining. odd
Slight Snafus aside, the plug-in Tucson is a rewarding drive. It's sufficiently parsimonious (if not quite as frugal as the RAV4) to justify its plug-in status, more refined in its comportment than most other hybrids in the same price range and is pretty easy on the eyes. It starts at $44,549 and its "Ultimate" version tops out at just $46,949 making it cheaper than most to boot.
Share this article on your social network
By clicking on the sign up button you consent to receive the above newsletter from Postmedia Network Inc. You may unsubscribe any time by clicking on the unsubscribe link at the bottom of our emails. Postmedia Network Inc | 365 Bloor Street East, Toronto, Ontario, M4W 3L4 | 416-383-2300
Thanks for signing up!
Comments
Postmedia is committed to maintaining a lively but civil forum for discussion and encouraging all readers to share their views on our articles. Comments may take up to an hour for moderation before appearing on the site. We ask you to keep your comments relevant and respectful. We have enabled email notifications—you will now receive an email if you receive a reply to your comment, there is an update to a comment thread you follow or if a user you follow comments. Visit our Community Guidelines for more information and details on how to adjust your email settings.