Avian influenza likely spreading through geese in Flagstaff
Residents in the Flagstaff area have been observing strange behavior and death in geese that most likely heralds the arrival of avian influenza in the region.
While wildlife managers are working to certify the presence of the virus and monitor the spread in the community, experts urge those raising fowl as pets or livestock to take extra precautions and protect the health of flocks.
Avian influenza — sometimes called avian flu or bird flu — is a virus that largely infects poultry such as turkey, ducks, geese, chickens, and other waterfowl or domestic birds. In the United States, bird flu is approaching record levels of infection.
Wildlife Manager Nate Ragan collects the carcass of a Canada goose Tuesday afternoon from the edge of one of the ponds at Walnut Canyon Lake. There is concern that an outbreak of avian flu is leading to the death of geese in the area.
Jake Bacon, Arizona Daily Sun


According to the Center for Disease Control and Prevention (CDC), "since early 2022, more than 49 million birds in 46 states have either died as a result of bird flu virus infection or have been culled (killed) due to exposure to infected birds . This number is nearing the 50.5 million birds in 21 states that were affected by the largest bird flu outbreak that occurred in 2015."
People are also reading…
The spread of bird flu has massive ramifications on commercial poultry farming. It's considered one of the primary drivers of increased egg prices in the US — which based on the consumer price index had skyrocketed more than 49% by November of 2022.
While it took until Nov. 4 for the US Department of Agriculture to confirm the presence of bird flu in northern Arizona (Yavapai County), the disease has been present in the state since September, said Larry Phoenix, regional supervisor for the Arizona Game and Fish Department (AZGFD). His department started receiving calls about affliated geese in the Flagstaff area within the last couple of weeks.
The first report said of two dead geese in the Raymond Park area near the Kachina Wetlands, Phoenix, though responders were unable to retrieve a body for testing.
"We also responded to word of a Canada goose out at the Continental area — Walnut Canyon Lakes," Phoenix said. "There was a bird out there that was dragging its wings. We thought based on the description, it had a broken wing. Once we got out there, we determined that was not the case."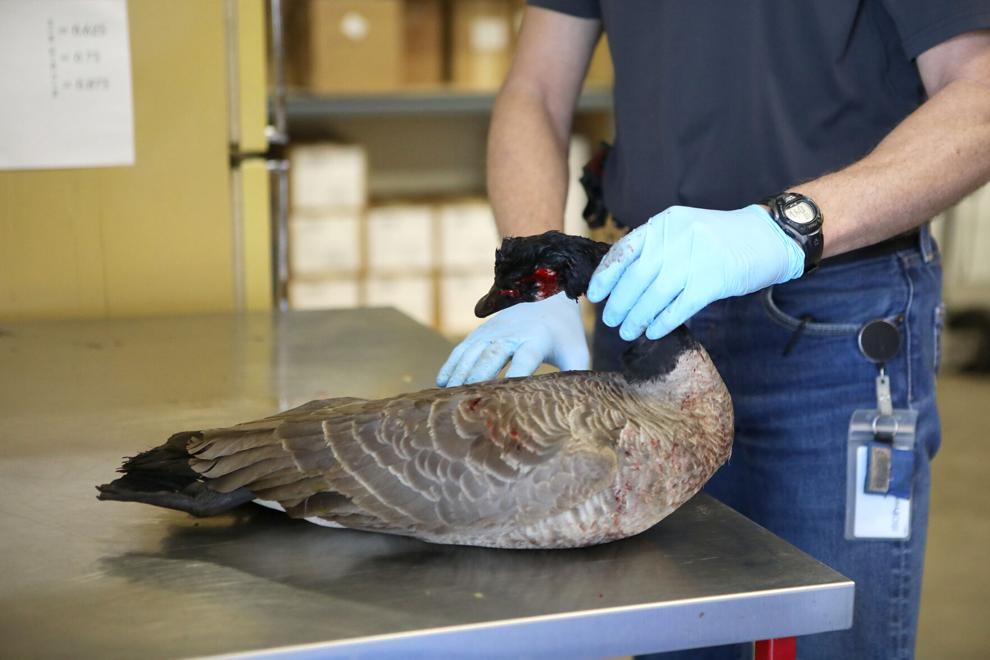 The Arizona Game and Fish Department is testing three Canada goose carcasses to see if the birds were infected with avian influenza before they died.
Jake Bacon, Arizona Daily Sun


Phoenix then relayed these reports to AZGFD veterinary specialist Anne Justice-Allen.
"As soon as I described that goose dragging its wings, she immediately said, 'You've got avian influenza,'" Phoenix said.
Abnormal behavior is a common symptom of bird flu, Justice-Allen said.
"It affects their nervous system, and that is what most people are going to be able to observe," she said. "They may be swimming in circles, shaking their head, have tremors, seizures, be weak or unable to fly."
Since these original reports, AZGFD has responded to over a dozen reports of geese that have either died or exhibited bird flu-like symptoms. On Tuesday, they were able to retrieve a goose carcass fresh enough to be tested for the disease.
The testing process can take upwards of a week to receive results, but even without absolute confirmation, Justice-Allen said, current observations are "really consistent" with bird flu.
There is some possibility that the reported symptoms and mortality could be caused by some kind of poisoning, but according to Phoenix, this is a less likely scenario.
The epicenter of infection in the Flagstaff community appears to be Walnut Canyon Lakes, in the Continental Country Club area.
"We see the most congregation there at Continental," Phoenix said. While there have been reports of afflicted birds in other areas such as Kachina Village and Aspen Valley, Phoenix believes it is not unreasonable to suspect that these cases share a common origin.
"They were probably a couple geese that came from Continental for that matter," he said. "It's a hop, skip and a jump for a goose."
Identifying an area of ​​contagion does not necessarily provide any strategies for slowing infectious spread, said AZGFD wildlife manager Nate Ragan.
"There's really no proactive management that we can take," he said. "It's just one of those things that we monitor and we test. Other than that, there's not a whole lot we can do."
There are ways that people can help mitigate the risk of avian influenza infection in pet and livestock flocks by practicing "bio security."
The remains of a Canada goose are frozen in the ice at the Walnut Canyon Lake Tuesday afternoon.
Jake Bacon, Arizona Daily Sun


The first step is to keep pet and livestock flocks enclosed in such a way that minimizes contact with wild birds.
"[Bird flu] can be spread both in respiratory secretions — coughing, sneezing, saliva — as well as in the feces," Justice-Allen said. "So the nexus for transmission between wild birds and domestic birds, or even among wild birds, is that close contact."
It is possible, but rare, for bird flu to spread to humans in cases of extreme exposure, Justice-Allen said.
The CDC considers overall risk to the general public as "low" but it still advises that "people should avoid unprotected contact with wild or domestic birds and poultry that look sick or have died."
Beyond that, the Arizona Department of Agriculture (AZDA) recommends thoroughly cleaning all equipment, clothing and shoes that come in contact with poultry; staining from sharing equipment or property with other bird owners; and making sure to keep new birds isolated from flocks for at least 30 days.
They also recommend reporting sick birds to the agency — though this will not likely result in a restoration of their health.
Because of the impacts avian influenza has on the $32 billion industry that is US poultry production, "there's a real strong regulatory component to this," Justice-Allen said. "The United States Department of Agriculture (USDA) says that if avian influenza is diagnosed in a flock, then that flock has to be euthanized."
For Flagstaff flock owner Loyce Peshlakai, a bird flu infection and subsequent loss of her flock would have "a big effect."
"That's thousands and thousands of dollars," Peshlakai said, adding that updates to her hobby-farm-sized operation will also incur a large cost.
"I have my flocks closed up to where wild birds can't get in anyways," she said. "But my turkeys like to free range, which I'm not going to be able to do. I'll have to totally enclose them in an area which will cost a good amount of money."
Even for those whose investments are more emotional than monetary, the spread of bird flu poses a significant threat. That's the case for Lisa Hardy, who has raised chickens as animal companions.
"Our chickens were pets," Hardy said. "They had long lives, they had names, they came when you called, they wanted to be held. So the idea that some kind of illness could affect a flock is really terrifying."
But the good news is that the spread of avian flu in the Flagstaff community won't last forever. Wild bird populations generally take about four to six weeks to stabilize following the spread of bird flu, said Justice-Allen, after which point the mortality and infection rates should normalize.
It's not expected that the spread of the disease will cause adverse impacts in other areas of the local ecosystem.
"Waterfowl are important prey, especially for birds like bald eagles and osprey, but the waterfowl numbers are large," Justice-Allen said. "We aren't anticipating any long-term repercussions from this."
To report a sick or dead domestic bird, call AZDA at (602) 542-4293. For wild birds, call USDA at 1-866-536-7593 or the AZGFD Region II office at (928) 774-5045.
Sean Golightly can be reached at [email protected]
Get local news delivered to your inbox!
Subscribe to our Daily Headlines newsletter.