Boys hold out and improve to 2-0 in LPAA
The Indians almost gave it away at the charity strip, but held a 61-59 against the Sedgwick County Cougars on Saturday in Julesburg.
It was Yuma's second win in a row after the season started with 0: 3. The Indians are now 2: 0 in the Lower Platte Activities Association (2: 3) and go into the home game against Merino on Thursday.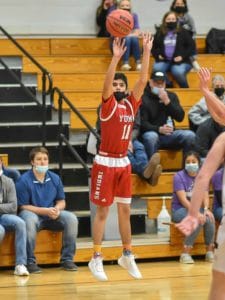 Javier Duran will put up a show jumping horse in Julesburg on Saturday. (Dave Gustafson)
After beating Holyoke on Friday night, the Indians again had a solid performance from several players.
They took an 8-0 lead in the first and second quarters and built a 15-7 lead. Good defense resulted in more buckets than the Indians led at 25-13 at halftime.
Second security guard Javier "Quick Hands" Duran came to the edge with a dazzling array of surfaces, and several different players were involved at either end of the floor.
The Indians were able to expand their lead in the third to up to 15. Duran's "and one" result on the edge gave them a 48:32 advantage at the start of the fourth round.
However, Sedgwick County's seniors Jared Ehmke and Tate Dille began to roll offensively. The Cougars made an 8-0 turn and pulled within 57:52 with just under 3 minutes. It was 58-54 when Forest Rutledge's 3-pointer increased Yuma's lead to 61-54 by about a minute.
Ehmke responded with a threesome, however, Yuma missed the leading edge of a one-and-one, and Dille got the rim and shortened Yuma's lead to 61-59. The Indians continued to miss the charity strip, placing the Cougars with one last chance 8 seconds before the end.
However, the Yuma defense rose to the challenge and did not allow the Cougars to fire a shot before the final buzzer for the two-point win.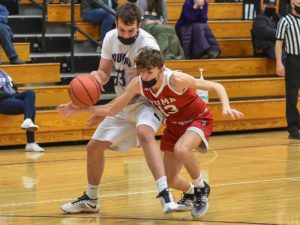 Jaxson Lungwitz plays on the defensive during Saturday's game in Sedgwick County. (Dave Gustafson) Unofficially, Duran had 15 points, Clay Robinson 11, Javier Gamboa eight, Rutledge eight, Beau Tate six, Cade Morton five and Lane Remmich, Jaxson Lungwitz and Jesus Ross two each.