Dillinger had plenty of things to do while in Tucson in the 1930s
Notorious outlaw John Dillinger spent a little more than a week in Tucson, from the time of his arrival, to his capture, to his extradition to law enforcement in Indiana.
His arrest in town on Jan. 25, 1934, is celebrated each year at Hotel Congress, 311 E. Congress St., with Dillinger Days, a free event featuring not-so-historical reenactments, a vintage car show, walking tours and live music. It is set to take place starting at 10 am on Sunday, Jan. 15, this year (more info at hotelcongress.com).
Hundreds showed up for Dillinger Days at Hotel Congress in downtown Tucson for the 28th annual event on Jan. 16, 2022.
The celebration brings the spirit of the 1930s to life in honor of infamous gangster John Dillinger and other bank robbers being captured 88 years ago by Tucson police officers. Video by Jesse Tellez/Arizona Daily Star.
Jesse Tellez
Up until he was approved at a nondescript house on North Second Avenue, Dillinger was free for several days to explore his new surroundings.
Although we don't know exactly what he was up to during his stay, the sleepy Southwest town of just over 30,000 had plenty to offer.
People are also reading…
Here are some of the things Dillinger and his gang could have done the week of their capture, according to archived editions of the Arizona Daily Star and Tucson Daily Citizen on newspapers.com.
entertainment
Downtown Tucson was a hive of activity in the 1930s, with a variety of entertainment options that could hold the interest of residents and bank robbers alike.
Dillinger could have taken in films at several local theaters. The Plaza Theater on West Congress Street was showing the 1933 film "No Marriage Ties," about an alcoholic journalist who launches a successful ad agency, the week of his stay.
The Opera House, what would eventually become the State Theater, at 51 E. Congress St., was screening the murder mystery "Before Midnight."
Down the street at the Fox Theatre, 17 W. Congress, the movie of the week was "The Private Life of Henry VII" with Charles Laughton, with a matinee admission of 25 cents until 1:30 pm
An ad from Jan. 26, 1934, promoting "The Private Life of Henry VII" and "Big Time Vaudeville" at the Fox, downtown.
Had he not been in jail the Saturday after his capture, Dillinger could have seen "Big Time Vaudeville" at the Fox, a live stage performance featuring, among other acts, jugglers, rope dancers and acrobats. The following day, The Fox switched to showings of Katharine Hepburn in "Little Women."
If Dillinger had opted to cut a rug with his girlfriend, Evelyn Frechette, who was also arrested in Tucson under the alias Ann Martin, they could have hit the Famous Midnite Club on South Sixth Avenue; the Blue Moon Ballroom, the dance hall and music venue where Barrio Blue Moon gets its name; or El Conquistador where, for only 50 cents, they could have gotten down to the sounds of the Kelly-Richards Orchestra from 9 pm to midnight.
food and drink
The variety of food and drink options in Tucson at the time meant that Dillinger and his crew were probably well-fed upon their arrival.
Many of the department stores had food counters, and the hotels, including the Pioneer Hotel on North Stone, had dining rooms. Dillinger could grab a cold brew at Rex Garden, a beer garden on North Fourth Avenue, satisfy his sweet tooth with a chocolate scoop at Elite Ice Cream on North Stone Avenue, then head to South Stone Avenue for a hearty meal at Chase's Restaurant.
As Dillinger was hiding out in a house, he might have opted to cook at home, in which case he had a number of local grocers to choose from.
Options included the City Market at 11 S. Sixth Ave.; The Grand Central Market at South Stone Avenue and East Broadway; and the Tucson Public Market at South Sixth Avenue and Broadway, where steak was 15 cents a pound, honey rung up at 65 cents a gallon, and oranges were 25 cents for two dozen.
Seafood was also on the menu. A trip to Gambrell's, at 522 N. Fourth Avenue, would have netted the gang some sea bass (16 cents a pound), trout (28 cents a pound), catfish (35 cents a pound) and even frogs straight from Louisiana at 35 cents each.
Shopping
After a highly publicized crime spree throughout the Midwest, Dillinger and his crew had plenty of money to throw around. And downtown Tucson offered an opportunity to spend that money.
All the big department stores, Jacome's, Levy's, Steinfeld's, were already Tucson fixtures, offering everything from produce to high fashion.
Frechette could have indulged in "new mid-spring dresses" on sale for $5.89 at Steinfeld's Basement Store. Dillinger could have sprung for a new suit or two at Sachs-Parker Co., 66 E. Congress, where a full set-up would have run him about $20 to $36.
Levy's on East Congress also had suits for men at $36, and watches could be purchased for $10 apiece at Daniel's Jewelers, up the street at 9 E. Congress.
Given Bros at 22 E. Congress had "Ladies' fine winter shoes" for $3.33 a pair and high end hosiery to go with them at 64 cents a pair.
When all the clothes shopping was done, the Dillinger gang could have hit the Monte Mansfield car dealership at 19 E. Broadway, for a new Ford V-8. Endorsed by race car driver Fred Frame, the V-8 came in 11 body types and started at $515, according to an ad that ran in the Star, perfect for those who just want to get away (or who want to make a quick getaway ).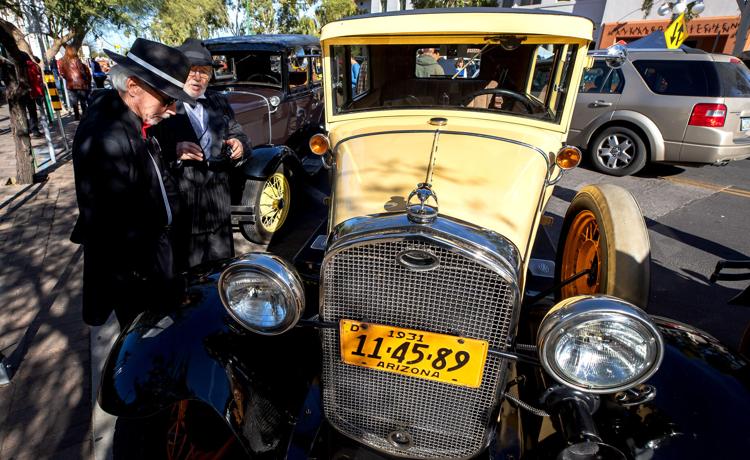 David Ramsower, left, talks with Vic Borg about Ramsower's 1931 Model A 2dor at the car show during Dillinger Days in 2022.
Rebecca Sasnett, Arizona Daily Star


Photos: Outlaw John Dillinger captured in Tucson in 1934
John Dillinger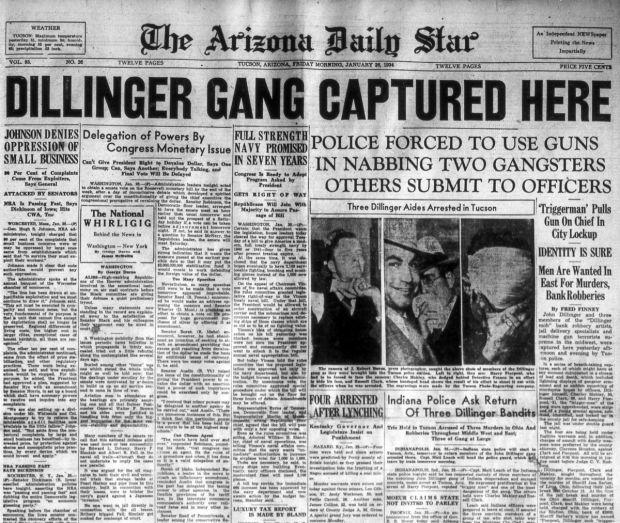 Arizona Daily Star front page on events surrounding the capture of John Dillinger and his gang in January, 1934.
ARIZONA DAILY STAR


John Dillinger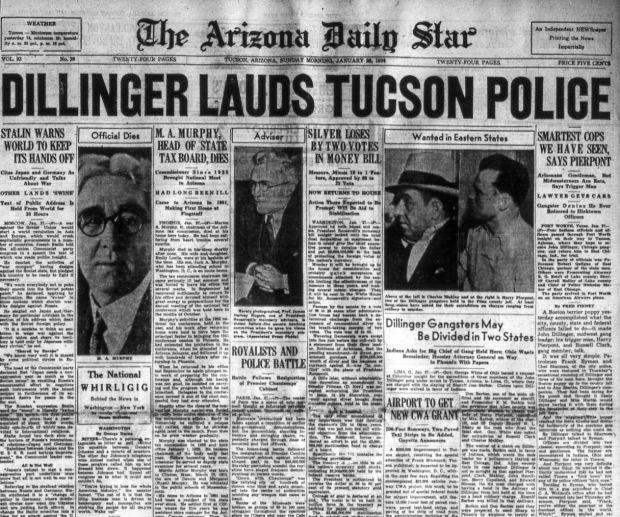 Arizona Daily Star front page on events surrounding the capture of John Dillinger and his gang in January, 1934.
ARIZONA DAILY STAR


John Dillinger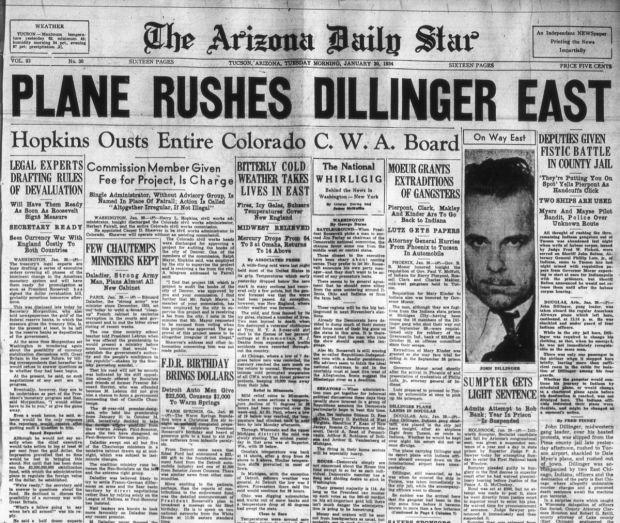 Arizona Daily Star front page on events surrounding the capture of John Dillinger and his gang in January, 1934.
ARIZONA DAILY STAR


John Dillinger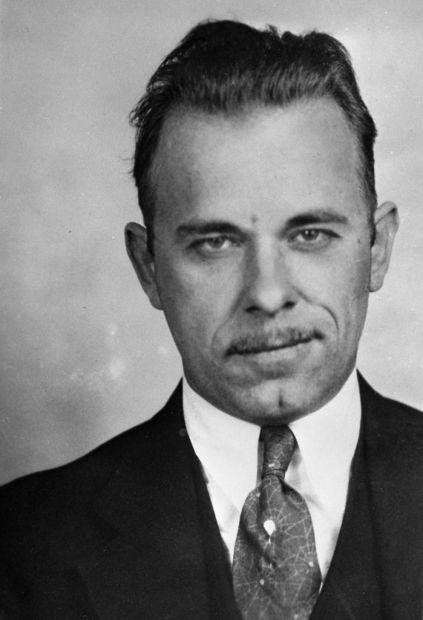 John Dillinger was one of the most notorious gangsters of the 1930s, wanted for a rash of bank robberies in the Midwest.
FBI booking mug from 1930s


John Dillinger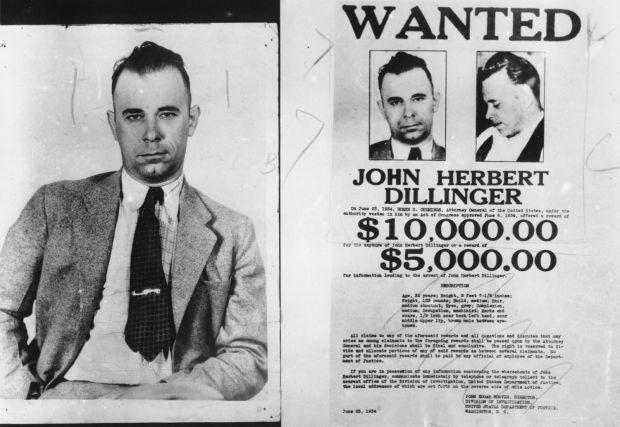 This is a June 1934 FBI "Wanted" poster of John Herbert Dillinger who was considered "Public Enemy No. 1." (AP Photo)
AP file


John Dillinger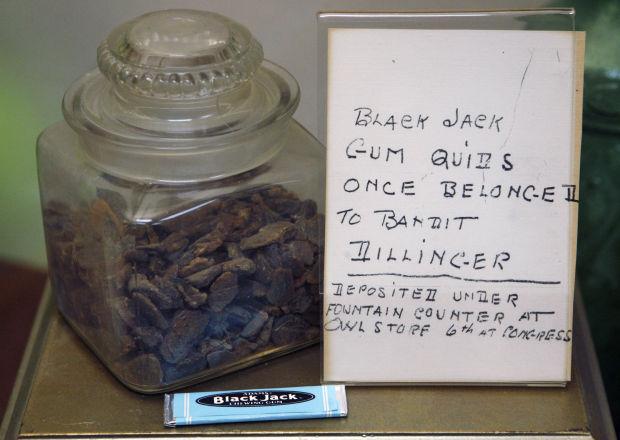 On display at the History of Pharmacy Museum in the College of Pharmacy at the University of is gum chewed by John Dillinger and deposited under a counter at his regular seat at the Owl Drug Store in downtown Tucson. Jesse Hurlbut who ran the store – filling prescriptions and serving meals – collected the gum after recognizing the gum chewing customer as Dillinger after the outlaw's arrest.
Jeffry Scott/Arizona Daily Star


John Dillinger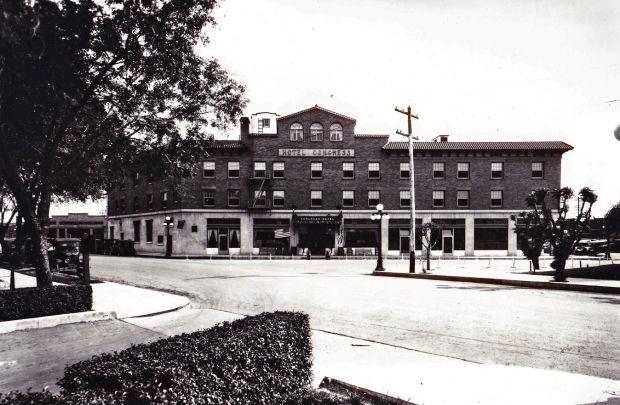 Standing from what is now the location of Maynards Market & Kitchen, looking across at the north facade of Hotel Congress, ca 1930s, before the fire that engulfed the third floor, forcing the Dillinger gang out.
Courtesy of the Hotel Congress


John Dillinger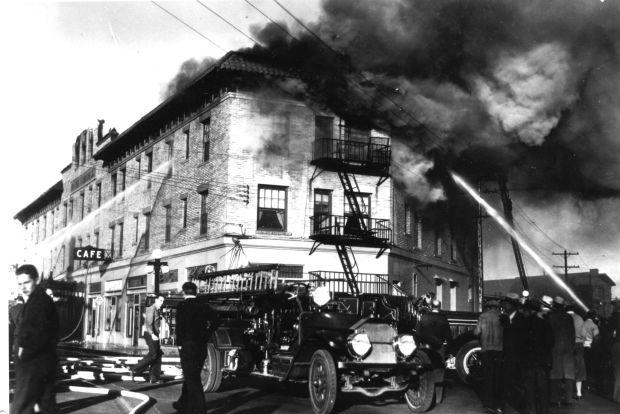 This 1923 American LaFrance Fire Engine used by Tucson Fire Department at the 1934 fire at Hotel Congress. The fire at the hotel flushed out three members of the gang, who were noticed by firefighters who remembered mug shots from detective magazines. A ruse pulled one of Dillinger's best gunmen into Police Chief CA Wollard's office. Dillinger surrendered to an officer who said, "Reach for the moon, or I'll cut you in half."
Courtesy of the Greater Tucson Fire Foundation


John Dillinger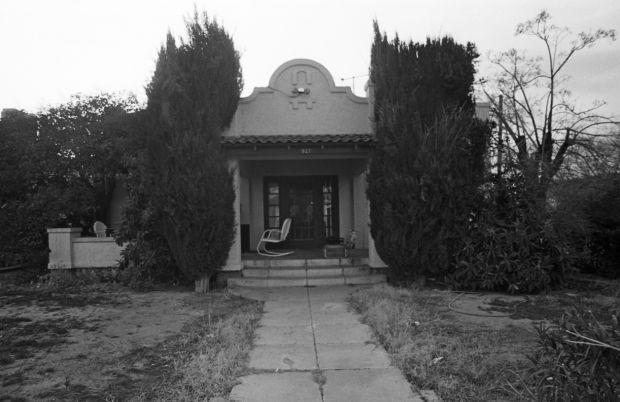 Home where John Dillinger stayed in 1934, located at 927 N. 2nd Ave. Photo taken in 1983. John Dillinger, unaware that the others of his gang were in jail, was nabbed at sundown as he and his girlfriend strolled into the house on Second Avenue.
Tucson Citizen


John Dillinger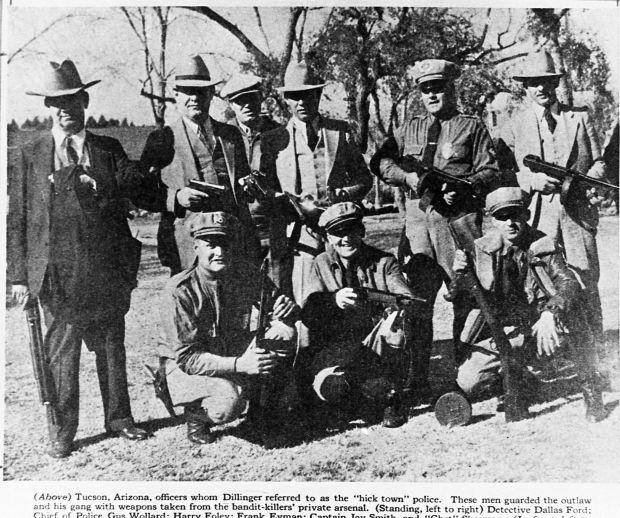 News photo of the Tucson Police officers involved in the arrest of John Dillinger in 1934. The Old Pueblo, home to about 30,000 people, had a police force that numbered 35. The average salary for a Tucson Police officer was $140 a month.
Tucson Citizen


John Dillinger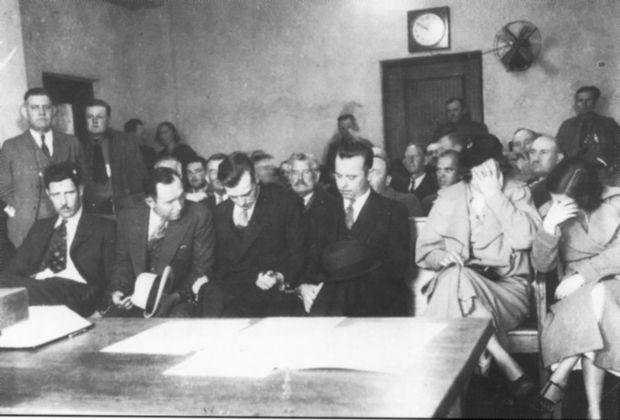 Tucson Police Chief CA Wollard, standing at far left, at John Dillinger's (center, with hat on knee) arraignment the morning after his capture.
Daily Star file


John Dillinger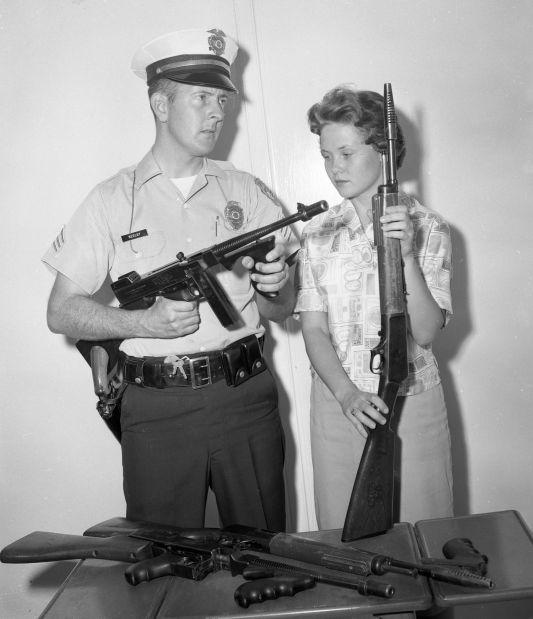 In this 1961 picture, Tucson Police Sgt. Tom Keeley holds a Colt Thompson with a 20-round clip and and secretary Linda Bradfield holds a Winchester Model 1907, among the guns confiscated from the John Dillinger gang during Dillinger's capture in Tucson in 1934. In total, police seized three Thompson submachine guns, two Winchester rifles mounted as machine guns, five bulletproof vests and more than $25,000 in jewelry and cash, part of it taken in an East Chicago robbery.
Tucson Citizen


John Dillinger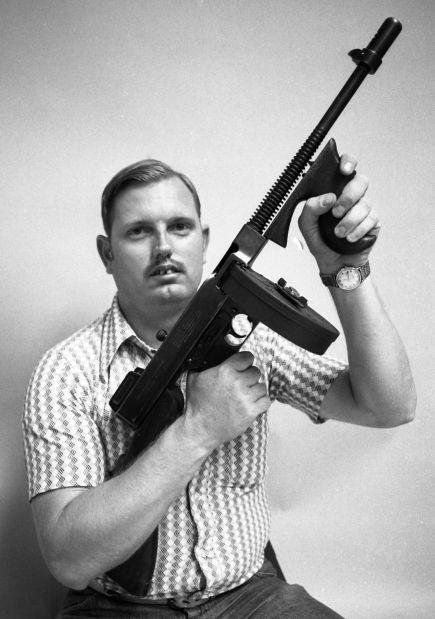 Tucson Police Office Stan Benjamin holds John Dillinger's Colt Thompson "Tommy" gun with a 50-round magazine at the main police station in Tucson in 1975.
Manuel Miera / Tucson Citizen


John Dillinger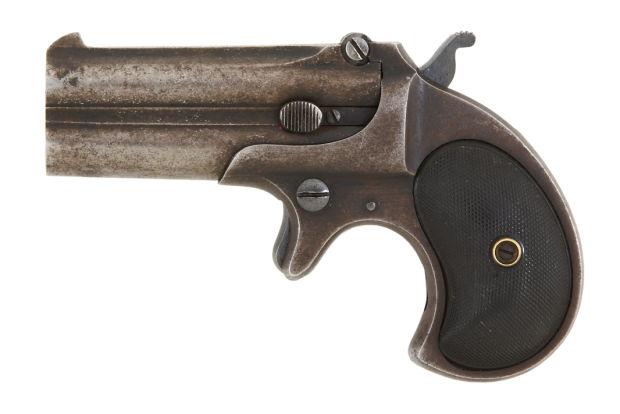 The Remington .41 caliber Double Derringer pistol confiscated from gangster John Dillinger when he was arrested in Tucson, Arizona on January 25, 1934 — six months before he was fatally gunned down in Chicago — sold for $95,600 in a public auction conducted in Dallas , Texas and online by Heritage Auction Galleries of Dallas (www.HA.com) on July 25, 2009, a few days after the 75th anniversary of Dillinger's death. According to Heritage the winning bidder is a Los Angeles area collector, and the winning bid was more than twice the pre-auction estimate.
Heritage Auction Galleries


John Dillinger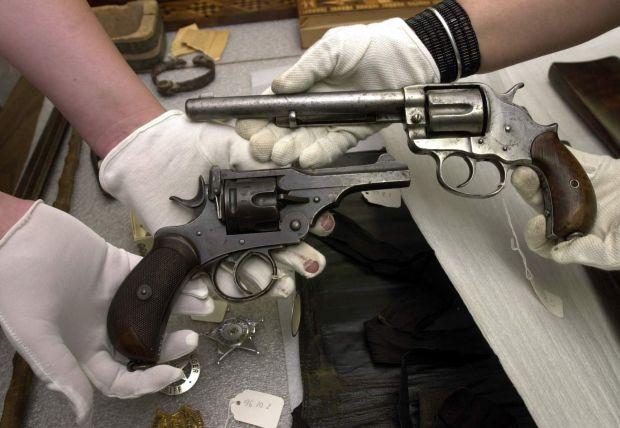 Artifacts at the Arizona Historical Society: At left is a handgun used in the Pantano stage holdup. At right is a gun owned by Billy Stiles, an outlaw/gunman who died in 1908. The cummerbund from John Dillinger's bullet-proof vest is on the table.
Norma Jean Gargasz / Tucson Citizen


John Dillinger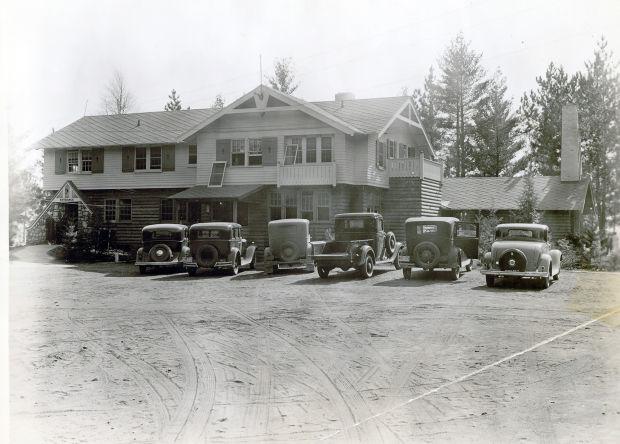 This late April 1924 photo released by the Federal Bureau of Investigation shows a view of Little Bohemia, in Manitowish Waters, Wis., taken by FBI personnel following a raid. John Dillinger and his gang lived there for three days, until federal agents nearly caught up with them. Two men were killed and four were wounded during a gun battle as the gang escaped.
FBI


John Dillinger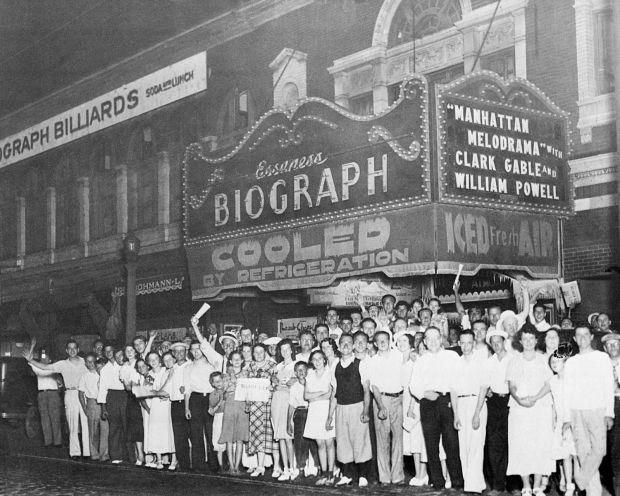 In this July 21, 1934 file photo, people pose in front of the Biograph Theater at Lincoln and Fullerton Streets as one woman displays the newspaper headline "Dillinger Slain" in Chicago, Ill. Outlaw John Dillinger was shot and killed by federal agents outside the movie theater after watching the feature "Manhattan Melodrama."
AP file


John Dillinger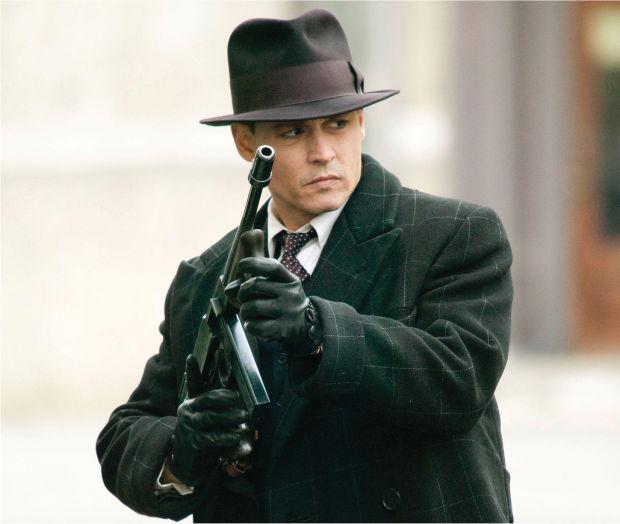 In this film publicity still released by Universal Pictures, Johnny Depp stars as legendary Depression-era outlaw John Dillinger, in a scene from, "Public Enemies."
Peter Mountain/Universal Pictures


Stay up to date on what's happening
Receive the latest in local entertainment news in your inbox weekly!
.