Exhibit on Flagstaff's housing crisis opens at local church
The Episcopal Church of the Epiphany opened its new exhibit focused on Flagstaff's housing woes Friday. Titled "On the Verge — The Flagstaff Housing Crisis," the exhibit takes a solution-focused approach to an issue affecting many residents.
On display through March 31, "On the Verge" is latest in a series of more than 20 exhibits made as part of the church's Open Doors: Art in Action project. The project is meant to highlight a variety of social, environmental and justice issues in Flagstaff. Past topics have included Arizona's water supply, COVID and Indigenous women's art.
Open Doors Committee Chair Dan Dooley said the idea to feature housing in the latest exhibit started with Habitat for Humanity's local starter home project, the pilot for which was completed in the fall.
People are also reading…
He has extensive experience with the organization, working as a volunteer in Tennessee before becoming a health supervisor, board member and eventually board co-chair for Habitat for Humanity Central Arizona, which is the fifth-largest branch in the world.
After he began working on the exhibit, Dooley said, he realized that it would need a larger scope. He spent eight months researching in total, learning about how a variety of local agencies have been working to address the problem and ways the city has been moving forward with its 10-Year Housing Plan and $20 million housing bond that were both passed in 2022.
"Once I started looking into this, I realized that the crisis that we have here is much more than just about affordable housing and the starter homes," he said. "…It started very small and then it blossomed into something that was pretty extensive."
The community meeting room at the Episcopal Church of the Epiphany now features an exhibit focused on Flagstaff's housing crisis.
Jake Bacon, Arizona Daily Sun


The exhibit features images and short summaries of what several local agencies and organizations are doing to address housing in Flagstaff, as well as wall image panels and pedestals telling specific stories from those experiencing homelessness in the city.
"It's different than what we've ever done and … what I've seen anyone do," Dooley said, describing the project as an "informational art exhibit."
He added: "The exhibit is really more about informational pieces, about so many agencies that we have here that are doing the job that people just don't realize they're doing. The crisis we have starts from the very bottom with homelessness and then goes all the way up to people that can't live in our community because the housing cost is just so extreme.It's focusing on a lot of different agencies, and then hopefully people will see what's going to be taking place in the future. "
It also features speakers from organizations in relation to the exhibit once a month sharing how they are working on solutions. Each reception will take place from 6 to 8 pm, with speakers beginning at 7 pm
The opening reception Friday included Flagstaff Mayor Becky Daggett, Flagstaff Shelter Services Executive Director Ross Schaefer, and Sunshine Rescue Mission and Hope Cottage Executive Director Kathie Knapp, as well as two leaders from Housing Solutions of Northern Arizona in COO Matt Bruton and development director Rommy Sekhon .
The Feb. 3 First Friday ArtWalk reception will feature Northland Family Help Center Executive Director Shaleen Seward, city councilmember and ANEW Living Executive director Lori Matthews, and Townsite Community Land Trust Executive Director Duffie Westheimer.
The final reception, set for March 3, will also be part of the First Friday ArtWalk and will include presentations from Habitat Executive Director Eric Wolverton, city housing program manager Adriana Fisher and Steve Capobres, the Catholic Charities Housing for Hope director.
Dooley said the exhibit is meant to create awareness about Flagstaff's housing crisis and encourage residents to find ways they can contribute to solutions.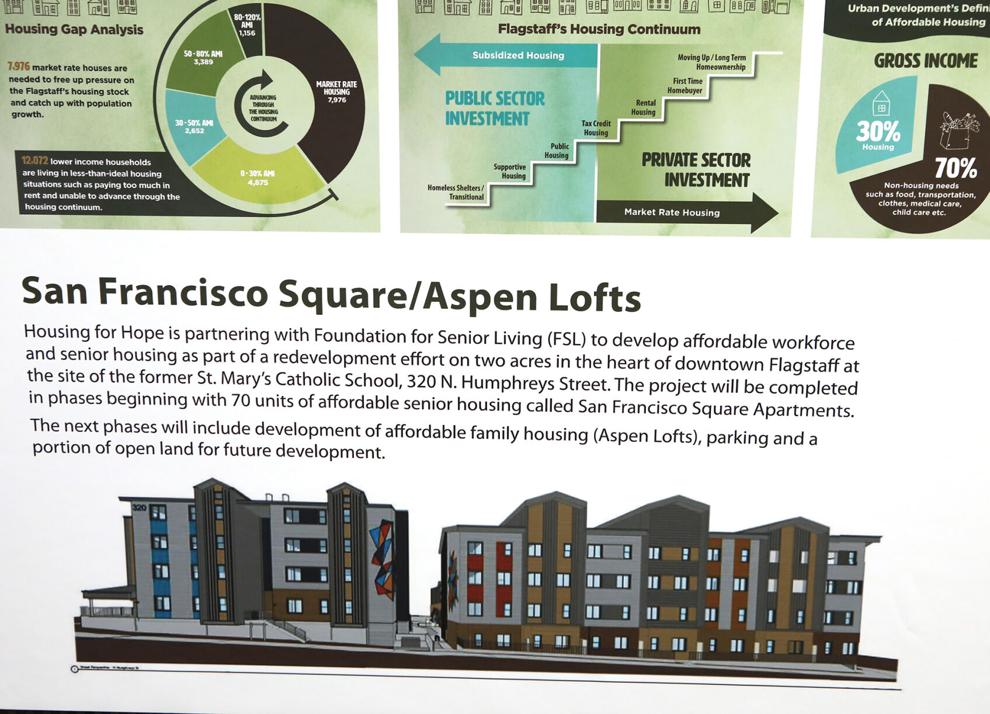 The community meeting room at the Episcopal Church of the Epiphany now features an exhibit focused on Flagstaff's housing crisis.
Jake Bacon, Arizona Daily Sun


"I hope for people to be shocked and I hope for them to be stimulated to really do something," he said. "It's a real crisis for a wonderful community and we have to figure out some solutions. … And then, informationally, to take away admiration for what our city is doing, because it is really putting out an effort to try and tackle this problem."
Based on his research putting together the exhibit, Dooley said he thought several of the programs highlighted were steps to making housing more affordable in Flagstaff.
The starter home project, which provides families with an affordable place to live while helping them build savings, is a good first step, he says. Second steps are projects like Housing for Hope, converting the location of a former school into affordable housing units. Another solution that's contributing is the city itself — through its programs, the 10-year plan and the bond.
More information can be found at opendoorsartinaction.com.
Editor Chris Etling takes you behind the scenes of just one example of how we look through archives for information used in the Flagstaff History column.
Get local news delivered to your inbox!
Subscribe to our Daily Headlines newsletter.