Gameday Rundown: HEAT End Road Trip In Phoenix
Miami HEAT vs. Phoenix Suns
IOTG: Miami Mashup Vol. 2 Gray Long Sleeve Tee – $20
buy now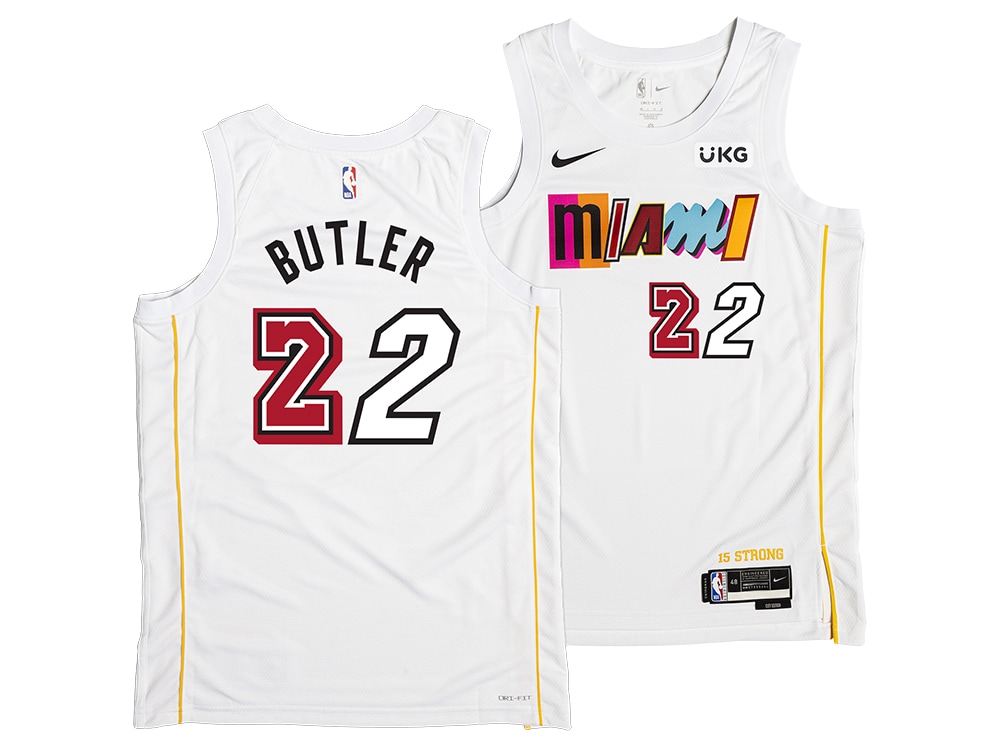 The HEAT and Suns meet for the second and final matchup this regular season.
Earlier this season, Miami recorded a, 113-112, win with Jimmy Butler blocking a potential game-winning shot at the buzzer on 11/14. With a victory, Miami will sweep the series for the first time since the 2017-18 season.
The HEAT are 31-37 all-time versus Phoenix during the regular season, including 16-19 in home games and 15-18 in road games.
After tonight, Miami will be done playing in the Pacific and Mountain time zones this season. Tonight's game in Phoenix marks as Miami's final game in the Mountain time zone. The HEAT recently played their last games in the Pacific time zone with contests in Los Angeles against the Clippers on 1/2 and the Lakers on 1/4.
Kyle Lowry has currently committed only two or fewer turnovers in 11-straight games, tying the third-longest streak of his career.
Over his last five games, Bam Adebayo is averaging 27.6 points (138), 11.0 rebounds (55) and 1.80 blocks (9) while shooting 58.4 percent (52-of-89) from the field. Adebayo has scored at least 30 points seven times this season, helping Miami to a 6-1 record over that span. Additionally, he has now scored 550 points in the paint, the third-most in the NBA. Below are the most points in the paint this season.
Miami: Dewayne Dedmon, Probable, Injury/Illness (Left Foot; Plantar fasciitis) – Udonis Haslem, Questionable, Injury/Illness (Right Achilles; Tendinosis) – Nikola Jovic, Out, Injury/Illness (Lower Back; Stress Reaction) – Caleb Martin, Questionable, Injury/Illness (Left Quadriceps; Strain) – Duncan Robinson, Out, Injury/Illness (Right 2nd Finger; Surgery) – Omer Yurtseven, Out, Injury/Illness (Left Ankle; Surgery)
Phoenix: Devin Booker, Out, Injury/Illness (Left Groin; Strain) – Cameron Johnson, Out, Injury/Illness (Right Meniscus; Tear) – Cameron Payne, Out, Injury/Illness (Right Foot; Soreness) – Jae Crowder, Out, Not With Team
| MIAMI HEAT | CATEGORY | OPPONENT |
| --- | --- | --- |
| 109.0 | Points Per Game | 113.5 |
| 109.5 | OPPONENT POINTS PER GAME | 111.2 |
| .454 | FG PCT. | .467 |
| .476 | OPPONENT FG PCT. | .470 |
| .340 | 3-PT FG PCT. | .382 |
| .820 | FTPCT. | .789 |
| 40.7 | REBOUNDS PER GAME | 43.0 |
| 43.2 | OPPONENT REBOUNDS PER GAME | 43.1 |
| 23.9 | ASSIST PER GAME | 26.7 |
| 8.33 | STEALS PER GAME | 7.10 |
| 13.4 | TURNOVERS PER GAME | 13.7 |
| 16.6 | OPPONENT TURNOVERS PER GAME | 15.2 |
| 3.10 | BLOCKS PER GAME | 5.15 |