Indians win home opener – Yuma Pioneer
Finally a cute home for the Yuma High School volleyball team.
The Indians made their 2021 home debut against the Class 3A Brush Beetdiggers on Thursday, September 9, after opening the season with six away games, including three in the Kit Carson tournament. Season opening road transport ended last Tuesday in Imperial, Nebraska, versus Chase County.
They have a week off after today before receiving Akron on September 16.
Yuma definitely remains a work in progress that unfolds its potential and sometimes also struggles for consistency.
The Indians are 4-3 total, 0-1 in the Lower Platte Activity Association and going into today's home opener. They lost in three sets in Chase County but bounced back in Thursday's home opener with two sweep brushes in three, 25-17, 25-7, 25-14.
They opened the LPAA game against Sedgwick County in Ovid last Wednesday. It was her first game in more than a week and came in second in Class 2A against a squad. Sedgwick County is number 1 on the 2A Rating Percentage Index, which starts this week, while Yuma was number 23 on the September 10 update, with plenty of opportunities to move up as the season progresses.
Yuma entered the match at Ovid at No. 7 in the 2A Top 10, but it was a tough game for the tribe, losing 14-25, 12-25, 17-25.
It started well for Yuma when the Indians took the lead 7-4 in the first set. However, that was best for the tribe.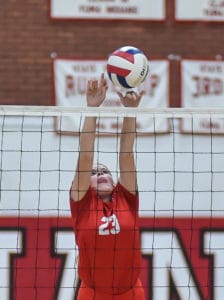 The Cougars reeled off six points in a row and also had runs of three and four straight points to open a 19-10 lead. The Indians quickly fell back 6-2 in the second set and never made a run in the 13-point loss. Yuma was within two, 8-6, in the third set, but Sedgwick County ran away seven in a row and never looked back.
The tribe struggled in all facets, including on the service line, where it was 82.2 percent. Elle Roth was 9-11 with an ace, Mia Dischner 8-9, Allie Barron 7-7 with an ace, Caddis Robinson 7-8, Meidi Reyes 2-3, Jailyn Mekelburg 2-2, Emma Rayl 1-2 and Lea Richardson 1-3.
Yuma only got 17 kills. Roth had seven, Richardson five, Robinson two, Barron two, and Dischner one. Robinson had eight hiring templates and Richardson had six. Roth led on serve and Roth and Robinson led on excavations.
The Indians were back on Friday for the long trip to Pine Bluffs, Wyoming.
This time they were able to take care of business against the one-win Hornets and won the 25-20, 25-19, 25-23 sweep.
Yuma was more solid on the serviceline at 90.5 percent. Robinson was 20-22 with an ace, Roth 12-12 with an ace, Reyes 10-10 with an ace, Barron 9-10 with an ace, Dischner 6-6 with an ace, Rayl 4-5, Kinley Eyering 2- 2, Richardson 3-6 and Mekelburg 1-1. The Indians recorded 40 kills, led by Roth at 18, while Reyes had nine, Robinson six, Barron five, and Dischner and Mekelburg one each. Richardson had 19 hiring assistants and Robinson 17. Roth and Rayl led the service, including Roth 27-27, and Richardson, Rayl and Roth led the digs.