Juniper, Liam most popular baby names in Coconino County for 2022
While Coconino County's top-five list for baby names in 2022 has some overlap with Arizona as a whole, local families favored a few unique names for their kids, especially when it came to names for girls.
The top name for boys in both Coconino County and Arizona was Liam. Oliver came in second in the county and fourth in the state. There was a five-way tie for the county's third-most popular boy name between Asher, Kai, Logan, Mason and Theodore.
While Asher did not appear on Arizona's list of the 100 most common names, the others all did, with Theodore at 15, Kai at 34, Logan at 46 and Mason at 52 on the Arizona register.
Flagstaff resident Janice Salazar said she was surprised to learn that her son's name — Theodore — was on the list of the year's most popular names. She and her husband had switched from naming him Leo (which came in 38th in Arizona), in part because they thought Theo would be less common.
People are also reading…
Janice Salazar sits with her son, Theo.
Jake Bacon, Arizona Daily Sun


"We thought maybe that's too common of a name, and we were looking at other baby names and then we fell on Theodore," she said. "We're big fans of Theodore Roosevelt — we thought he was one of the coolest presidents — and we really liked the nickname Theo."
Salazar said she and her husband admired Roosevelt for his involvement with the national parks, his leadership and his care for the environment.
"We're super outdoorsy and appreciate going out to the different national parks, and he just seemed like he was an environmentalist. He was one of the great presidents, just overall a great leader," she said. "We're hoping Theo inherits a lot of these traits."
The deciding factor, however, was how much they liked the nickname Theo. Almost everyone uses the nickname for him, she said, though a few relatives call him Teddy.
Theo is now 5 weeks old, and Salazar says she hasn't yet met another family who used the name.
"I was very confused, because I don't personally know any Theodores," she said of finding out the name was among the most popular in the county. "I was talking to one of my girlfriends and she was [saying], 'It's just one of those things where everyone in our generation is going to be like, "That's not a common name."' So it's coming back now. You're not going to notice it until my son is growing up and then he'll probably run into however many Theos."
Juniper was the top name in Coconino County for girls in 2022, landing at No. 93 on the state list. Arizona's 99th most-popular name — Hailey — came in third in the county, with more common names in the state appearing elsewhere on the local list.
Sophia was second-most popular in the county and fourth in the state, and the top Arizona name of Olivia took fifth in the county. Hazel was the fourth-most popular name in the county for the year, but did not make an appearance on the state list.
Flagstaff resident Marissa McCabe named her daughter Olivia, in part as a reference to her pregnancy cravings.
"When I was pregnant with her, I was really drained all the time and when I would eat spinach, I was like a completely different person," she said. "So Olive Oyl is Popeye's girlfriend and he ate spinach to get strong."
She switched to a slightly different form of the name because her sister told her Olive made her think of the food. Otherwise, McCabe said, Olivia has been her name choice since the start.
She was also surprised to hear the name was in the county's top five, as in her work at Maverick, most people she'd talked to told her, "Oh, that's so original, you don't ever hear that name anymore."
Olivia is now over 4 months old, and McCabe still hasn't met any other families who used the name. She has met a Juniper in one parenting group, however.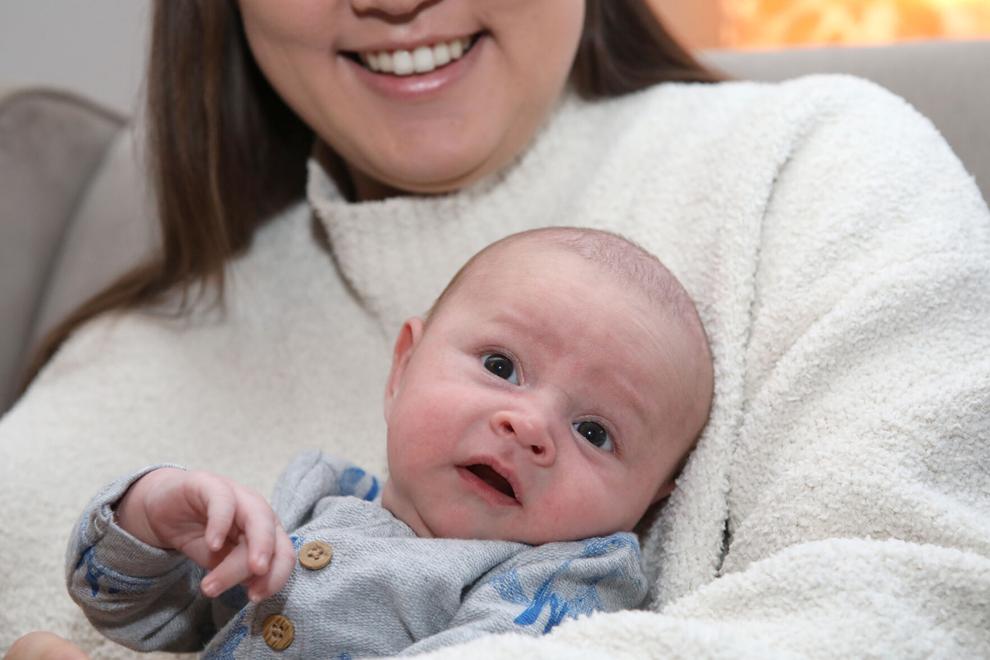 Janice Salazar sits with son Theo.
Jake Bacon, Arizona Daily Sun


Macey Wilson chose the names for her 8-month-old twins based on a family tradition — either the first or middle name after a relative.
She named her son Theodore, after his great-great-grandfather, and her great-grandfather, who founded Nava-Hopi Tours and built parts of downtown Flagstaff, among others. She also liked the name, she said, describing it as "a classic."
"He built the block that this family lives on, he had a bus company in town, he was known as a really nice guy — successful and things like that around town," she said of her son's namesake.
Wilson named her daughter Mathilda (which isn't on the state or county list for the year) because she liked it and "all the nickname possibilities." Wilson said she specifically chose the German spelling of the name (with an h), in honor of the time she spent living in Germany.
Mathilda's middle name is the one with the family connection.
Her alternate name choices were James and Leona, but Wilson said that Theodore and Mathilda "fit them quite well."
"It did surprise me, just because I didn't think it was that popular," she said of hearing that her son's name was among the most common in the county this year. "I've never known anyone besides my grandfather who had that name."
An Arizona Department of Health Services announcement of the state's top 10 names in 2022 noted that many of the top names for the year were similar to past years.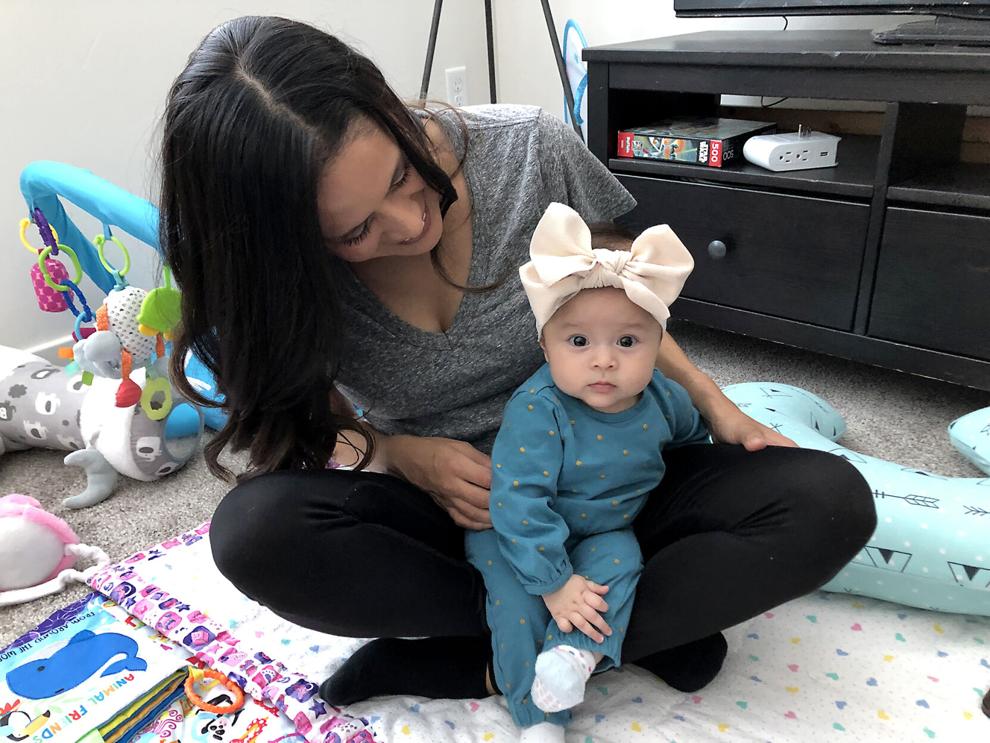 Marissa McCabe sits with her 4-month-old daughter, Olivia Sweeden.
Jake Bacon, Arizona Daily Sun


"For the third year in a row, Olivia has been the most popular name for a baby girl for 2022 and Liam is again the most common name for a boy," it said.
It notes as an example that in 2012 the most popular names for girls in Arizona were Sophia, Isabella, Emma, ​​Mia and Olivia — all of which made 2022's top 10 — and, with the exception of Mia, make up the top four girl names statewide, though in a different order.
Top names for girls in Arizona in 2022 were Olivia, Emma, ​​Isabella, Sophia, Luna, Mia, Camila, Amelia, Ava and Charlotte.
Of 2012's most popular names for Arizona boys — Jacob, Liam, Daniel and Ethan — only Liam made the cut in the top 10 for 2022. The other three were still in the top 100, with Jacob at 49th, Daniel at 16th and Ethan at 27th.
The most common boy names statewide in 2022 — Liam, Noah, Mateo, Oliver, Santiago, Sebastian, Elijah, Ezra, Ezekiel and Julian — are the same as the previous year, with one exception, according to the announcement. The name Ezra was added to the list this year, replacing Benjamin, which moved to No. 12.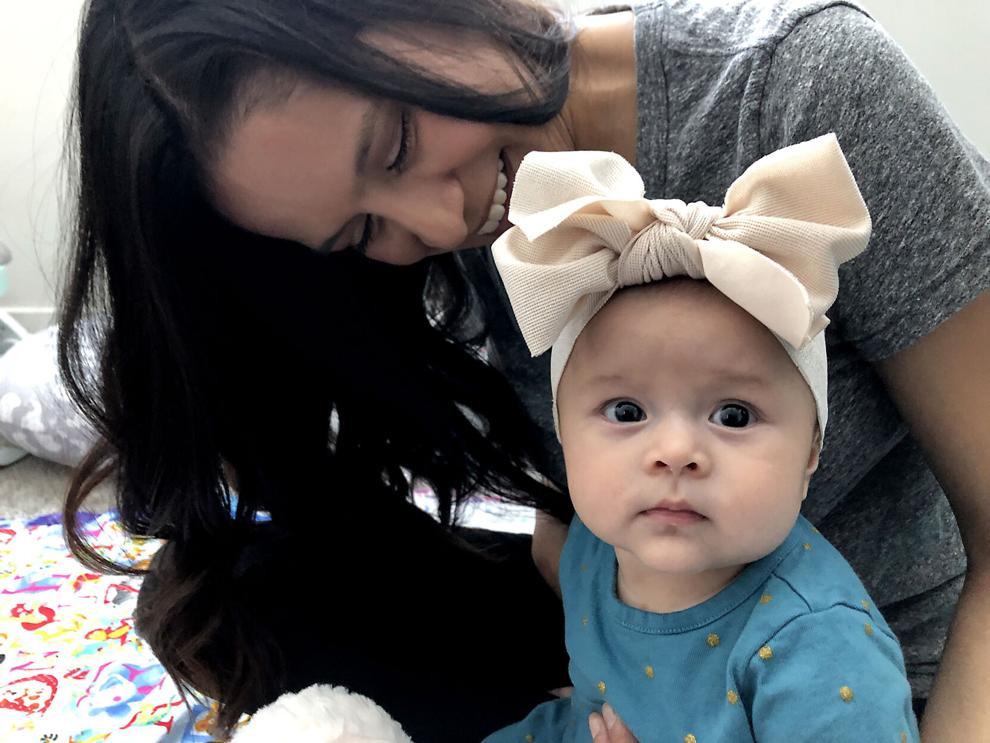 Marissa McCabe sits with her 4-month-old daughter, Olivia Sweeden.
Jake Bacon, Arizona Daily Sun


It also noted that these are similar to the most popular names across the United States, with Olivia, Emma, ​​Liam and Noah being most common nationwide.
As for 2023, Wilson's guess for a popular name was Leonard. Salazar didn't make a specific guess, but said her theory was that older names make a comeback.
The list of Arizona's top 100 baby names can be found here.
Get local news delivered to your inbox!
Subscribe to our Daily Headlines newsletter.