Matilde Roe a star thrower for NAU athletics | Local
Northern Arizona thrower Matilde Roe is preparing to launch the javelin at a recent track and field meet.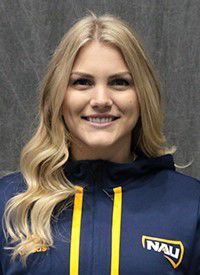 Matilde Roe is an aspiring senior on the NAU athletics team.
ERIC NEWMAN Sun Sports Editor

Up-and-coming senior Matilde Roe of northern Arizona was named Big Sky Women's Most Valuable Athlete at the May 15 outdoor track and field meet, and dominated the lumberjacks to a women's team title.
Roe took first place overall in the discus throw (49.68 m) and in the shot put (15.12 m) and took fourth place in the javelin throw (48.40 m).
A few years ago she had never set foot in Flagstaff, let alone the United States, and especially no college track and field meet.
The junior grew up in Bergen, Norway, a medium-sized town on the country's southwest coast, surrounded by Bergen and the Sognefjord – Norway's longest and deepest estuary.
"Everything was perfect. So I just took the opportunity. I just signed up for something massive and was hoping for the best," she said.
"It's very different from home, but honestly it's been the best three years of my life," she added.
Roe grew up on the track. Her older brothers participated in this sport, and she remembers taking part in exercises and meeting at the age of 2. There was no question that she would pick him up too. Naturally strong, litters were a perfect fit.
When she was 15 or 16, she began to take throwing seriously, training with high level coaches and competing in several of the best youth competitions in Norway and Europe. She even qualified for U18 European and World Championships, but had to deal with injuries that she endured. It was around this age that she decided to go to college in the United States and compete. The lumberjacks offered her the best scholarship and the best sporting opportunity.