Panthers win four matches at Flagstaff High School wrestling meet
SUN SPORTS STAFF

The Coconino Panthers wrestling team went 4-0 during a multi at Flagstaff High School Wednesday, including a 64-18 victory over their crosstown rivals.
Meanwhile the hosting Eagles went 0-1-1, including a draw with Willow Canyon.
Flagstaff's Ryan Reel (left) wrestles during a match at Flagstaff High School Wednesday.
Jake Bacon, Arizona Daily Sun


Coconino, a Division III program, dispatched the D-II Eagles 64-18 to start the day, including wins by Rylan Smith, Kevin Williams, Michael Dries, Jesse Granger, Devin Williams, Bridger French, Cooper French, Wyatt Bert, Prayer Young – Blackgoat and Noah Fisher. Flagstaff picked up victories by Seth Mahkewa, Brandon George and Gavin Franklin.
All three of the Eagles to win their individual bouts against Coconino won in the second team match against Willow Canyon. They were joined by Weston Johnson, Canyon Kirkman, Emory Burden, Nick Conto and Kaden Skinner.
Flagstaff will host Sunrise Mountain Wednesday.
People are also reading…
Coconino defeated Glendale 58-21, Window Rock, 78-6, and Willow Creek by a score of 45-30. Kevin Williams, both Cooper and Bridger French and Young-Blackgoat each went 4-0 individually.
The Panthers were set to compete in the Tim Van Horne Memorial Invitational Friday in Payson.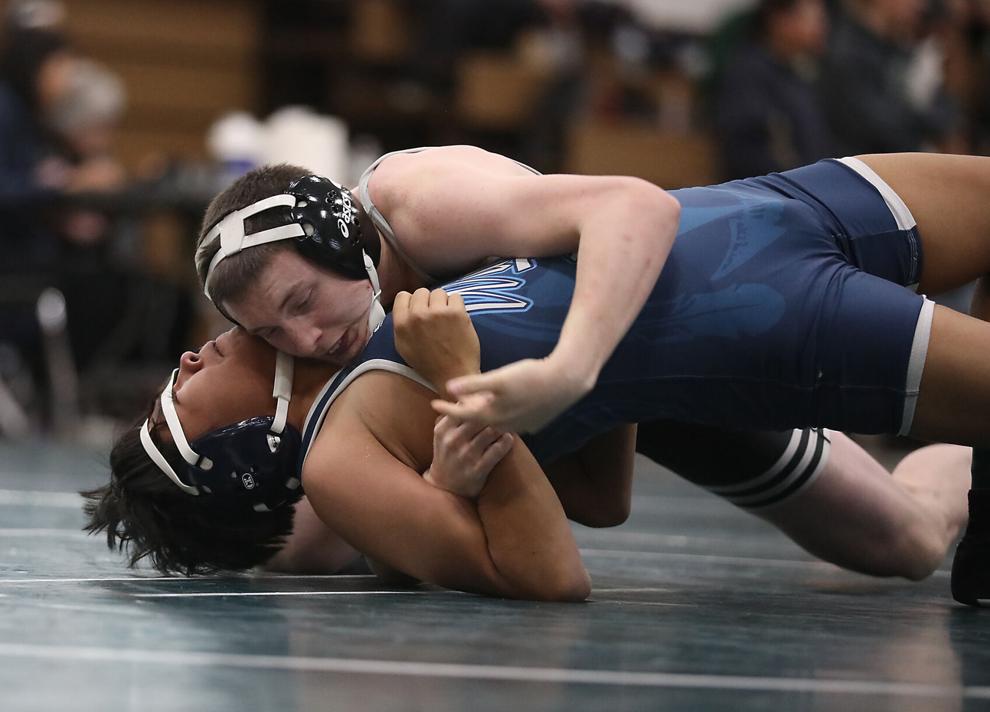 Coconino's Konnor Kendrick (top) wrestles during a match at Flagstaff High School Wednesday.
Jake Bacon, Arizona Daily Sun


Girls basketball
Panthers 60, Thunderbirds 21
No. 15 4A Conference Coconino won its third consecutive game and seventh in the last eight over No. 42 Mohave Thursday at Coconino High School.
The Panthers (10-3, 7-1 Grand Canyon) outscored the Thunderbirds 44-7 in the first half, including a 7-0 run to start the game.
Coconino will visit Lee Williams Saturday.
Eagles 55, Marauders 20
Fourth-ranked 4A Flagstaff won its 10th consecutive regular-season game Thursday with a victory over Mingus Union at Cottonwood.
The Eagles (12-2, 8-0 Grand Canyon) were led by Bella Burcar's 14 points, and Jaydean Dugi and Morningrain Honani both chipped in nine.
Flagstaff outscored the Marauders 22-3 in the second quarter to blow the game open and coasted the rest of the way.
Boys basketball
Panthers 59, Thunderbirds 36
No. 17 Coconino bounced back from Tuesday's overtime loss to Prescott with a dominant road victory over Mohave Thursday.
The Panthers (8-6, 5-3 Grand Canyon) have won three of their last four games. They will visit Lee Williams in Kingman Saturday.
Marauders 67, Eagles 58
No. 32 Flagstaff lost its seventh consecutive game Thursday, falling to Mingus Union in Cottonwood.
Flagstaff (2-12, 1-7 Grand Canyon) fell behind 17-9 after the first quarter. Despite outscoring the Marauders 19-16 in the second period, the Eagles could never catch up.
The Eagles were set to host Bradshaw Mountain Friday.
Girls soccer
Eagles 9, Marauders 0
No. 6 Flagstaff won its second straight match Thursday, defeating Mingus Union at Cottonwood.
Ciara Garcia led the Eagles (8-1, 2-1 Grand Canyon) with two goals. Makenna Maloney, Brooke Porter, Kate Bouck, Taylor West, Maya Evans, Keira Robertson and Nataly Arangure each added a goal.
The Eagles have not played a home game since Jan. 9, but are scheduled to host Prescott Tuesday.
Thunderbirds 5, Panthers 0
No. 19 Coconino struggled offensively in a road match at Mohave Thursday.
After winning five straight matches from Dec. 7 to Jan 12, the Panthers (5-3, 1-2 Grand Canyon) have lost two in a row.
Coconino had to suspend its scheduled home match Friday against Cortez due to snow. The Panthers have only played two home matches this season, and are scheduled for just one more this season. They will visit Bradshaw Mountain Tuesday.
Be the first to know
Get local news delivered to your inbox!