Phoenix Suns Have Nowhere to Go but Up
The Phoenix Suns have officially entered uncharted water this season after losing four games in a row and dropping to 4th in the Western Conference. After a hot start to the season, the Suns have hit a definite rough patch. Hope is on the horizon however as the Suns will travel to Houston to take on the Rockets Tuesday night.
Two losses were taken in the Big Easy against an excellent Pelicans team that is hot at the moment. Winners of seven in a row, the Pelicans might be the most complete NBA team in the league for the time being.
Their combination of size and athleticism is rarely seen on an NBA roster, and as a result, see themselves currently atop the Western Conference. The Pelicans mixture of young talent, veteran role players and pesky defenders overwhelmed a shaky Suns team for two games.
To add insult to literal injury, star guard Devin Booker is listed as day-to-day with hamstring tightness and did not play in the overtime loss on Sunday. Booker, who apparently has been dealing with tightness over the course of several games, has had uncharacteristic play in the recent losses.
Without their primary scorer, the Suns will have to look elsewhere for offensive production, something that has certainly been a struggle as of late.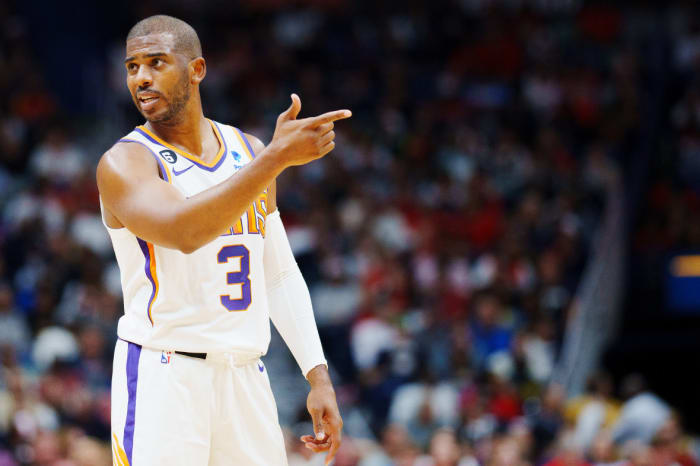 There is no question the Suns have been playing poor basketball in the past four games. Teams often sputter when they have an emotional loss like the 130-111 loss to Dallas on Dec. 5.
After a draining loss, the Suns had to quickly recompose themselves as the defending Eastern Conference champion Boston Celtics came into town. The game was a dismantlement of the Suns who were punched hard from the beginning.
Two difficult games were then slated in New Orleans against perhaps the hottest team in the entire NBA. Phoenix couldn't catch a break going up against a dynamic, hungry team. Big momentum plays were plentiful for the Pelicans; for the Suns, not so much.
Pelicans PF Zion Williamson was seemingly exploding through the roof whenever he had the opportunity.
His physicality was on full display in two games with clips showcasing that below:
The Suns have been playing basketball to the eyes and to the numbers. Statistically, Phoenix has had a concerning stretch of games:
In the last four losses:
Shooting 169 for 375 on field goals for 45%
Shoot 56 for 151 on 3-pointers for 37%
Out rebounded in all four games
Given up to 512 points, most in the NBA in the last four games
Opponent's average biggest lead is over 25 points, worst in the NBA
Average scoring margin of -14.3, worst in the NBA
(All statistics provided by Basketball Reference, Stathead, Team Rankings and Statmuse)
It's safe to say the Suns have played poorly in their last losses, but it's a long season, and veteran G Chris Paul knows that. After Paul came back to the lineup on Dec. 7, he scored 4, 24 and 6 points in three losses. His shooting has been inefficient and looks like he's still shaking off some rust from the heel injury which benched him for 14 games.
Paul has remained in control and kept his head cool however, offering wisdom only a 12-time NBA All-Star can provide.
Paul had a chance at the end of regulation on Sunday's game to shoot a three-pointer to win the game and instead hit a tough, off-balance two-pointer to force the game into overtime.
"Let it slide off. Realize it's a long season. You're with us all the time, Duane [Rankin], so I hate to sound so repetitive. But, the way our regular season went last year, we know we definitely have to get better and right some things here. But it's not do or die yet."
The Suns will continue on the road against the Houston Rockets. Houston has won only eight games this year and have struggled to find offensive and defensive identities themselves.
A good test of the Suns' discipline with their game plan will be critical for a win. Phoenix will need to shoot the ball with confidence early and see shots go in to get into a groove. Trusting Monty Williams, who, only two weeks earlier, was voted Coach of the Month for October and November, will be something to look for.
Center Deandre Ayton offered some motivation to the media after Sunday's loss stating, "We don't back down from anybody. I love our next-man-up mentality. The show is going to keep going."
The show will continue on the road in Houston at 6:00 pm Arizona time on Tuesday. What kind of show will the Suns put on? That will be the question.