The best counter service locations in the greater Phoenix area
Counter service sometimes gets a bad rap. Not from us; we are fans. Sometimes we even prefer to wait in an orderly queue instead of sitting at a table and turning our thumbs until the server spots us. Counter-service joints are often faster and usually cheaper than a full-service restaurant. Here are some places we like in the Phoenix area that allow you to order and eat instead of waiting for the check.
Stooping child
901 North 1st Street
Stoop Kid is in the Churchill and is small but mighty. There's a till to order, but the humble counter manages to accommodate four stools and a larger-than-life menu board with Stoop Kid's greatest hits that makes ordering easy. Whether you want a bagel breakfast sandwich (the Money Shot stacks tomatoes, cheddar, hash browns, scrambled eggs and spicy bacon jam on a Brooklyn-style bagel) or a hearty burger (the stoop burger doubles with double beef, cheddar and caramelized onions) , and dill pickles on a billowing brioche bun), get ready to open wide.
click to enlarge
The order of duty is determined at Vovomeena.
Allison Young
Vovomeena
1515 North 7th Avenue, Suite 170
You know exactly how to order when you go in Vovomeena. Handwritten signs tell you: get the menu, stand in line, order, take a seat and the food will be delivered to you. It may all sound like business, but this place is very close to the heart, with a super friendly staff, a modern yet homely atmosphere and a menu with updated home cooking, like Mexican Benedict with chorizo, tomatoes and coriander on sopes and Challah French toast with it grated apple and honey mascarpone.
I support
Local
Community
journalism
Support the independent voice of Phoenix and help keep the future of the New Times free.
click to enlarge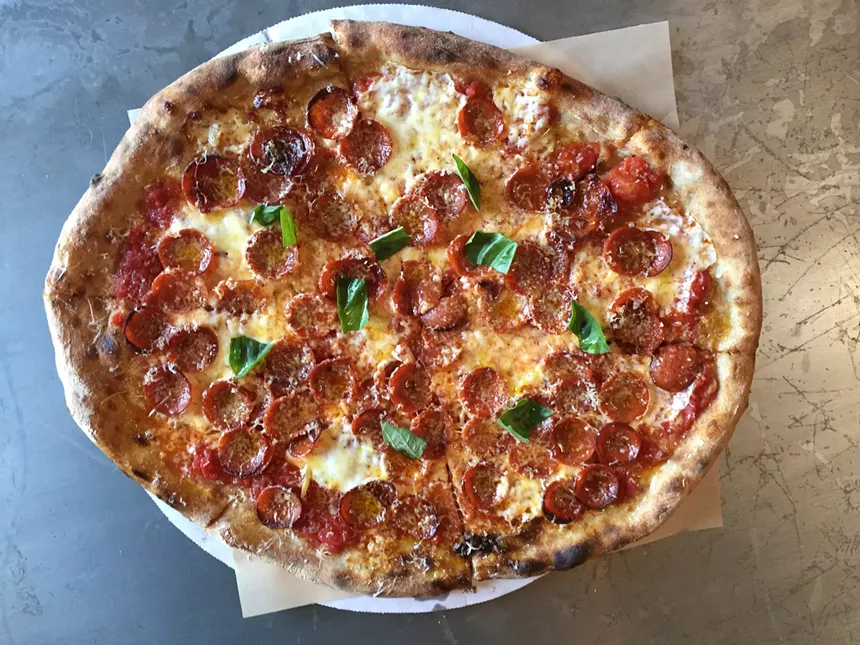 No ordinary pepperoni pizza from Myke's Pizza in Mesa.
Allison Young
Mykes Pizza
31 South Robson # 103, Mesa
Myke's Pizza is not your typical counter pizzeria. Located in the Cider Corps in downtown Mesa, the kitchen is completely open so you can see owner Myke Olsen throwing, topping, and wood burning bubbly, charred pies. The menu looks standard, but even simple salami is enhanced with flavorful honey and aged Gouda. Myke's also offers seasonal pizzas such as the impressive peach pie, a mozzarella and Gouda goddess with pistachios and crispy sage, which sells out daily.
click to enlarge
The Quesa Birrias from Taqueria El Fundador are bomb!
Taqueria The founder
Taqueria The founder
3245 West Van Buren Street
Taqueria El Fundador is famous for its taco al pastor, and rightly so. Made the same way for three decades, these tacos – pieces of pork, onion, pineapple, and a secret adobo spice – are stacked on a trombone and slowly cooked to add an incredible amount of flavor. But Van Buren, family-owned since 1985, also sells standout salsas, seriously stuffed burritos, and quesa birrias begging for a dip, all served counter-style at the speed of a bandido, just like the logo.
click to enlarge
Grab a loaf of bread with your lunch at Noble Eatery.
Allison Young
Noble restaurant
4525 North 24th Street
There's no shortage or gaudy Sammies in the Valley – Pane Bianco's Soppressata, Worth Takeaways Crispy Chicken, Miracle Miles Pastrami – but Noble Eatery makes our favorites. (We have a penchant for the plain old Italian here.) You can usually find a seat right outside the door, which makes dipping in a grain bowl or panzanella salad or Italian sandwich an airy endeavor during your lunch break. (One downside to Noble: it has tight opening hours, only Monday through Friday from 10:30 a.m. to 3:00 p.m.) Also get a bread while you're inside; they sell them at the counter.
click to enlarge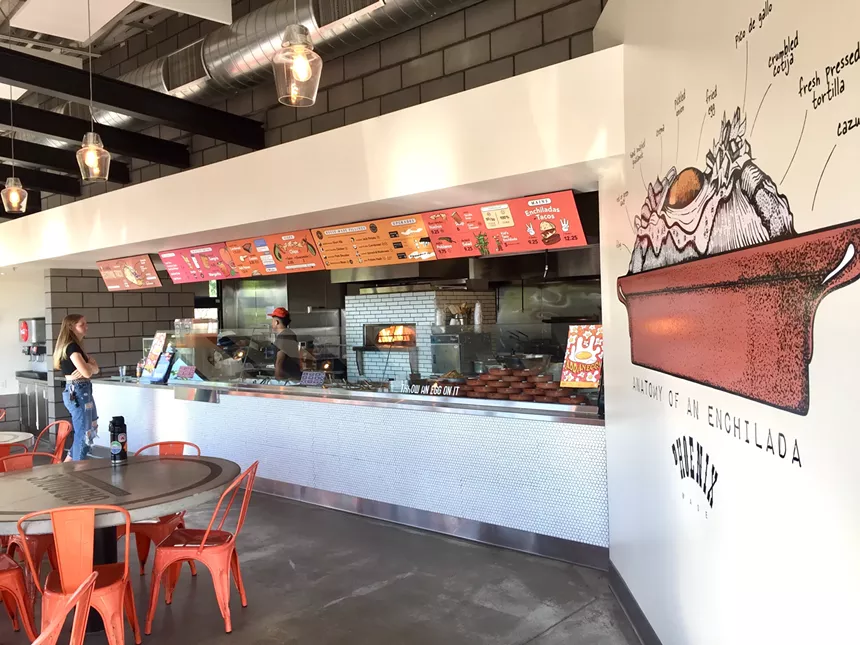 Get an egg on it at Gadzooks.
Allison Young
Gadzook's Enchiladas & Soup
Several locations
Gadzooks is all about making decisions. Choose between enchiladas, tacos, nachos and soup and then work your way up the delicious assembly line, fill, top and cover your freshly baked dishes with cheese, salsa, coleslaw and pickled onions or even a fried egg. Everything is homemade, from the braised ribs and creamy corn bread to the freshly squeezed tortillas and toasted arbol salsa. It's a delicious culinary adventure. And, psst, good news: you really can't make a bad choice.
click to enlarge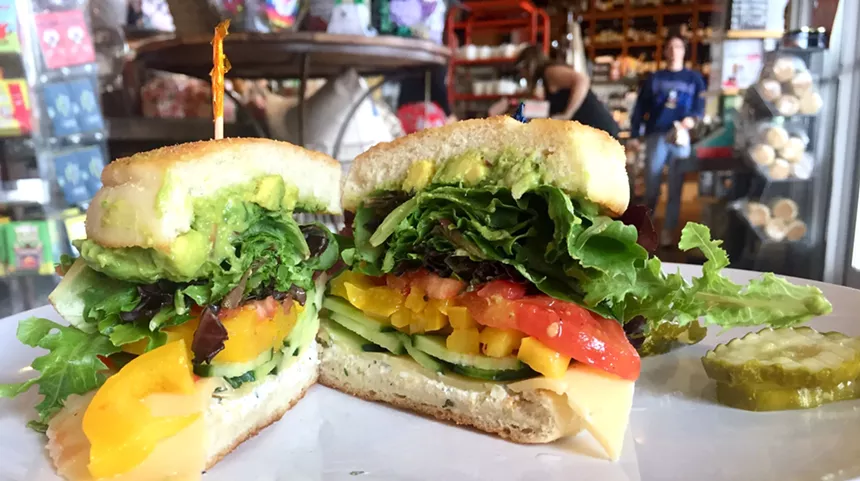 Vegetarian sandwich on an English muffin at La Grande Orange.
Allison Young
La Grande Orange Shop
4410 North 40th Street
The counter at La Grande Orange, or LGO for connoisseurs, is a pleasure. To get there, you pass tiered tables with candles and brightly colored gifts and cool boxes with fresh salads and sushi, then you stand face to face with a stylishly stocked pastry box of six-layer red velvet cake next to gravity-defying lime pie next to decadently frosted cupcakes – and that doesn't even include the impressive ice cooler. Even if you come in for a breakfast sandwich on one of LGO's famous English muffins, for example, it will be hard not to leave without getting yourself something sweet.
click to enlarge
Enjoy the holiday mood in the Aloha Kitchen.
Allison Young
Aloha cuisine
2950 South Alma School Road, Mesa
Lynn Tso and her husband Raymond opened Aloha Kitchen in 1986 to honor their Hawaiian heritage. Thirty-five years and a confirmation from Guy Fieri later, the strip mall staple is still going strong. Order at the counter for quick and affordable classic Hawaiian plates like bulgogi and teriyaki chicken served with steamed rice and potato mac salad or side salad. Aloha also makes a mean manapua, a slightly sweet steamed bun filled with marinated pork, and spam musubi. The sea blue walls and the dolphin mural only add to the tropical atmosphere.
click to enlarge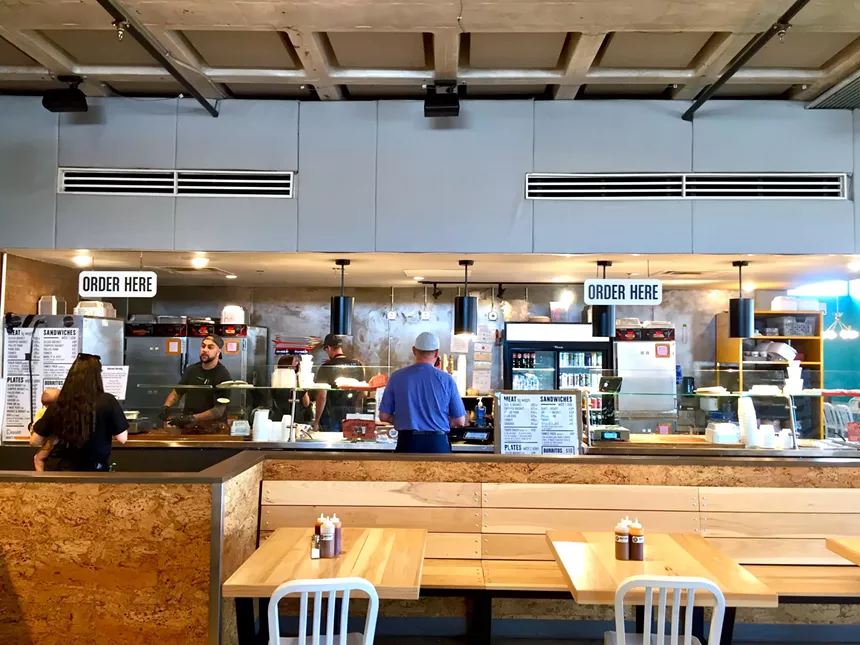 Order freshly cut barbecue at Little Miss BBQ.
Allison Young
Little Miss BBQ
8901 North 7th Street
4301 East University Drive
Whether you're visiting the original central location in Phoenix or the newer and more spacious Sunnyslope spot, counters are part of the offerings at Little Miss BBQ. When you're at the head of the line, order freshly cut barbecue, arguably the best in town, and watch the meat cook right in front of your eyes. Try slow smoked brisket, homemade sausage, pulled pork, Thursday pastrami, Friday and Saturday beef ribs, with ranch-style beans, jalapeno cheddar grits, and creamy macs and cheese – it's worth the wait.
click to enlarge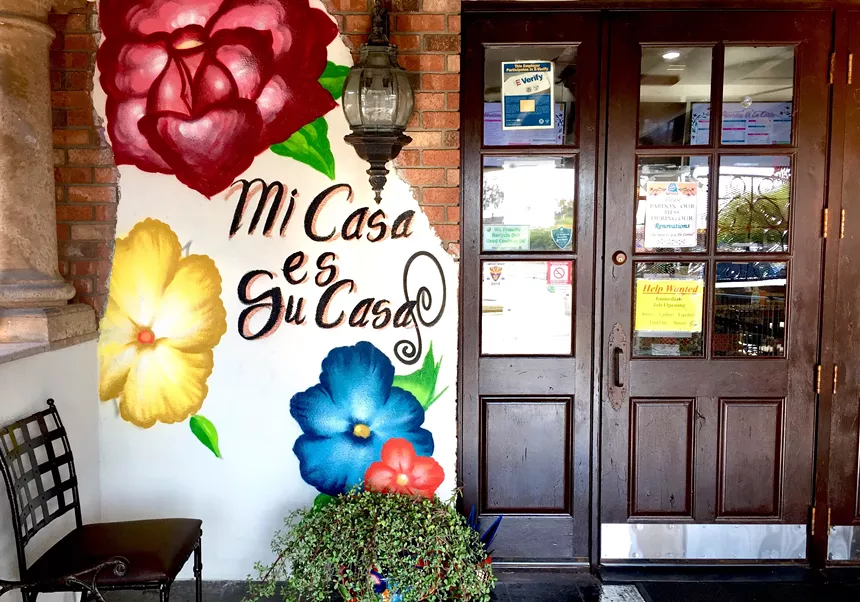 "My house is your house, but my taco is my taco" at La Canasta Capitolio.
Allison Young
The Capitol Basket
1733 West Van Buren Street
At La Canasta Capitolio – founded in 1962 by Richard and Carmen Abril – the counter service offers a fast food level. The wide variety of Sonoran-style breakfast burros, tacos, tostados, and sopapillas are served like McMuffins and Big Macs, but in a warm environment only found in a family-run restaurant that has served recipes passed down the generations for 50 years. Bonus: There is enough parking space and a drive through.