This long-running Tucson hotel has been sold for $16M
The 88-year-old Lodge on the Desert hotel has been sold to Chicago investors.
The 102-room hotel at 306 N. Alvenon Way was bought by Atria Hotel for $16 million, Pima County Recorder's documents show.
Bill Murney and Jesse Heydorff, with Cushman & Wakefield's Hospitality team in Phoenix, represented the seller, Lodge Partners LLC.
"Set against the Santa Catalina Mountains and near the University of Arizona and University of Arizona Medical Center, the property's hacienda-style accommodations offered an excellent opportunity for new ownership to capitalize and continue the hotels recovery that has accelerated post pandemic in the sought-after Tucson hotel market," said Murney, executive managing director. "The Lodge has had a great run…including creating a strategic local following at Cielo's, the resorts restaurant."
People are also reading…
Customers talk while sitting inside Cielos restaurant at The Lodge on the Desert in 2021.
Rebecca Sasnett, Arizona Daily Star


The property added 67 rooms in 2010 and has a combination of casitas and guest rooms on five acres.
The property was first built in 1934 as a residence and was converted to a guest ranch with seven rooms in 1936.
No changes to the property have been announced.
Other local real estate transactions include:
Schnitzer Properties LLC made two industrial purchases: 97 acres of land at 4300 E. Los Reales Road from Raceway Partners LLC for $7.6 million and a 109,229-square-foot industrial building at 5580 S. Nogales Hwy. from WAA Nogales Hwy LLC for $7.3 million. Tauna Robley, with Tucson Realty Solutions, along with Robert Glaser, Jesse Blum and Paul Hooker, with Picor, handled the sales.
TK Family LLC bought 2.73 acres of land at 2410 and 2435 N. Tanque Verde Village Place from SCOTIA JV 2005 LLP for $375,000. Rob Tomlinson, with Picor, represented the seller and Frank Arrotta, with Tucson Realty & Trust Co., represented the buyer.
CCS Presentation Systems LLC leases 4,800 square feet of industrial space at 740 E. Ajo Way. Tim Healy, with CBRE, handled the lease.
The new 6601 E. Grant Road Redevelopment Project from C2D2 Associates, has signed two new leases. Mountain Mike's Pizza leased 3,300 square feet for its second Tucson location and Jamba Juice leased 1,500 square feet of drive-thru space. Dave Hammack and Aaron LaPrise, with Picor, handled the transactions.
Bark N Meow LLC leases 1,315 square feet at Speedway Center, 3023 E. Speedway, from Mahoney Family Partnership. Greg Furrier and Natalie Furrier, with Picor, represented the landlord.
Aerial photos of Tucson in 1968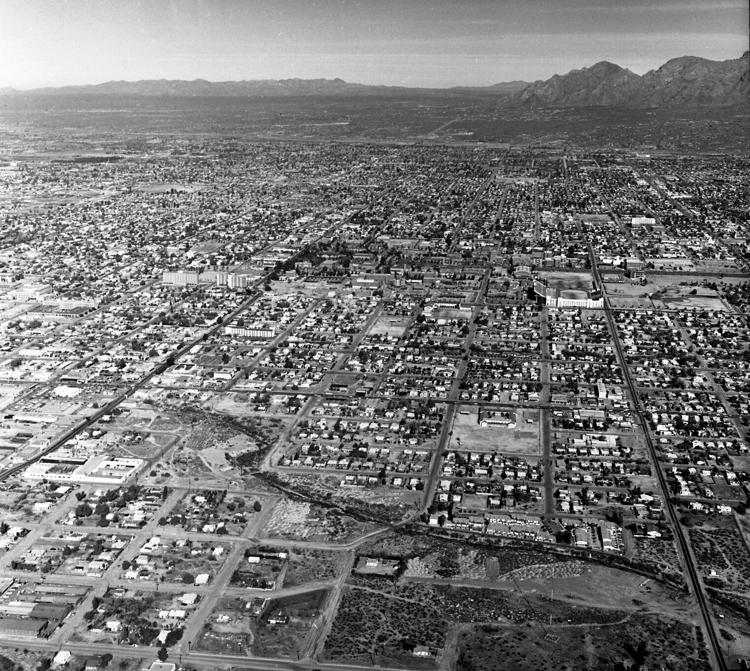 Looking north from Arroyo Chico, still more or less an open pit, where it crossed S. Cherry Ave. (lower right) in this aerial photo of Tucson in December, 1968. At that time, Cherry was a popular thoroughfare, extending from 29th Street through the University of Arizona campus and past Speedway Blvd. It was cut into pieces with the expansion of Arizona Stadium, the Arroyo Chico flood control project, and the Kino Parkway extension.
Bruce Hopkins / Tucson Citizen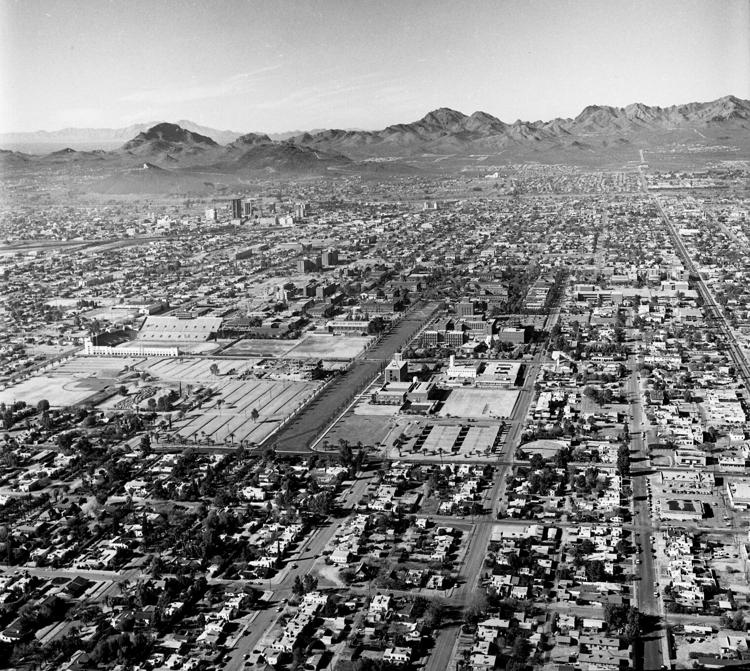 The clean, straight University of Arizona Mall splits the campus into two in this aerial photo looking west from Tucson Blvd. in December, 1968. The 100-foot-tall Meinel Optcal Sciences Building is under construction on open land cleared for more expansion, in the left side of the photo.
Bruce Hopkins / Tucson Citizen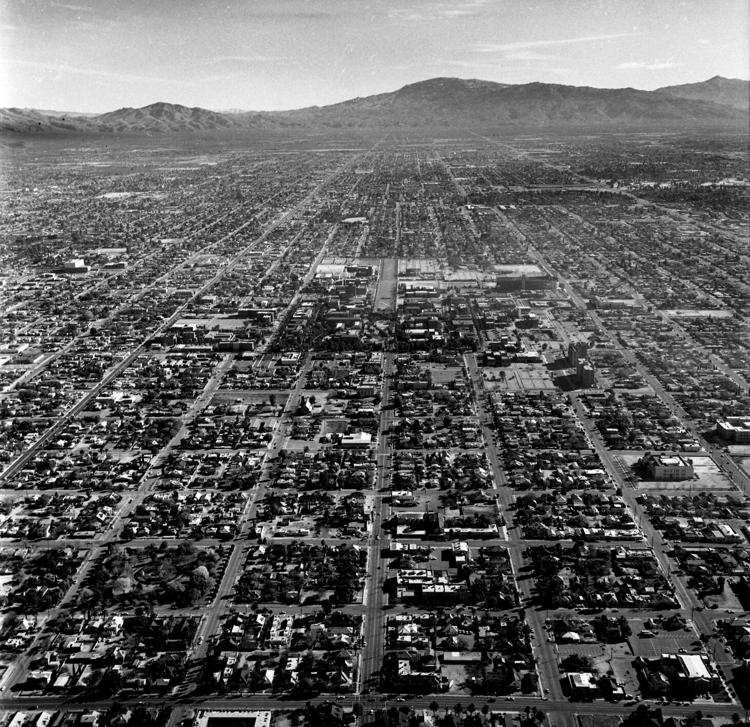 Looking east at the West University neighborhood and the University of Arizona Campus, center, from roughly Stone Ave. in this aerial photo of Tucson in December, 1968. 6th Avenue is at the very bottom. Catalina Park is on the lower left.
Bruce Hopkins / Tucson Citizen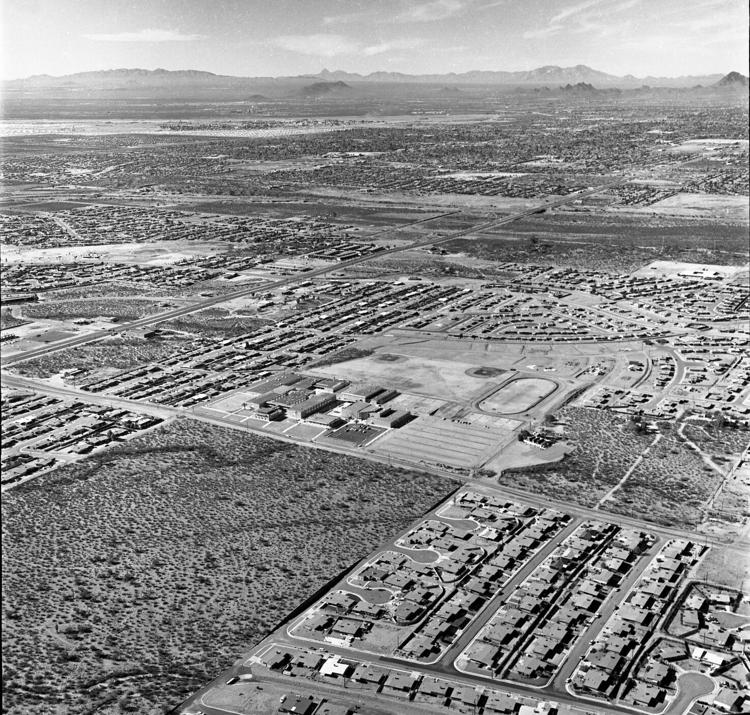 Sahuaro High School, which opened for students in August, 1968, in the center surrounded by new subdivisions in this aerial photo southwest across Tucson in December, 1968. The one swath of open desert across the street from the high school did not stay that way for long.
Bruce Hopkins / Tucson Citizen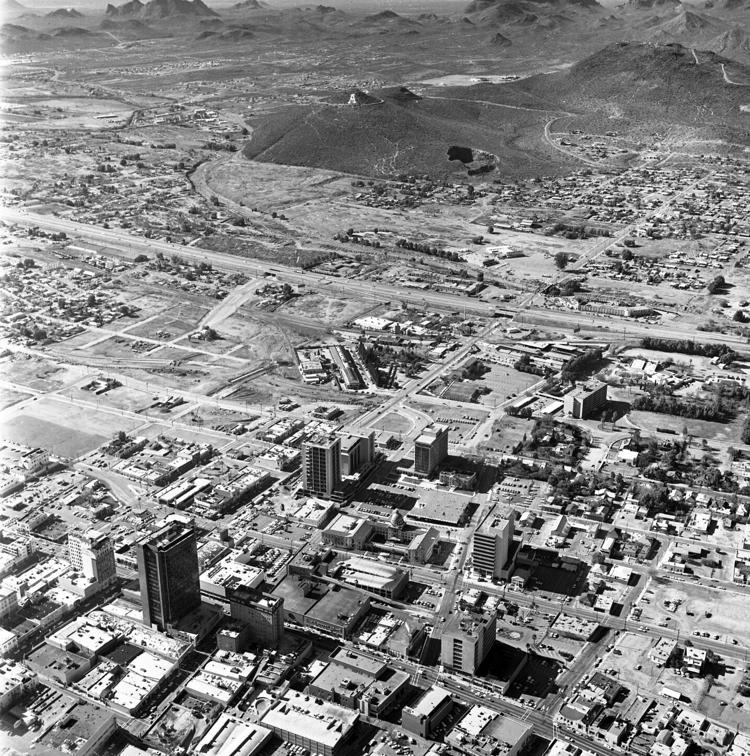 Downtown Tucson with "A" Mountain and Tumamoc Hill in the distance in this aerial photo of Tucson in December, 1968. Homes and businesses in the old barrio have been razed to make way for the TCC and Symphony Hall, left. The Southern Pacific RR hospital (now Evo DeConcini US District Courthouse) is in the center of the photo. The Pima County Administration building is nearly complete, but construction on the Superior Court building has not begun. Stone Avenue, at bottom, still has the large department stores—Penney's, Jacome's, Steinfeld's. But their existence was doomed by El Con Mall a few miles to the east.
Bruce Hopkins / Tucson Citizen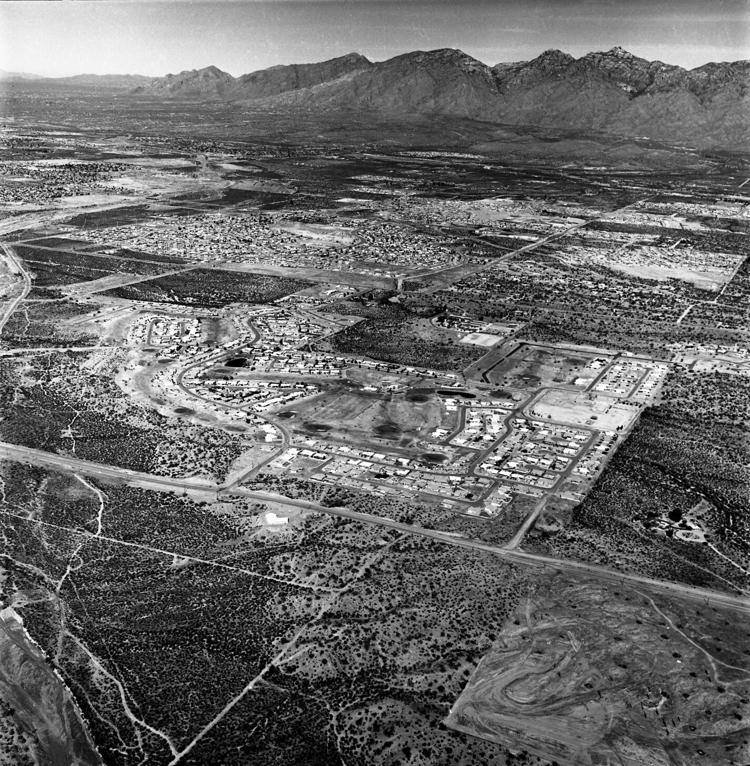 Rolling Hills Golf Course and new houses around it along a two-lane (and partly dirt) Golf Links Road in this aerial photo of Tucson in December, 1968. St. Augustine Catholic High School sits on the right side in the large open plot just above the golf course. The "V" building – the only structure on the Southside of Golf Links, is still there. It's the New Life Wesleyan Church.
Bruce Hopkins / Tucson Citizen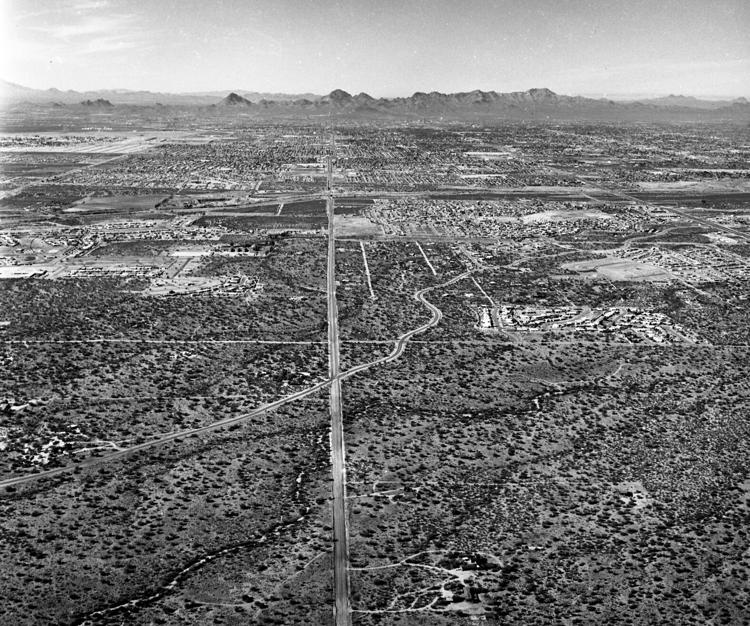 22nd Street stretches east from Houghton Road in Tucson in this aerial photo of Tucson in December, 1968. In the center, Old Spanish Trail crosses 22nd Street, then Harrison Road. The land surrounding that intersection is now paved over with myriad retail businesses. At least two of the homes in the foreground are still there, surrounded by packed subdivisions.
Bruce Hopkins / Tucson Citizen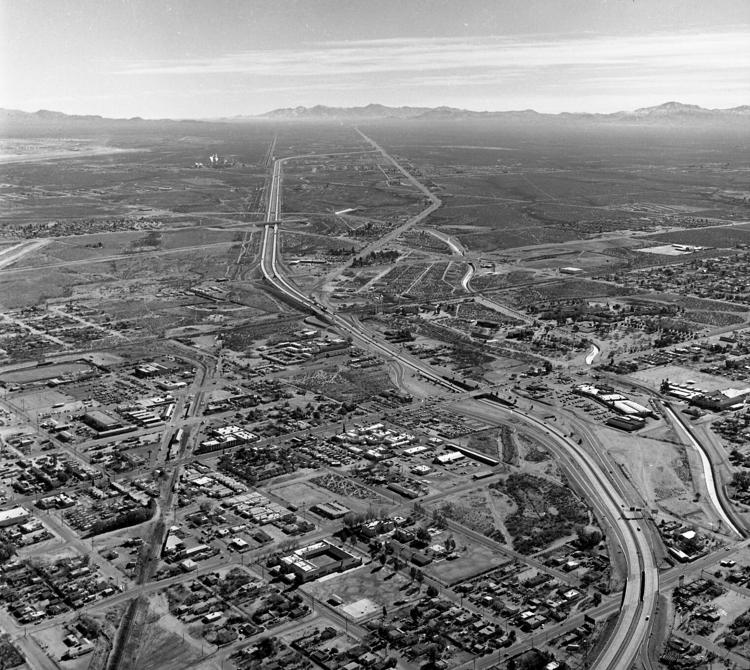 The new Interstate 10 loops through South Tucson in this aerial photo looking southeast in December, 1968. In the distance, the new interstate hooks right and connects back to Benson Highway – the old US 80. Southgate Shopping Center and the new, concrete-lined Julian Wash are at right. The black line at left is the El Paso and Southwestern RR tracks, then still in use.
Bruce Hopkins / Tucson Citizen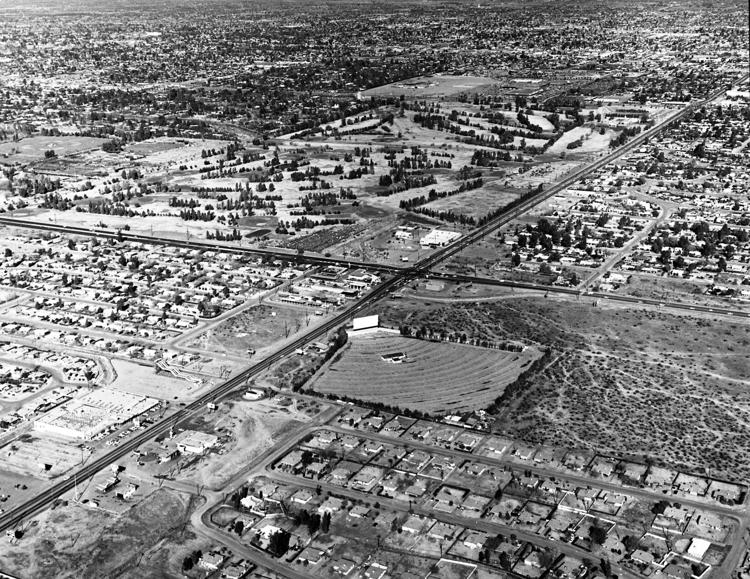 And rising from the desert is the De Anza Drive-In theater on Alvernon Way, south of 22nd Street, in this aerial photo of Tucson in December, 1968. To the left, across Alvernon and barely visible, is the Magic Carpet Slide. In the background, the Bermuda grass at Randolph golf course at Reid Park has gone dormant for the winter.
Bruce Hopkins / Tucson Citizen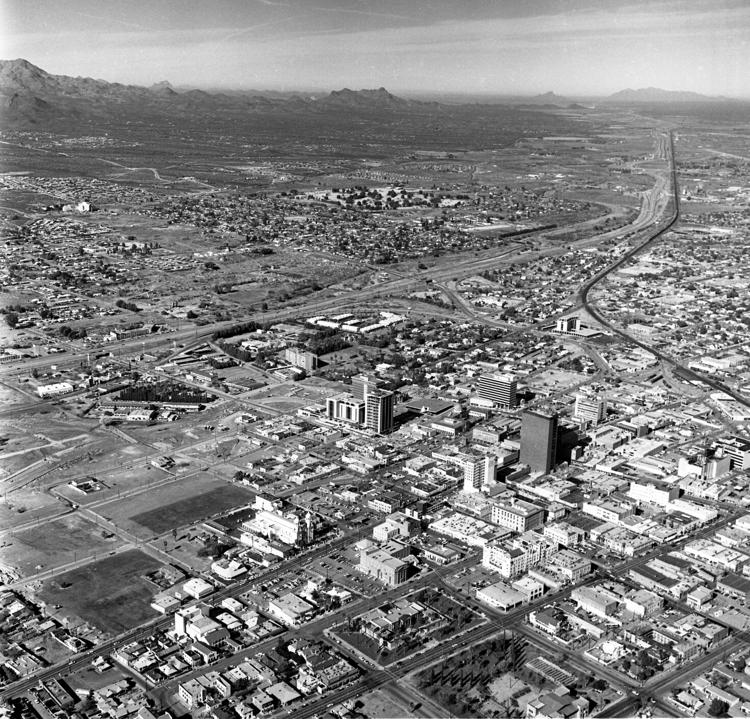 The shades of the future mesh with Tucson's past in this aerial photo of downtown Tucson in December, 1968. The new Interstate 10 is largely complete, with bridged crossings over Tucson streets. The bulldozed barrio is obvious (at left), but there are still remnants of Tucson's architectural pride: The Carnegie Library (foreground center) is beautiful, the majestic Hotel Santa Rita to its right, and several modest, quirky hotels, theaters and brick buildings with character.
Bruce Hopkins / Tucson Citizen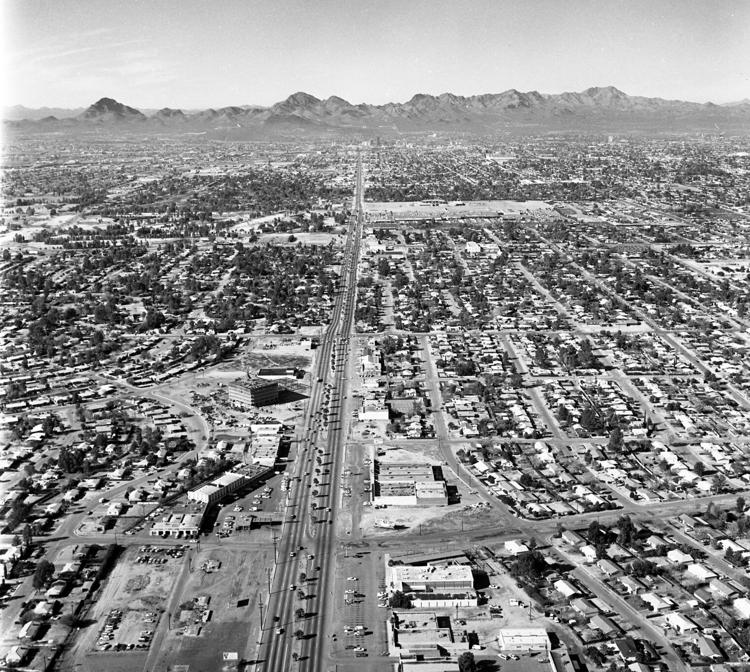 Broadway Road looking west from Swan Road, Tucson, in 1968. The wide Venice Stravenue is the street visible in foreground. The Midstar Plaza is at left. The mid-rise office building at 4400 E. Broadway is under construction, just above the plaza in the photo.
Bruce Hopkins / Tucson Citizen


Information for Tucson Real Estate is compiled from records at the Pima County Recorder's Office and from brokers. Send information to Gabriela Rico, [email protected]
Be the first to know
Get local news delivered to your inbox!
.