Tiny home on display aims to build support for Tucson's unsheltered
A tiny home that a local nonprofit is hoping to create a village of will be on display at the Tucson Mall next week, with community members invited to come check it out and learn more about the project.
The Homing Project was started in 2021 by a former El Rio doctor and her son who has experience working with similar projects in Southern California. The effort hopes to provide housing for a small portion of the more than 2,500 unsheltered individuals in Pima County.
In the little over a year since the nonprofit's formation, J. Kristin Olson-Garewal and her son, Raj Garewal, have teamed up with Catalytic Health Partners, an Arizona company that works with people who tend to overutilize traditional medical services — primarily due to homelessness — to provide services for residents. It's also amassed a team of volunteers to help with fundraising, community outreach, planning, development and more.
People are also reading…
But it hasn't all been smooth sailing. A mistake on the group's application for an American Rescue Plan Act grant through the city means they'll have to return $186,000 in funding, which Olson-Garewal called a significant loss.
Still, organizers are optimistic that they can make up the money and have plans for fundraisers throughout the year, starting with an Egyptian High Tea next month at the Scottish Rite Center. They're also continuing to apply for grant funding, although Olson-Garewal said most funders require nonprofits to have been up and running for at least three years to qualify.
Olson-Garewal estimated they'll need about $1.4 million to complete the project. The initial hope is for a 30-house village based on the pallet shelter model that's used in dozens of cities across the United States, but Olson-Garewal said the long-term game-plan will be for more.
Pallet houses come in 64- and 100-square-foot models and can be assembled quickly. The 64-square-foot model houses two beds, a desk and room for storage. The larger unit can accommodate a family of four, and in all pallet houses, the beds fold up to help maximize space. Each unit includes electricity, heating and air conditioning, and has secure, locking doors.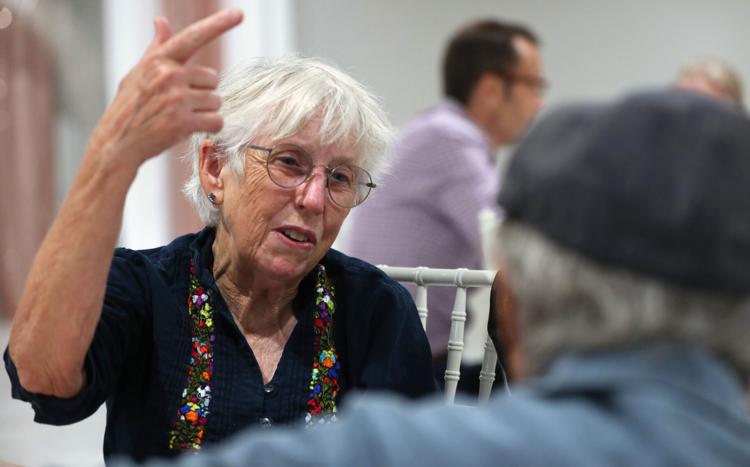 Kris Olson-Garewal, CEO of The Homing Project, talks to Michael Hyatt shortly after a community presentation.
Kelly Presnell, Arizona Daily Star


The Homing Project's plan will include on-site security and residents who work will pay rent after six to 12 months, since the project will be providing electricity and paying the water bill. By paying an "appropriate rent" based on their income, the resident will also establish a track record as a renter, which will help in their search for more permanent housing. The group plans to hire a chef to organize a crew of residents who will take turns making their own meals and handling cleanup.
Qualifications to live in the community have not yet been worked out.
"No amount is too little," she said. "If everyone gave $5, we'd be in."
The 64-square-foot unit that will be at the Tucson Mall spent most of December outside of First Christian Church, located on East Speedway near the University of Arizona. It's currently in storage, but will be stationed outside the mall's food court from Jan. 13 through 17.
On a Thursday in late December, a group of four people stopped by just as Olson-Garewal was opening up, eager to learn more about the project.
Olson-Garewal said that while she believed the cold and rainy weather cut down on foot traffic, the tiny home still had its fair share of visitors, most of whom were unsheltered individuals wanting to know if they could use the shelter and how they could get one of their own.
After its stay at the mall, the tiny home will make its way across town, with Olson-Garewal saying she's hopeful to display it at the Pima County Fairgrounds, University of Arizona Mall and other prominent locations.
This spring, the group received an offer to use nine acres of land free of charge for the next five years. But between zoning, planning and other issues with the space, there's still plenty of work to be done before the group can break ground, install water lines and address other infrastructure needs.
They're working with a water engineer they found through Habitat for Humanity Tucson and are also looking into a possible partnership with the organization.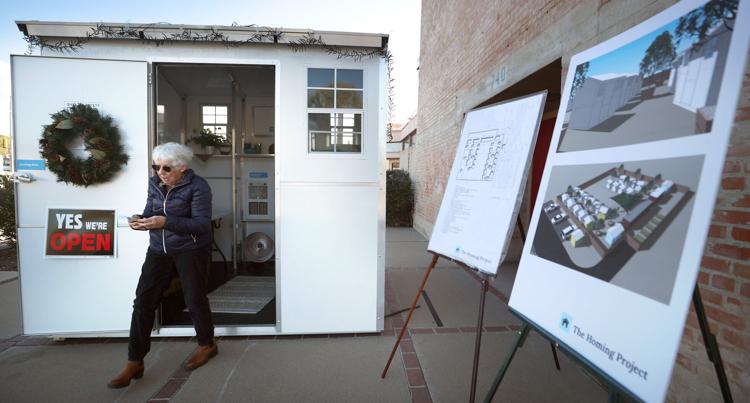 Kris Olson-Garewal, CEO of The Homing Project, is working to spread the word and acceptance of her effort to provide shelter to Tucson's homeless.
Kelly Presnell, Arizona Daily Star


Gathering support
Andy Squire, a spokesman with the Tucson City Manager's Office, said that the mayor and council are open to just about any and all solutions they can explore.
"I don't think I've ever worked with a council that's making such an effort to treat this as humanely as possible and find solutions for our houseless community members," he said. "Everyone is throwing everything they've got at it."
The challenge in Ward 5, where the property the group wishes to use is located, is that the neighbors are concerned about an additional project for unsheltered individuals moving into their neighborhood, Squire said.
But there are also construction challenges with the property, Squire said, including entitlements, building restrictions, fire code and water access. The group will have to address all of these as they submit plans with the city.
"It's a great thing that they're really trying to get that fundraising going," Squire said, adding that the group is also working with engineering firms who have been in talks with the city's planning and development department.
Olson-Garewal and others have gone door-to-door in neighborhoods near the property, trying to engage residents and homeowner association members in conversations. One association has been unwilling to meet and Olson-Garewal said the next step is to ask residents if they'd be willing to host an informational meeting for neighbors on their street, with The Homing Project supplying refreshments.
They've had some success through public meetings. Only three neighbors showed up to a meeting in July at the El Pueblo Center and all were unhappy about the prospect of a "homeless shelter" in the area.
But by the end of the hour-long meeting, two of the three were on board with the plan and had been offered to volunteer with the group.
"If this is a place that will help people get on their feet, I'm in support of it," one woman said to organizers.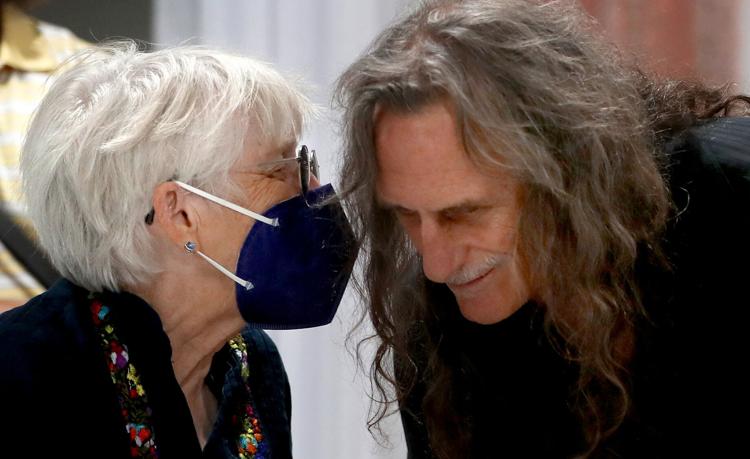 Kris Olson-Garewal, CEO of The Homing Project, speaks with Brian Flagg of Casa Maria Soup Kitchen just before her presentation to a gathering of community members.
Kelly Presnell, Arizona Daily Star


In September, more than two-dozen people gathered at Las Palmas Events on the south side for a presentation and meeting about the project. A handful of volunteers were on hand to answer questions, including board members and Casa Maria Soup Kitchen employees Brian Flagg and Roxy Valenzuela.
Olson-Garewal told attendees about the plan for the tiny house village, which will be located about a mile away.
"We're trying to get people comfortable with the idea of ​​bringing people who are formerly homeless into a village," she said, her words translated into Spanish by a member of the audience. "Arizona has had some of the worst rent increases in the country and only 25% of those who have rental assistance vouchers have been able to access housing."
Attendees asked questions about psychiatric and substance use services and Olson-Garewal was met with applause at the end of the presentation. Many attendees lingered after, snacking on Sonoran hot dogs and talking with Olson-Garewal and other volunteers.
She said they're open to hearing about any reservations in regards to the project and working with neighbors to help alleviate their concerns.
"When people hear about it, they understand it," Olson-Garewal said.
The Homing Project is working to build a village of tiny homes in Tucson. This pop-up house is one of 15 planned in the first village and can be seen at the Tucson Mall starting Jan 13. Video by Pascal Albright / Arizona Daily Star
Pascal Albright
Contact Star reporter Caitlin Schmidt at 573-4191 or [email protected].
Get local news delivered to your inbox!
Subscribe to our Daily Headlines newsletter.
.