Tucson's only wildlife rehab center hosts 11th fundraiser | Current's feature
click to enlarge

(Hope Peters/Staff)
Hubert Parker, left, development coordinator for Tucson Wildlife Center, and board secretary Jack Herring discuss the nonprofit organization.
As Tucson Wildlife Center's development coordinator, Hubert Parker says he feels blessed.
He is grateful for the community, which covers Tucson Wildlife Center's $900,000 annual operating costs through grants, donations and fundraisers.
"We are blessed with good support around us," Parker said. "It says a lot about the heart of this town."
The nonprofit will once again rely on the community to help as it hosts its 11th annual fundraiser Sunday, March 12, at the Westin LA Paloma. It begins with cocktails and a silent auction at 4:30 pm, dinner at 6:30 pm, followed by a live auction.
The live auction lists trips to the Chicago Cubs Wrigley Field Rooftop Experience; a day with a K-9 unit; a private dinner for 12 prepared by Tucson's renowned chef Janos Wilder; two tickets and accommodations for the Country Music Awards and a personal tour of the Country Music Hall of Fame; and the naming opportunity for the center's orphaned bobcat facility.
Silent auction items include outstanding art, jewelry and gift certificates.
Tickets are $225 at tucsonwildlife.com. The benefit contributes approximately 35% to the funds needed to maintain the wildlife center.
The Tucson Wildlife Center, which rescues injured and orphaned wild animals, receives no state or federal aid and relies on grants, donations and monies raised at its fundraising events.
Most other wildlife rehabilitation centers in Southern Arizona have closed their doors, leaving the 25-year-old Tucson Wildlife Center as the area's only full-service hospital and rehabilitation center.
"We are the only one and people believe in it," Parker said. "We run on donations and some grants. We are financially sound."
Lisa Bates and Peter Lininger founded Tucson Wildlife Center in 1998 on 3 acres of land near their home. Now it sits on 15 acres on Speedway Boulevard, about 3.5 miles east of Houghton Road.
"She didn't have an idea she would be opening up a center like this," said board secretary Jack Herring. "She had two injured racoons and went around to different vets, and none of the vets would take wildlife…that's when she realized there was a real need for the larger (wildlife) mammals, for someone to take care of them when they're injured."
Parker said it costs about $2,000 a day to run and someone is always on call.
With 20 employees and 40 to 50 volunteers, the center has a hospital, triage and surgery room. Of those workers, eight are veterinarians who donate their time and services.
"They come here, or we go to them, depending on what the situation is," Herring said about the vets. "We have some who come in and do surgery here, some just come in and inspect the animals, and do immediate triaging sometimes."
The triage area is the first stop for a wild animal who has been rescued or found. One such wild animal, a baby javelina, was recently brought to triage. Once triaged and treated, animals are placed into enclosed rooms in the hospital for observation and care. Once the animals are on the mend, they move out to the various outside buildings, pens, and cages on the grounds.
Herring, who has been with the wildlife center for eight years, said animals must be sick, injured or orphaned to receive care.
"But anything else in the Sonoran Desert wildlife, they pass through here," Herring said. "Msom a horned toad to coyotes to bobcats to javelina."
click to enlarge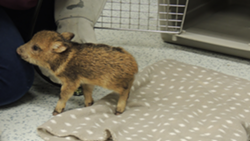 A newborn javelina was triaged Jan 20.
Tucson Wildlife Center cared for more than 5,000 animals in 2020, but it averages 4,000 to 5,000 animals a year. The most treated wildlife includes hawks, vultures, great horned and barn owls.
"But in sheer numbers, it's probably dove and quail in the summer," said Parker, who has been with the center for about two years. "The quails come in orphaned a lot."
It does not take in deer, mountain lions or bears. They are treated by Arizona Game and Fish, Herring said.
Depending on the animal's injuries, Herring said it could take several weeks, at least, for it to be rehabilitated and released to its natural habitat.
"It just depends. It could be like if a hawk or an owl has a wing injury," Parker said. "You have to wait then for them to molt and get new feathers…it could be six months."
Tucson Wildlife Center also has a foster program for animals who cannot be released back to the wild.
"We are a Global Federation of Animals Sanctuaries (facility) …we are the only one of those recognized in Arizona," Parker said.
A foster mother is caring for bobcat babies, Parker said of its current residents.
The public is asked to call the Tucson Wildlife Center at 520-290-WILD (9453) if they find an animal that is sick, starving, injured or in need of rescue.
Winter is the facility's slow time, as not many animals are brought in for treatment. The spring and early summer months are its busiest time, attracting 180 to 190 volunteers. Many are college students who intern or volunteer for credit.
"We are not the Desert Museum…we don't have crowds." Parker said. "Our whole goal is to release them back to the wild…that's how we judge our success."
Tucson Wildlife Center Fundraiser
WHEN: 4:30 pm cocktails and silent auction; 6:30pm dinner followed by live auction on Sunday, March 12
WHERE: The Westin La Paloma Resort and Spa, 3800 E. Sunrise Drive, Tucson
COST: $225
INFO: 520-290-WILD (9453), tucsonwildlife.com
.