'Umbrella lady' was a reluctant Tucson icon in life, death
People latched onto Lydia Reis as they whizzed past her on North Oracle Road.
They fixed on her colourful, vintage dresses. They smiled at the bright umbrellas she held over her head. They sometimes glimpsed their bouncy curls.
They imagined stories and qualities, projecting them onto a woman long ago dubbed the "Umbrella Lady." They also wondered if she was safe, and many people over the years paused to help her.
What finally caught up to this Tucson character was a simple fact that helped make her so noticeable: She walked day after day along busy northwest-side roads where nobody else tended to walk.
After decades of rambling those roads, the odds caught up to Reis on Jan. 5, when she was struck by a driver in a maroon SUV, who then drove away. At that moment, about 6:30 am, it was dark out, and she was striding along a stretch of West Ina Road with no sidewalk.
People are also reading…
Pima County Sheriff's deputies and investigators examine a wagon and other items at the scene of an alleged hit-and-run on Ina Road at Giaconda Way, near Oracle Road, on Jan. 5. Lydia Reis, known as "The Umbrella Lady," died from her injuries.
Rick Wiley, Arizona Daily Star


Three days later, Reis, 63, became another in an outrageously long string of pedestrians killed in the Tucson area. Within city limits last year, 49 pedestrians were struck and killed, up from 29 the year before. In the jurisdiction of the Pima County Sheriff's Department, places like West Ina Road where Reis was struck, 11 pedestrians were killed last year, up from three a year earlier.
In that sense, Reis' sudden death highlighted one of the Tucson area's most glaring flaws, the car culture that makes any other way of getting around a fatal risk.
But in life, she represented its quirkiness and brought out its community spirit.
'Makes the traffic swerve'
Musician Loren Dircks had not yet met Reis in 2009 when he and two sons started writing a whimsical tune about the person they called the "walking lady." Specifically, it was about the stories that people invented to explain her as they drove past.
Your browser does not support the audio element.

Tucson rock musician Loren Dircks was inspired to record "The Walking Lady" in 2009 by Lydia Reis, known locally as the "Umbrella Lady," who died on Jan. 8, 2023.

Courtesy of Loren Dircks 2009


At the time, Dircks' family lived in Catalina, and so did Reis, though they didn't know it yet.
"We would see her up in Catalina, and then in the same day we would see her at Tucson Mall," said Dircks, who drove around town working for a food-service company back then. "I would be down at the U of A selling food to sororities, and I would see her on Fourth Avenue, on foot. We were just amazed, like, 'How did she get there?!"
"We were fans, but we didn't know much about her," he said.
Longtime Tucson musician Loren Dircks and his family wrote a song about "walking lady" Lydia Reis before they met her. Like many Tucsonans, they saw her walking on North Oracle Road and all over town. Later, Dircks said, Reis became an important figure in his life.
Tim Steller
They knew enough to roll their eyes at some of the stories people would tell. Then they made up their own ideas for a song, with lyrics like these:
"She's a walking lady with a colored umbrella and the hair that goes sproingy boingy boing."
"She walks everywhere from here to Marana, and we don't have a clue where she's going."
"Is it a breezy whim or a covert operation? Any way you stretch it she's in heavy circulation."
"You ought to see the way she makes the traffic swerve. Maybe she's just ahead of the curve."
'God's will be done'
The roads where Reis was most noticeable, arteries like Oracle and Ina roads, are straight, wide and fast. Like most of Tucson's main roads, they weren't designed for pedestrians or cyclists. They were designed to maximize throughput of vehicles.
Reis would walk down the shoulder of North Oracle Road until she got to a sidewalk. On the stretch of Ina Road where she was struck, there is no sidewalk, just a shoulder, maybe 8 feet wide, part dirt and part pavement. It's separated from the charging traffic by a painted line.
Tucsonan Kelle Maslyn told me she was driving down Oracle south of Ina, when she saw Reis just three days before she was struck.
"She was really close to the edge of the sidewalk near the edge of the road. I moved over to the other lane to give her space, because I was really concerned how close she was."
What crossed Maslyn's mind, she said: "I would hate to be the person who hit the Umbrella Lady, because she was so iconic."
In retrospect, it's surprising Reis wasn't struck before, during all those years walking along a state highway like Oracle Road.
Angelita Muñoz told me that she talked with Reis about the danger. Muñoz — similar to Dircks' experience as a songwriter — wrote an essay about the "Umbrella Lady" in 2012 before later getting to know her personally.
"I asked her specifically if she was worried about getting run over. She told me, quite literally, 'God's will be done. I need to live my life and not worry about everything.'"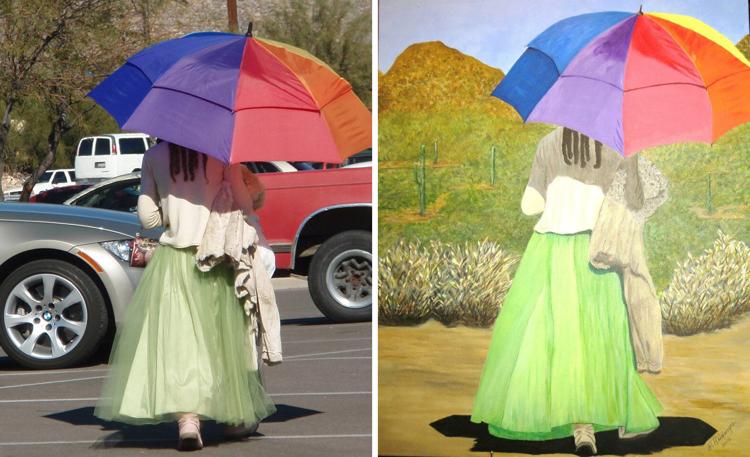 Pam Heidinger used a photo of Lydia Reis in a parking lot as the template for a painting with a desert setting.
Courtesy of Pam Heidinger


Flashy but guarded
Lydia Reis walked the Northwest side for decades. Unless you believe that there was a different "Lydia" who dressed similarly and walked the same streets 20-plus years ago. Some people swear that's the case.
She walked those streets because she had lost her family there in a car crash and went to visit the family members in Holy Hope Cemetery. So people said. Except no one really knows.
Actually, she was mentally ill. Or she had a traumatic brain injury from the earlier crash. Or she was just a spiritually elevated person who existed on a higher plane. People say all three.
Dircks met her in 2012 at a friend's house in Catalina. When he got to know her, Dircks came to view Reis as paradoxical.
She dressed in a way that drew people's eyes to her — the colorful umbrellas and the bright dresses — and walked where thousands of people drove past, but she didn't like the attention she received and guarded her privacy closely.
"She did not understand, or very much like or appreciate, the fact that she was an icon," he said.
A couple of weeks after meeting her, Dircks said, he gave her a ride to North Fourth Avenue. On that trip, he said, he told her about his persistent headaches. She recited the same prayer for him three times consecutively, punctuated by yelling the word "Go!" The third time, Dircks said, his headache finally went away for a while.
She also told him things about his life that later came true, he said — future jobs and travel. He came to consider her a "messenger," who had complete, "childlike and exemplary," faith in God.
Dircks' wife, Rachel, also got to know Reis, who in those years would carry a spiral-bound notebook in a bag, Rachel Dircks said. Once, she asked Reis what the notebook was for.
It turns out that after she met people, Dircks said, "She would write down their situation so she could pray for them." And that's what she would sometimes do as she walked.
'The systems are at fault'
Look through the Tucson Police Department's news releases on pedestrian deaths, and you'll find some common denominators. Fatal collisions tend to happen on main arteries, they tend to happen when it's dark out, and they often involve people crossing the street outside of crosswalks.
Two of those applied to the collision that killed Reis — it was dark on a busy street. The fault for the crash has been attributed by investigators to the suspected driver, Guadalupe Solis.
A witness said, according to a criminal complaint filed against Solis, that she was swerving over the right line before striking Reis. Solis, arrested not long after the collision, told the police she thought she had struck a pole.
Of course, the crash would probably not have happened if there were a sidewalk. As it turns out, sidewalks are going up now on the street Reis most often walked, North Oracle Road, between River and Magee roads. It's part of a bigger Arizona Department of Transportation project.
"She was walking on a shoulder — no protections, no lighting," said Emily Yetman, executive director of the Living Streets Alliance. "It just goes to show that what we're building, the systems we're creating, are at fault. Not the people."
"When you create these conditions, whoever is in Lydia's position is always going to lose," Yetman said. "I'm glad she's getting attention because she was beloved and someone this community recognized."
In fact, two local women, Michelle Kilbey and Rosa Paredes Wright, are using a Facebook page, "Umbrella Walk for Lydia Reis," to organize a memorial procession. Their idea, still being firmed up, is to memorialize Reis and bring attention to all the pedestrians killed in local vehicle collisions.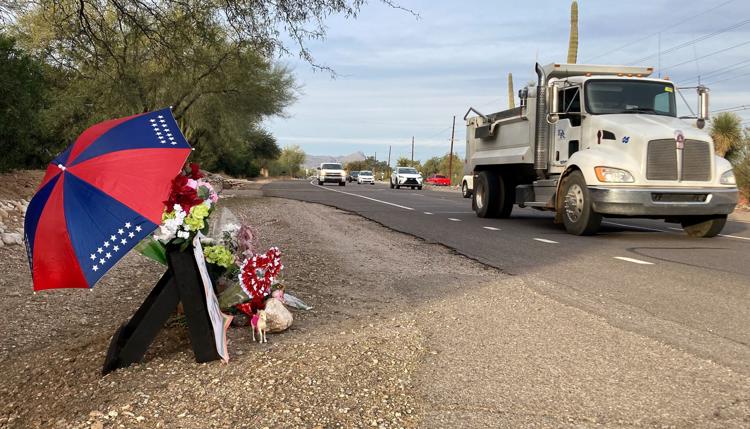 A memorial to Lydia Reis alongside eastbound Ina Road, west of Oracle Road.
Tim Steller/Arizona Daily Star


'God takes care of me'
In the years when the Dircks were getting to know Reis, they lived in a trailer in Catalina. It was full of the clothes she loved, Rachel Dircks said.
Later, she was forced to leave that park, and eventually, in recent years, she moved briefly to New Mexico. In the last couple of years, Dircks said, it's unclear where she was staying.
Sometimes people or churches rented out hotel rooms for her. She especially liked getting a room at La Posada Lodge, 5900 N. Oracle Road. But Dircks suspects she had nowhere specific to stay anymore. That's one of the reasons she had taken to pulling around a wagon.
"She would never tell me where she was at, but I know she slept outside sometimes," Rachel Dircks said. "If you asked her if she was homeless, she would say, 'I'm not homeless. God takes care of me.'"
It was this mysterious quality, along with her colorful clothing and accessories, that intrigued passersby, making her an object of wonder and speculation as they saw her through car windows.
But of course, she would never have become the icon she hated to be, if she hadn't done the thing that ultimately killed her: fearlessly walk the Tucson area's busiest streets, vulnerable to drivers and unsafe road designs, but with total faith in god
Reis was well-known to Tucsonans who drove North Oracle Road. She would walk that and nearby roads, carrying brightly colored umbrellas and wearing vintage dresses. She was struck by a car Jan 5 and died Jan 8 at age 63.
Tim Steller
Tim Steller is an opinion columnist. A 25-year veteran of reporting and editing, he digs into issues and stories that matter in the Tucson area, reports the results and tells you his conclusions. Contact him at t[email protected] or 520-807-7789. On Twitter: @senyorreporter
Be the first to know
Get local news delivered to your inbox!
.