'Where do we go?' Winter parking restrictions near public land confound Flagstaff locals
Last weekend, following a round of heavy snowfall, Flagstaff local Alexa Morgan went out to enjoy an afternoon of cross-country skiing with her friend Meredith Smith. They drove up Schultz Pass and parked in order to access the popular public land just beyond a nearby gate. It was an area they were familiar with.
They took care to give space to the gate, and "in anticipation of it getting busier," Morgan parked farther away than usual, taking care to pull off to the side as effectively as she could, even pushing her truck up slightly onto a snowbank .
Neither thought twice about parking in the area. According to Smith, she had been parking at the location for 20 years in order to go hiking on the Coconino National Forest beyond the gate. As for the cars she saw parked that day, they all seemed to be parked "appropriately," Smith said.
"Nobody looked like they were blocking driveways," she said. "Everybody was in a neat line."
People are also reading…
A car sits parked by the side of Schultz Pass Road Wednesday afternoon. A county ordinance restricts parking such as this.
Jake Bacon, Arizona Daily Sun


After enjoying their time in the forest, Morgan and Smith returned to an unpleasant surprise — a $200 parking citation from the Coconino County Sheriff's Office.
In the immediate area there were "zero no-parking signs," Morgan said. Smith didn't see any either. Neither had noticed the signage farther down the road, out of sight from the area at which they parked.
If they had, they might have seen a warning of Coconino County's winter parking ordinance — which was amended November of 2022. The ordinance states that between Nov. 1 and April 1, vehicles, trailers and other obstructions are to be "kept clear at all times from all county-maintained rights-of-way." This includes paved and unpaved roads, paths, highways and the like. Furthermore, the ordinance authorizes the county sheriff's office to issue fines "not less than $200."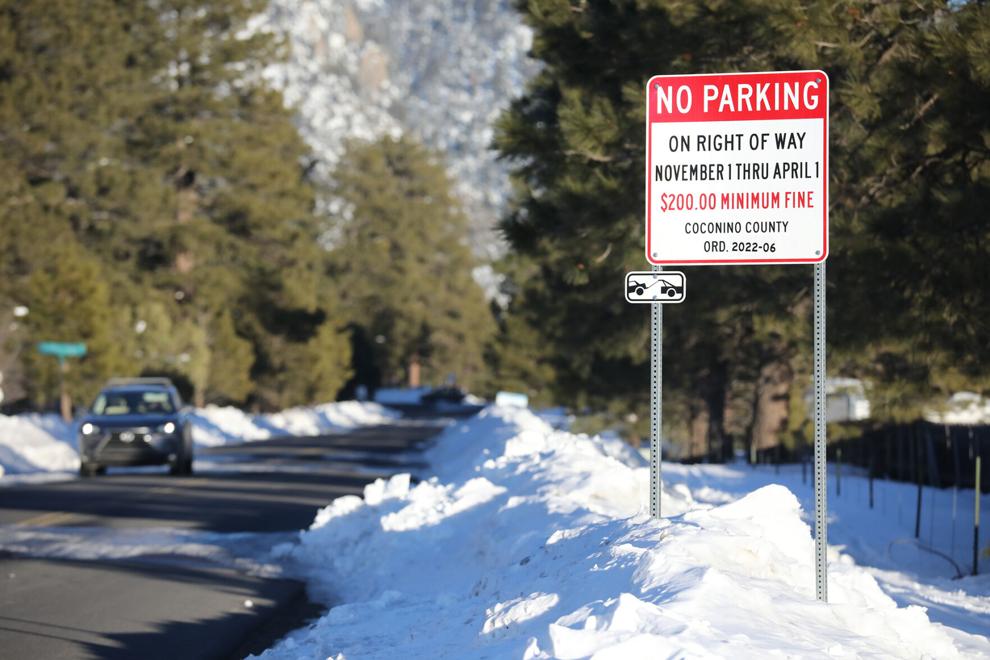 A sign on Mount Elden Lookout Road warns drivers of a Coconino County ordinance restricting parking on right-of-ways.
Jake Bacon, Arizona Daily Sun


Smith and Morgan were not the only ones penalized under the parking ordinance that day. At least 12 other parties also received parking citations. Among these was Shasta Wright, who was similarly perplexed by the ticket.
"There definitely aren't 'No Parking' signs where everybody parks at the end of Schultz," Wright said.
Even if there were, Wright is not convinced such parking restrictions would be fair play. She says there aren't other viable parking options in the area.
"It's frustrating," she said. "They're limiting where locals can go and they're not giving us access to our national forest."
The winter parking ordinance under which Smith, Morgan, Wright and others were penalized was originally passed in 2017. According to the Coconino County website, "This ordinance was intended to help reduce the detrimental effects of snowplay, which create safety hazards for visitors and adversely impact area residents' quality of life through illegal parking, littering and trespassing on private property."
The 2022 amendments to the ordinance "enables the Sheriff's Office to enhance enforcement during the winter recreation season," the county website states.
According to county public affairs officer Stephen Pelligrini, the 2022 amendments to the ordinance simply make it so that violations cannot be excused if the driver is not the registered owner. He also noted that this year the ordinance has been regarded with more seriousness after the January 2022 death of an 11-year-old child that was related to illegal snowplay parking on Highway 180.
"No one wants a repeat of that," Pelligrini said.
In the Schultz Pass area, the primary use of the ordinance is to ensure access for snowplow operations and emergency vehicles, said Jon Paxton, public information for the Coconino County Sheriff's Office.
"We have ordinances that don't allow you to park in the road so these plows can function," Paxton said.
He said in the case of the citations issued that weekend, "they were either blocking the roadway or blocking a gate." In general, the sheriff's office has been cracking down on parking violations related to snowplay, Paxton said. This year, there have been over 70 citations issued under the winter parking ordinance.
"We only issued 26 of them in January last year," Paxton said.
As for parking in the area of ​​Schultz Pass Road, Paxton said the sheriff's office is aware that it's a popular place for Flagstaff locals to access the forest. Parking there is legal, he said, so long as it occurs entirely off the road. Snow has made that difficult.
"Even the sheriff parks up there, off to the side of the road," he said. "But the snowbanks have forced everybody, unfortunately, to make a bad choice and park illegally."
Illegal parking in the area has also produced a significant amount of complaints from the nearby residents. Over the past couple weeks the sheriff's office has fielded 35 complaints from the area and issued 27 citations.
"We'd much rather be able to just give people a verbal or written warning," Paxton said. "But after we received so many complaints, we had to take some kind of enforcement action."
Paxton nonetheless recognized there is a need for more signage warning of the winter parking ordinance in the area. He said it's a conversation already circulating within the sheriff's office.
"We're looking to get some more signage up there," he said, "just to help alleviate this kind of problem in the future."
Where can people park to access public lands?
As Schultz Pass Road and the adjacent Elden Lookout Road remain popular access points to public land, enforcement of the winter parking ordinance does leave Flagstaff residents in limbo — when it snows, where can they go?
There is a common misconception that there is publicly maintained parking nearby at the "Schultz Y" — the fork between Schultz Pass Road and Elden Lookout Road. Even Paxton says, "that's where they should be parking in the interim when they can't get off the road."
Trouble is, though, the Schultz Y is not maintained to serve as parking adequately for the nearby public lands, Wright said. After she received her citation, she came days later to cross-country ski again and parked at the Schultz Y — only to get promptly mired in the thick snow.
"It's not properly plowed, it's not cindered, it's not anything," Wright said.
There's a reason the Schultz Y is not maintained for parking. Many people think this area is city land, in part due to the city-built retention basins in the adjacent lot, but according to city streets section director Samuel Beckett, "it's entirely private property."
"I know the Y has been a very popular parking area for many, many years," Beckett said. "I know the resident there has been very gracious over the years to allow people to park there, but we wouldn't have any say about how that gets managed."
Beckett added that the misconception about the Schultz Y may be further exacerbated by the existence of an access road to the city detention basins that the private resident "graciously" allowed the city to use during construction. But again, "it's truly private property," he said.
A quick view of the county parcel map reveals that the area around the Schultz Y is completely parceled out to private owners, resulting in the US Forest Service having no position to provide parking alleviation either.
"We don't have any plans to provide year-round parking anywhere near that area simply because it isn't within our jurisdiction," Coconino National Forest officials reported in a statement. "The parking lot and its adjacent areas aren't Coconino National Forest land. While we realize that a lack of parking at trailheads can be frustrating, we'd encourage forest visitors to use buses, rideshare programs or other drop-off and pick-up services when trying to access those trails."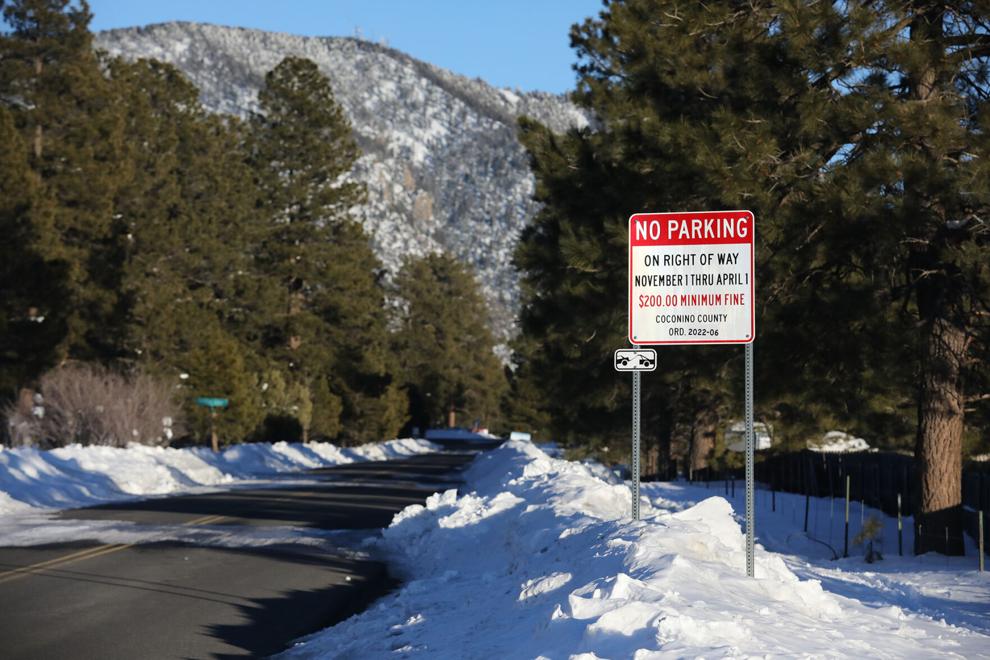 A sign on Mount Elden Lookout Road warns drivers of a Coconino County ordinance restricting parking.
Jake Bacon, Arizona Daily Sun


In summary, there is no official public parking lot to access public land near the Schultz Y, and there are no plans to provide one. But it's important to note that this "crisis in parking" — as Paxton described it — is seasonal. Under most conditions, when snowbanks made from record-breaking snow are not limiting the ability for vehicles to effectively park clear of the roadway, it's still legal for people to park off the side of the road on their way to access the forest.
And, come April, the winter parking ordinance that has generated this slew of citations will go out of effect until November.
"Once again," Paxton said, "it is the abundance of snow that is creating this problem."
Coconino County proposes regulation for short-term rentals
Sean Golightly can be reached at [email protected]
Get local news delivered to your inbox!
Subscribe to our Daily Headlines newsletter.