Yep, That's Flagstaff! | Craft Beer & Brewing
There's something in the air—or it might be in the water. There's something about Flagstaff, Arizona, that makes you want to smile. Sure, it could be the pine-scented air that is a little thin here at 7,000 feet. Maybe that's why folks smile and nod as we pass each other on the sidewalks of historic downtown. Or could it be the Southwest's clear skies that add to our sunny dispositions? But, even if there's nothing magical about the fresh mountain water piped down from the picturesque San Francisco Peaks, it does make the perfect ingredient for brewing craft beer.
And perhaps therein lies a 'something' about Flagstaff that will make you grin: our local breweries.
Ever since 1994, when microbrewers tapped the first keg here, beer enthusiasts have lauded Flagstaff's craft beer scene. By 2007, Flagstaff brews were bringing home the gold. (Beaver Street Brewery's Hefeweizen took top honors at the Great American Beer Festival that year.) Then, in 2012, internationally acclaim washed over the Arizona town as a German journalist deemed the outdoorsy city's beer trail a Bier-Abenteuer—a beer adventure. To top it all off, Arizona Governor Ducey recognized Flagstaff as a leading Arizona Craft Beer City in 2018.
Today, aficionados can judge for themselves whether Flagstaff brewmasters deserve the accolades by launching beer adventures of their own. Sample the suds at eight breweries that make up the Flagstaff Brewery Trail. Arizona Beer Week—set for February 16 to 26, 2023—is a great time to make the rounds (but more on that later). One of the pulls is that people can walk to many of the breweries located in historic downtown, or just across the railroad tracks in the much-loved Southside neighborhood.
Flagstaff embraces its position on the historic rail line that connected the logging town to markets in the Midwest at the turn of the century. Lumberyard Brewing's location in a restored—you guessed it—lumberyard on the railway siding attests to that. More than 83 trains pass by Lumberyard every day—and although board feet of lumber no longer leave the facility, their distributor ships 4,500 cases of beer to fans around the state. Besides the brewery, Flagstaff's reverence for its timber and rail heritage is evidenced by Northern Arizona University adopting "Lumberjacks" as their mascot, and by the Riordan Mansion State Historic Park—within the city limits—memorializing the legacy of prominent Flagstaff lumber brothers and their families.
Historic Route 66 follows the BNSF rail line on the Arizona leg of its way from Chicago to Santa Monica. Route 66 enthusiasts can sip suds on the "Mother Road," author John Steinbeck's nickname for the highway, at a choice of two Flagstaff breweries located on segments of the legendary route: Mother Road Brewing and Flagstaff Brewing. Or they can walk between the two to hit both.
Before decanting their beer stroll, many enthusiasts stop at the Flagstaff Visitor Center inside the Tudor Revival Craftsman-style train station to pick up Flagstaff Brewery Trail maps, passports and official Discover Flagstaff visitor guides. Or they could download the beer map and official visitor guide before leaving home. Either way, once they collect all the stickers by visiting each brewery (no purchase necessary), they return the passport to redeem a commemorative nonic-style pint glass. No need to do all the tastings in one Flagstaff visit; the ale trail map promotes responsible drinking with driver designation messaging and other suggestions for safe outings.
Flagstaff Brewery Trail maps outline the stops along the way and make it easy to plan your route between three parts of the outdoorsy community.
Southside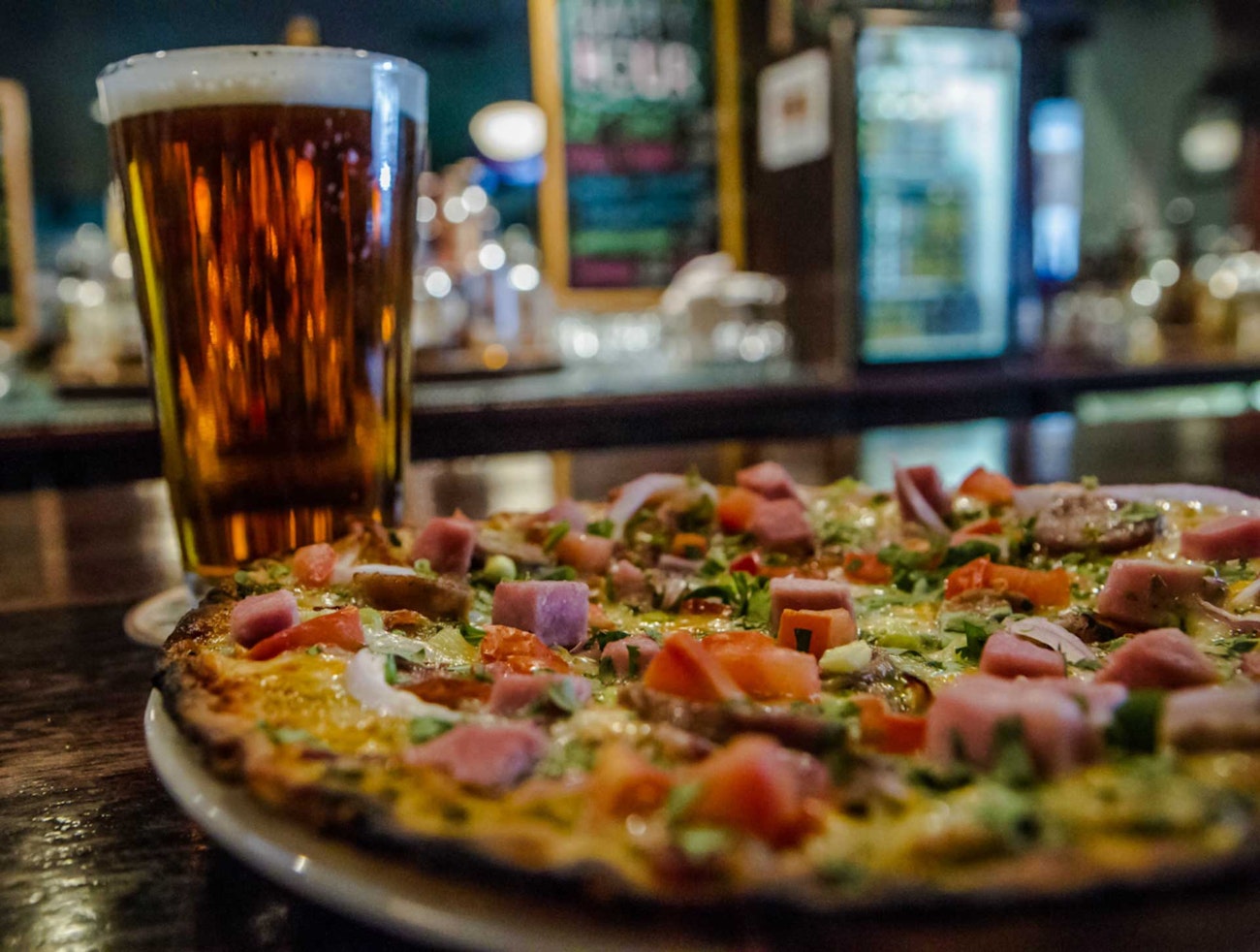 The Southside neighborhood, wedged between downtown and the Northern Arizona University campus, is home to a trio of Flagstaff breweries.
Just across the railroad tracks from the Flagstaff Visitor Center, the previously mentioned Lumberyard Brewing attracts beer lovers with its full menu, large patio and award-winning beers. Chowhounds rave about the Pumphouse Porter, which earned silver at the 2021 Great American Beer Festival.
Beaver Street Brewing, Flagstaff's first brewhouse, is a comfortable, wood-paneled pub with outstanding brews, copper mash tuns and a potbelly stove. If the weather is fair, don't miss the backyard beer garden. Beaver Street's full menu is uber-popular with locals and the parents of Northern Arizona University (NAU) students.
It's worth mentioning here that NAU offers Intro to Brewing Science, a live online course where students discover the fundamental science behind beer production, fermentation, and brewing microbiology. NAU professors team up with brewing industry experts from High Altitude Homebrew Supply and Mother Road Brewing to instruct the four-week course.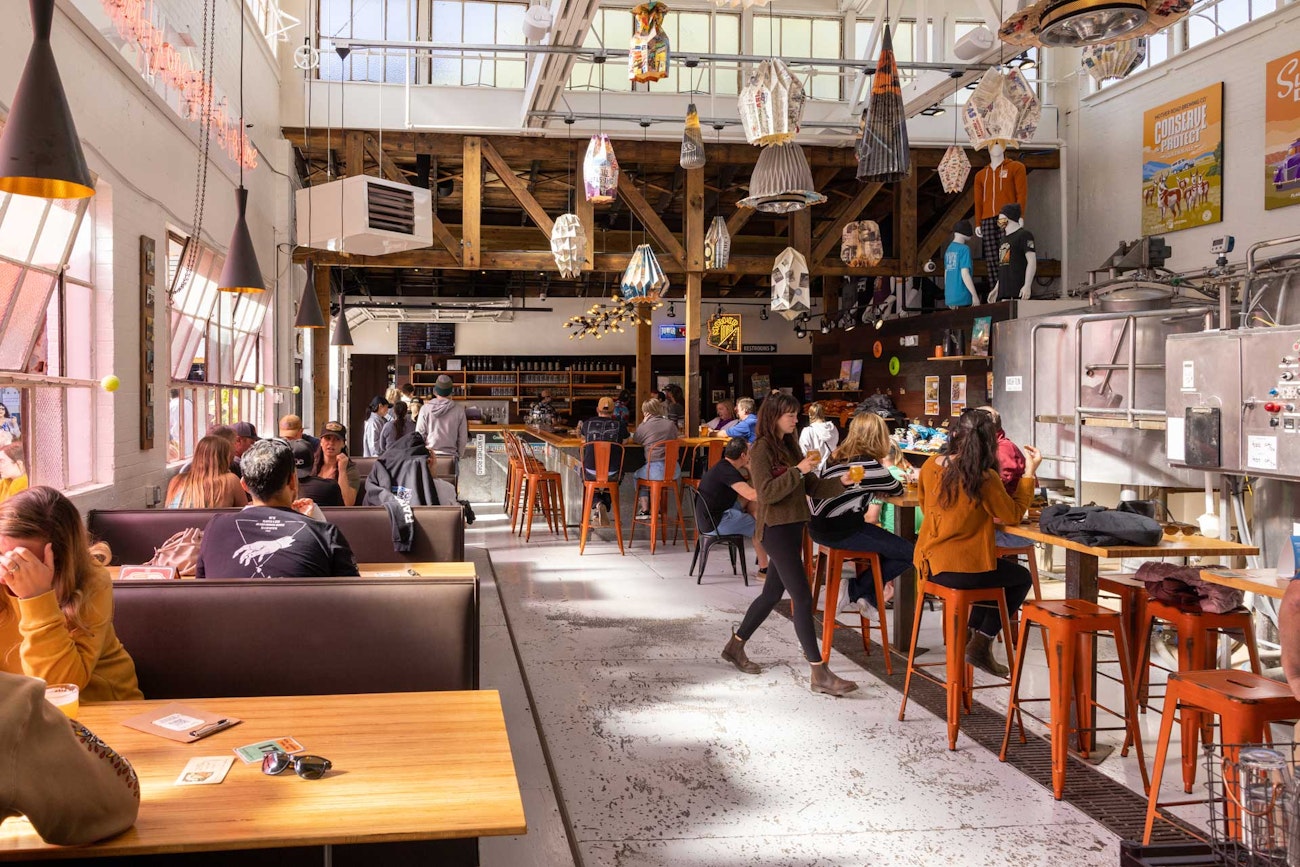 On the original Route 66 alignment in Southside, Mother Road Brewing is housed in spiffy digs built as a commercial laundry in the 1920s. The environmentally-conscious team has green initiatives, including a CO2 recapture system that catches carbon dioxide from the brewing process, filters it, and then re-injects it back into their beers. In addition, they provide more than 2 million pounds of spent grain annually to local cattle ranchers to reuse as feed. Earlier this year, they garnered the Governor's Award for Arizona's Future for their Conserve & Protect Golden Ale program. For every can of Conserve & Protect sold, the brewery donates to the Arizona Game and Fish Department to help with the conservation of more than 800 species.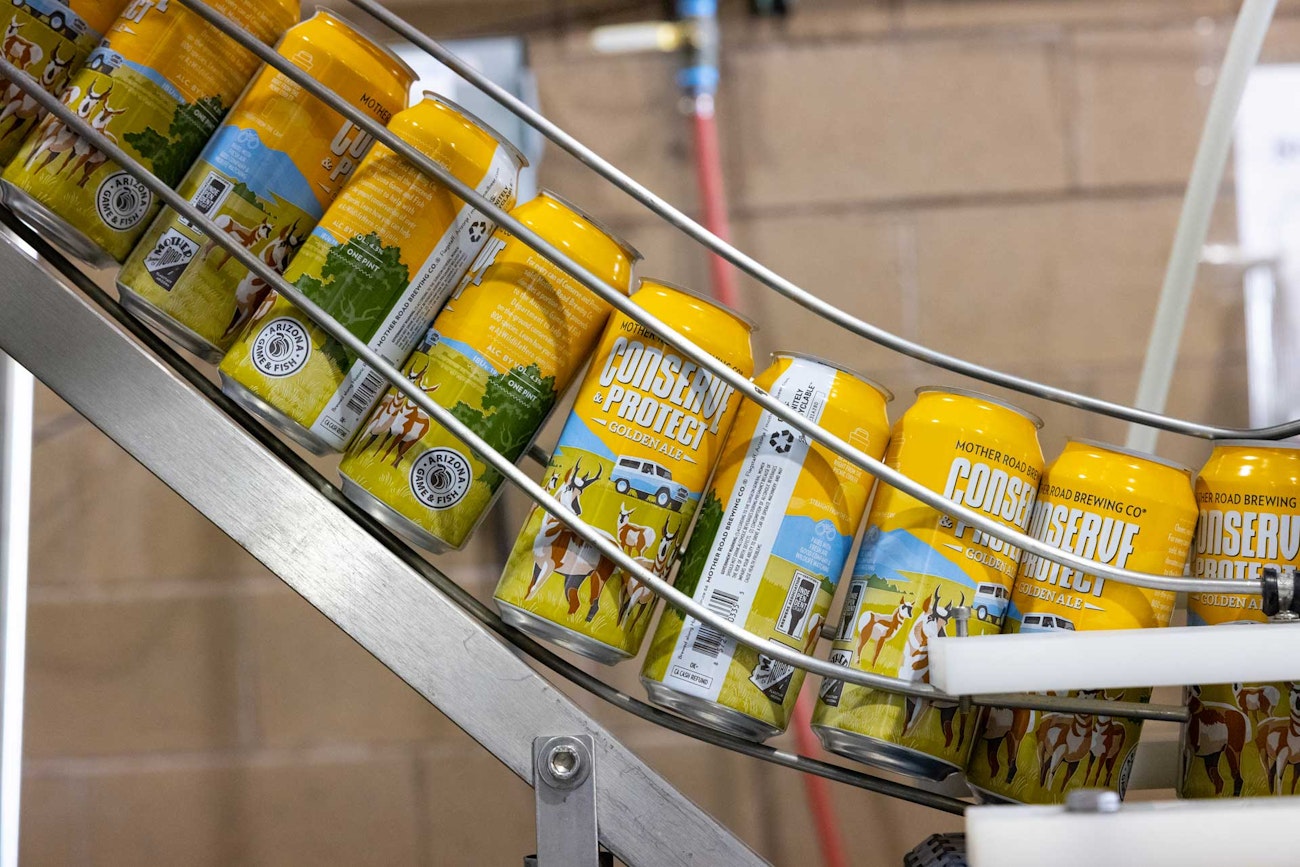 Historic Downtown Flagstaff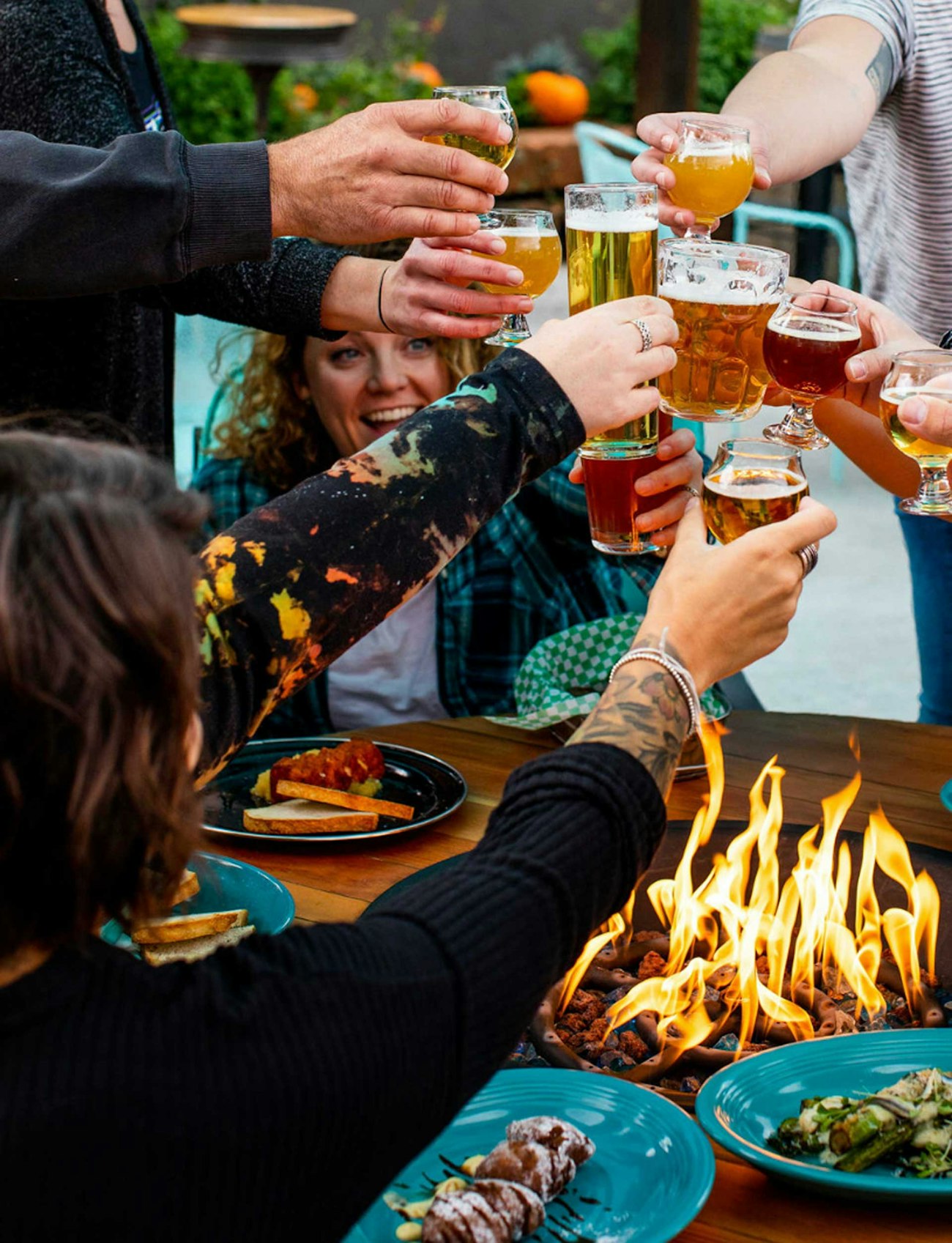 Flagstaff Brewing on nostalgic Route 66 handcrafts brews in small batches within the walls of this historic, red-brick building. Julius Abineau, former mayor renowned for first piping water from the San Francisco Peaks, built the structure in 1893. So it's appropriate that one of Flagstaff's first breweries is now using those pure mountain waters within the red-brick walls to brew its popular porters and ambers. Hopheads enjoy salads, sandwiches, and shareable bar bites indoors or on the outdoor patio shared with Flagstaff Coffee Company.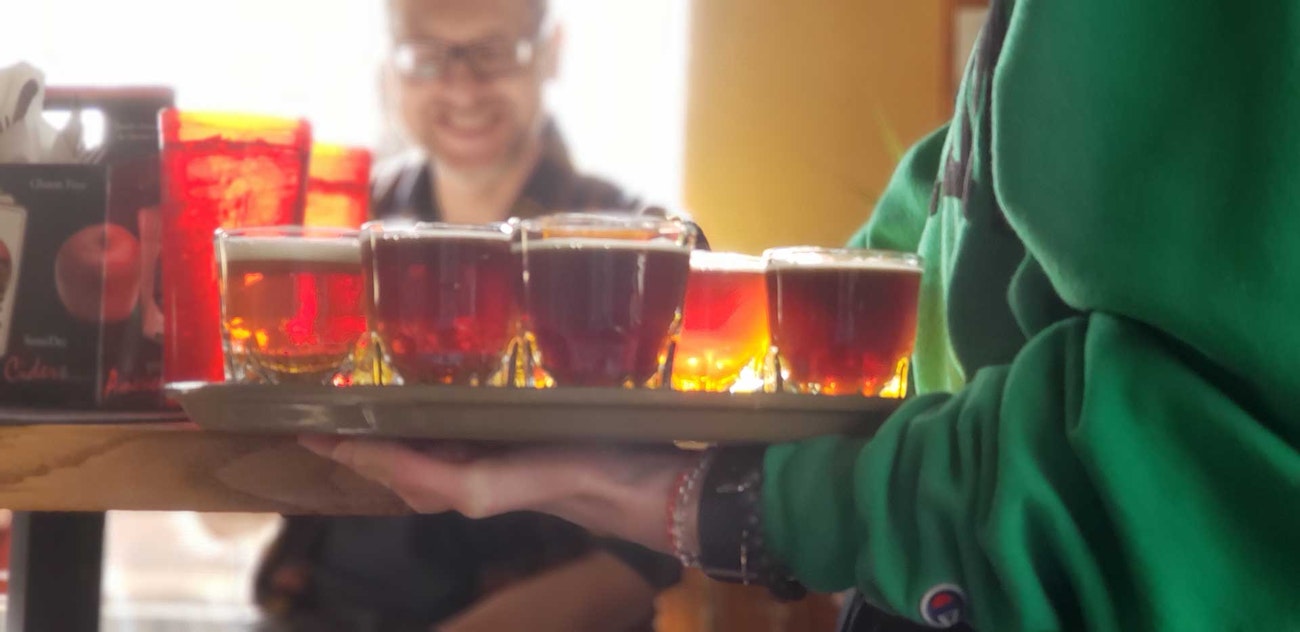 There's always something brewing at Dark Sky Brewing Company—the name pays homage to Flagstaff's distinction as the world's First International Dark Sky City. DSB specializes in small batches and experimental brews with exotic ingredients. And just as the universe expanded, so did DSB spread out into neighboring space. They recently added the sophisticated Atmosphere Kitchen and a colossal patio to the existing Pizzicletta kitchen and taproom. The beer garden, which delivers views of the majestic mountains, is festooned with stunning murals of astronauts floating in the dark skies, a nod to Flagstaff's lunar legacy (every astronaut that walked on the moon trained in Flagstaff.) For more of that story, visit the world-class Lowell Observatory, where scientists discovered Pluto.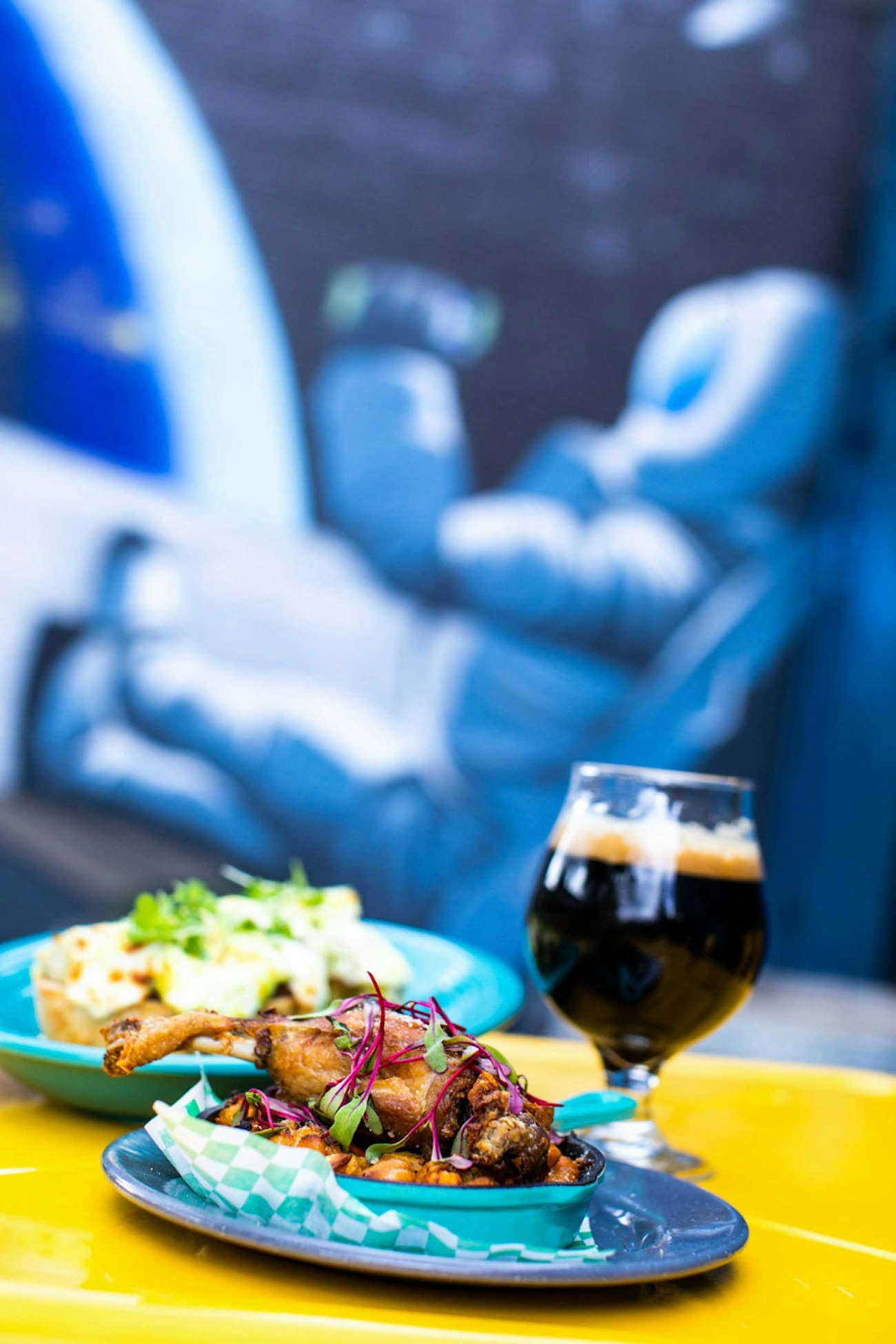 Around Town
Grand Canyon Brewing Company's Flagstaff brewpub features 23 taps of handcrafted beer just west of the NAU campus. The brand, Grand Canyon Brewing + Distillery, pays homage to the spectacular landscape and adventurous lifestyle of living in northern Arizona. The distillery creates spirits and whiskeys with 100 percent Arizona farm-sourced grains. A grand fireplace, game room and large dining room welcome all, including families and groups.
Historic Brewing is in a funky warehouse district in east Flagstaff, but patrons should also visit their Barrel + Bottle House in Southside. There, patrons can choose between the cocktail lounge or taproom with a large dining area. Whichever location you visit, taste-test the Salt River, a limey Arizona lager that won gold at the 2019 Great American Beer Festival.
Off the beaten path, Wanderlust Brewing is a great place to swap Flagstaff hiking stories. The fun taproom features flagship year-round beers, rotating seasonals, and nitro taps. Brewers admit to having a soft spot for seasons and farmhouse-style ales. Still, they also dabble in anything from German hefeweizens to Belgian-inspired sours, British-type dark ales, and obscure styles such as Finnish sahtis and German gose. The microbrewery doesn't serve food, but a food truck will sometimes be outside, and you are always welcome to bring your own meal or snacks.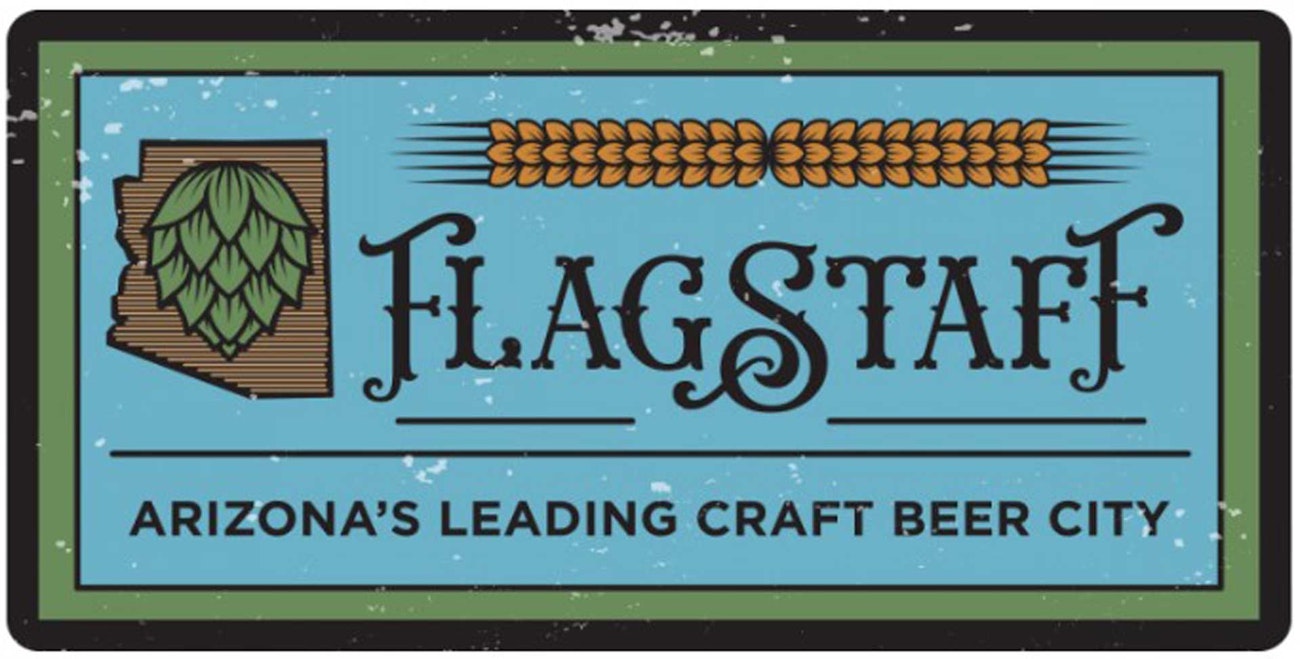 Yep, enthusiasts will want to put this beer destination on their must-visit list. And bring along your four-legged traveling companion. Most Flagstaff breweries have dog-friendly patios. (Call ahead to check.)
When to Go to Flagstaff, Arizona
February 6-12, 2023, Super Bowl Week
Tag a side trip to the Arizona Craft Beer City onto your Super Bowl getaway for a real extravaganza. The next Super Bowl happens in Glendale, Arizona—about a two-hour drive from Flagstaff—on Sunday, February 12. This is exceptionally advantageous for bucket-listers who dream of golfing and skiing on the same vacay. Flagstaff's proximity to the Super Bowl makes it easy to golf on one of Phoenix's desert courses in the morning and ski at Arizona Snowbowl in the afternoon.
February 16-26, 2023, Arizona Beer Week
The celebration of Arizona craft beer has Flagstaff breweries hosting special events, beer dinners and more.
June 9-10, 2023, Flagstaff Blues & Brews
Arizona's largest Blues Festival mixes top names in music with Arizona microbrews and old-time favorite beers. The family event has activities for the kids, beer and wine for the grown-ups, food and craft vendors, fun games, and rhythm and blues for all.
June 10, 2023, Made in the Shade Beer Tasting Festival
Taste beers from dozens of breweries while supporting Sun Sounds of Flagstaff, which provides audio access to print information for people who can not read or hold print material due to disabilities.
October 7, 2023, Flagstaff Oktoberfest
Kick off autumn with beer, bratwurst, pretzels and polka music at this 14th-annual event in the Arizona mountain town.
Of course, Flagstaff is a four-season destination with snowy sports, summer festivals, hiking, mountain biking and radiant fall colors. Anytime is a good time to visit Flagstaff, Arizona.
Pick up an official visitor guide at the visitor station or download one at discoverflagstaff.com.
How to Get to Flagstaff, the Arizona Craft Beer City
Getting to Flagstaff is easy. American Airlines offers non-stop daily flights to Flagstaff from Dallas/Fort Worth (DFW) and Phoenix Sky Harbor Airport (PHX).
Flagstaff is on the intersection of I-40 and I-17, 140 miles north of Phoenix Sky Harbor Airport, 323 miles west of Albuquerque, and 465 miles east of Los Angeles.
The Flagstaff Amtrak Station is on the Southwest Chief route that links Los Angeles with Chicago and shares the historic train station with the Flagstaff Visitor Center. Greyhound Bus connects to Las Vegas, while Groome Shuttle offers ten round trips daily between Phoenix and Flagstaff.
Flagstaff is close to three national monuments: Sunset Crater Volcano National Monument, Walnut Canyon National Monument, and Wupatki National Monument. In addition, the Arizona Beer City is one hour and 20 minutes from Grand Canyon National Park.
Flagstaff Brewpubs on the Flagstaff Brewery Trail
Beaver Street Brewery
11 S. Beaver Street
Dark Sky Brewing
117 N. Beaver Street
Flagstaff Brewing Company
16 E Route 66
Grand Canyon Brewing Company
1800 S Milton Road
Historic Brewing Company
4366 E. Huntington Drive
Lumberyard Brewing Company
5 S. San Francisco Street
Mother Road Brewing Company
7S. Mikes Pike
Wanderlust Brewing Company
1519 N Main Street, Suite 102
Find more information in the official Flagstaff Visitor Guide and from the Flagstaff Brewery Trail.