Yuma boys break into the Victory Column with the router Yuma Pioneer
The Yuma High School boys' basketball team broke into Victory Column and won 91-48 at the Tribe's Lower Platte Activities Association kick-off at The Pit on Friday night.
It was most of the points Yuma's boys had scored in years, most likely since the early 1990s. Veteran trainer Dave Sheffield said it was the most points any of his teams have ever scored.
The attack was courtesy of Sheffield, who opened the bench and made early and frequent substitutions after a tight 6- to 7-man swap during a 3-0 start.
The result was that Yuma threw wave after wave of speed and pressure on the dragons, with the defense causing much attack.
Yuma quickly took the lead 14-7. Sophomore Forest Rutledge made four 3-point points stretching late in the first and early in the second quarter as the Indians built a 37-20 lead. Holyoke hung for the rest of the quarter, but the Indians were still leading 49:35 at halftime
The Indians really started pouring it up in the second half. Five different players scored the third goal as Yuma rose between 68 and 43, and six players scored the fourth goal as the Indians extended the lead to over 40.
Holyoke started the game with a 2-2 record after losing a point to the same Brush squad who beat Yuma by four in the season opener.
However, the Friday version of the Indians looked completely different.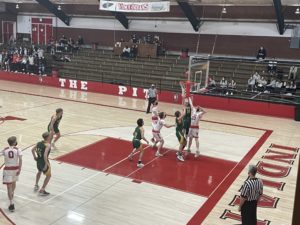 Unofficially, 11 players scored a goal for the Indians. Unofficially, Javier Gamboa had 21 points, Clay Robinson 19, Rutledge 16, Cade Morton six, Javier Duran six, Beau Tate six, Jesus Ross six, Jaxson Lungwitz four, Damon Thornton four, Andre Baucke two and Jonathan Carillo two. Lane Remmich also played quality minutes.
The Indians will try to improve to 2-0 in the LPAA game when they play Sedgwick County in Julesburg around 4pm on Saturday