Yuma girls fight again but fall short again
The Yuma High School girls' basketball team again identified a top opponent, but came out again as a loser.
The Indians fell 4-0, 0-1 that season in the Lower Platte Activities Association game, losing 37-26 to Holyoke, third-placed Holyoke in Class 2A, at The Pit opener on Friday night.
Yuma just couldn't generate enough insult to overcome the surprise, even though the effort was great.
Both teams only scored four points in the first quarter. Holyoke scored the first 11 points in the second, including eight direct points from Lauren Herman, but Lea Richardson scored seven direct points to only leave the Indians 18-13 at halftime.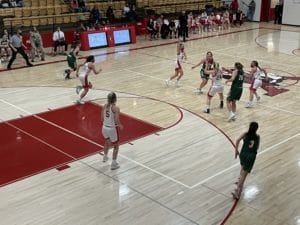 Holyoke extended their lead to 13 points in the third quarter, but Yuma continued to struggle. Meidi Reyes hit two consecutive 3-point hits early in the fourth half and Richardson took a free throw to reduce Holyoke's lead to 31-26 by 3 minutes and 17 seconds.
The Indians had several good looks to extend Holyoke's leadership but were unable to convert. The dragons eventually sealed the game with six free throws in the final 40 seconds of the game.
Yuma shot just 24 percent, including just seven of 34 two-point shots, and only made six free throws, three.
Richardson had 14 points and five rebounds, Reyes six points, Ema Richardson two points and eight rebounds, Taylor Law two points and two rebounds, Caddis Robinson two points, and Elle Roth nine rebounds.
Yuma will be looking for her first win in a league game against Sedgwick County in Julesburg on Saturday. The handover takes place around 2:30 p.m.